Light Catchers – Oscar Fouz Lopez
Custom House Studios + Gallery are pleased to host Light Catchers by Oscar Fouz Lopez.
Exhibition runs from Thursday, 12th May until Monday, 6th June 2022.
Opening Reception
Thursday, 12th May, 6-8pm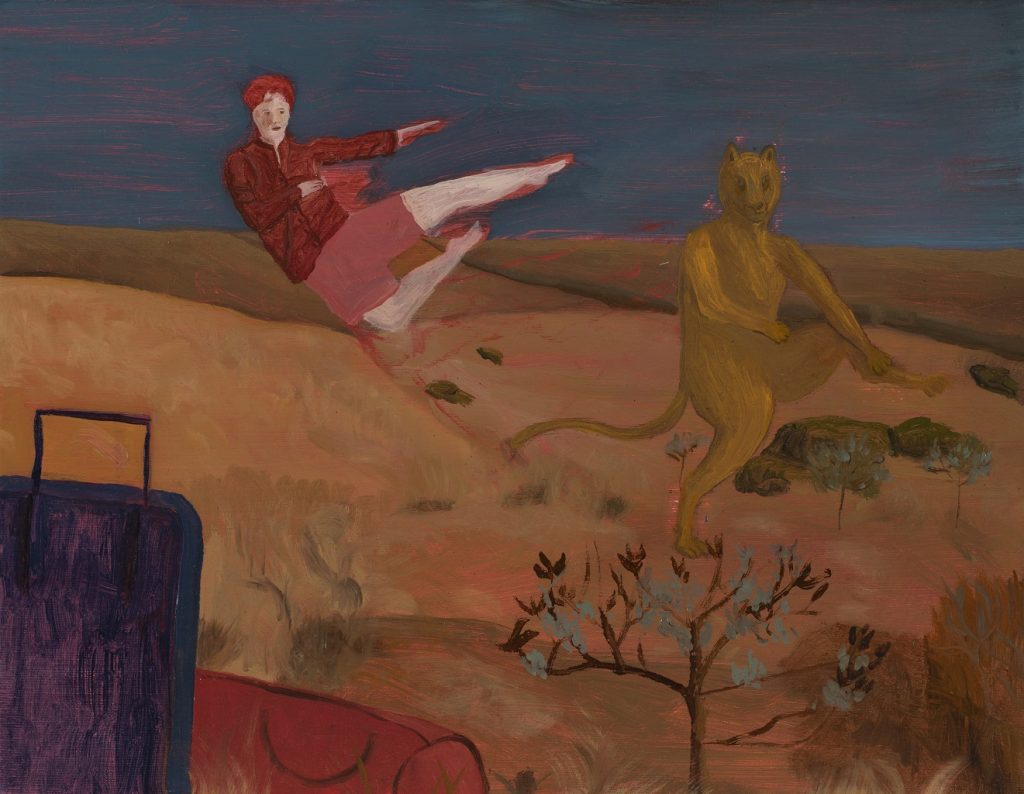 Light Catchers is an exhibition of new works by the artist Oscar Fouz Lopez.
The work of Oscar Fouz Lopez is informed by mythological stories and their synthesis of history, metaphor and philosophical teachings.
His latest paintings feature a cast of characters, the Light Catchers, absorbed in their own thoughts, travelling through surreal landscapes, engaged in activities at once mundane and metaphysical.
He posits the idea of a group of people living and thriving in a campsite at the heart of a forest. In doing so, he's not reaching for a utopian idyll, but rather for a way of living that's achievable, as well as being desirable. His subjects live together in nature, enjoying the simple pleasures of dancing and telling stories. His purpose is deliberately reductive – to strip life back to a pure, uncomplicated, and joyful essence. By accentuating the positive in our collective psyche and presenting goodness as the strongest driving force, he implicitly rejects the allegory for human nature William Golding constructs in The Lord of the Flies.
The settings for the paintings are inspired by a trip the artist took to the redwood forests of California, where he walked and sketched among some of the oldest trees on Earth. On the same trip, the artist also visited the De Young Museum in San Francisco and discovered the textiles of the Navajo tribe. He was struck by the vibrancy and colours of their woven blankets and rugs. The sacred art of weaving is engrained in Navajo culture, in the believe that the universe was woven together by the Spider Mother. The artist was inspired by the alignment of the tribe's daily lives with their holistic concept of the universe, in which doing and being are one and the same. His work is a homage to this truthfulness, merging the real with the imaginary and allowing for new realities to open up and invite the viewer to enter. In doing so, he offers us an entrée into the world of the Light Catchers, who dwell in luxuriant nature.
Oscar Fouz Lopez is a Spanish-born artist who lives and works in Dublin. His work has featured in group exhibitions such as, Insider Art (2016) in MCE, Belfast, Everything is in Everything, (2019) in the Sirius Arts Centre, Cobh, and Chrysalis, (2021) in the Molesworth Gallery, Dublin. He was also selected for The Annual Show at the Royal Hibernian Academy in 2017, 2018, 2019, 2020 and 2021. Recent solo shows include, Pickled Chimp Ears held at Pallas Projects as part of its 2018 programme, and Don't Look Back, Baby, (2020) in the Molesworth Gallery, Dublin. He graduated with a BA in Fine Art from DIT in 2010 and was shortlisted for the Most Promising Graduate Award at the Talbot Gallery the same year. Lopez also holds an MFA in painting from NCAD (2016) and was the Tony O'Malley artist in residence for 2018/19. His work is held in public and private collections, including those of the OPW and Trinity College, Dublin.
Fold – Lucy Hill
Custom House Studios + Gallery are pleased to host Fold by Lucy Hill.
Exhibition runs from Thursday, 12th May until Monday, 6th June 2022.
Opening Reception
Thursday, 12th May, 6-8pm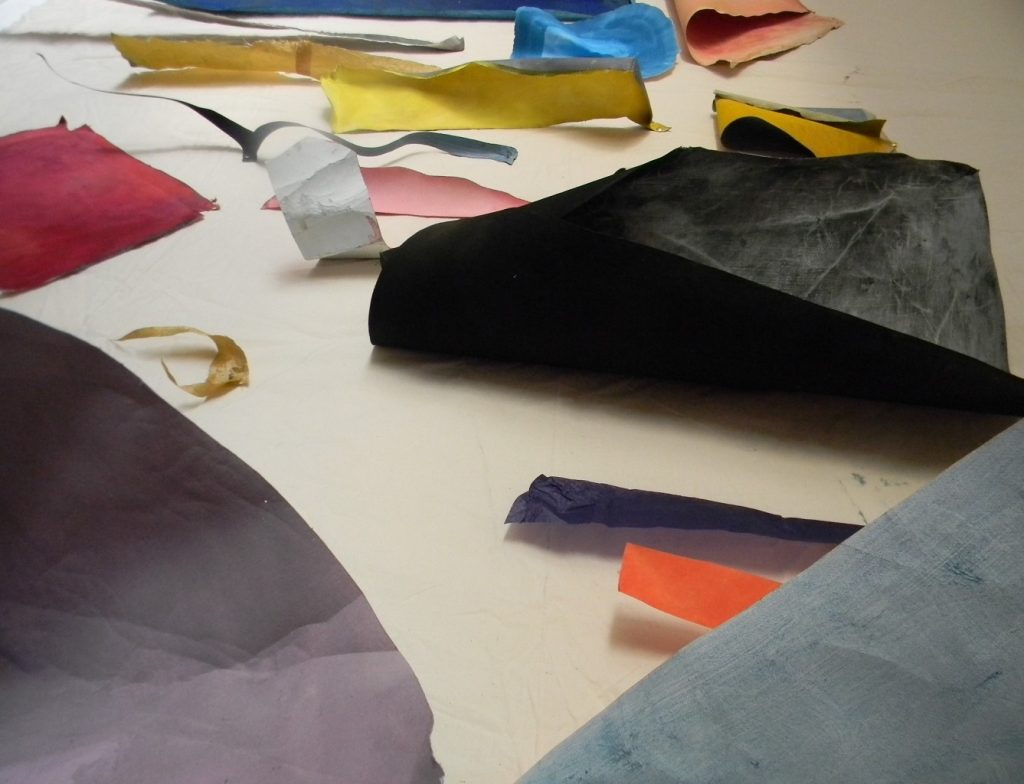 Fold
The process whereby a protein molecule assumes its intricate three-dimensional shape
A geological process that causes a bend in a stratum of rock
An action that changes the shape of a thing

To make compact by bringing from an extended to a closed position
To bring from a compact to an extended position: unfold
To place together and intertwine. To envelop or clasp: enfold
A cover for keeping loose papers together
A fenced enclosure for livestock
A flock of sheep
A congregation
A thing capable of collapsing or being collapsed
A doubling of one layer of material over another
To bring in close to the body
Crease. Forceful folding. Evidence of a forceful fold.
To discontinue. To close. To fail. To withdraw in defeat. To give in, buckle under pressure, weaken, or collapse from exertion.

To aerate by blending a light ingredient into a heavier mixture with a series of gentle turns

The form of connection that follows the general principles of a Deleuzian concept: open-ended & inexhaustive, non-exclusive & unlimited, exterior & infinite.
This exhibition/installation/painting will be changed (folded, unfolded, rehung, collapsed, aerated etc) by the artist at irregular intervals throughout its run. Changes will be documented and available to view.
This work is dedicated to the memory of Mary Hoban (nee Staunton)

Lucy Hill is a visual artist and academic. She has been awarded a PhD in art education from NCAD (2021).
She completed her M.F.A at Winchester School of Art in Barcelona, after her degree in painting at Crawford College of Art in Cork. She has won several awards, including a residency on the artist's work program at IMMA. She has completed four public art sculpture commissions and has exhibited her work in numerous solo and selected group exhibitions including EV+A. She has had her academic writing published with Sage, Routledge, and Springer. Lucy was the inaugural Prof. John Coolahan Early Years Artist in Residence at The Ark Cultural Centre for Children and was an invited speaker at the International Art Education Conference in Seoul Museum of Modern Art, Korea. She was a Creative Associate with the Arts Council Creative Schools program from 2018-2021. She is currently a lecturer and supervisor on the PME (Professional Master's in Art Education) at NCAD. You can see some of Lucy's work at her website: https://www.lucyhill.ie/.