'Retrace' – Margot Galvin
Custom House Studios + Gallery are pleased to host 'Retrace' by Margot Galvin
Exhibition runs from Thursday 13th April until Sunday 7th May 2023

Opening Reception: Thursday 13th April 6pm – 8pm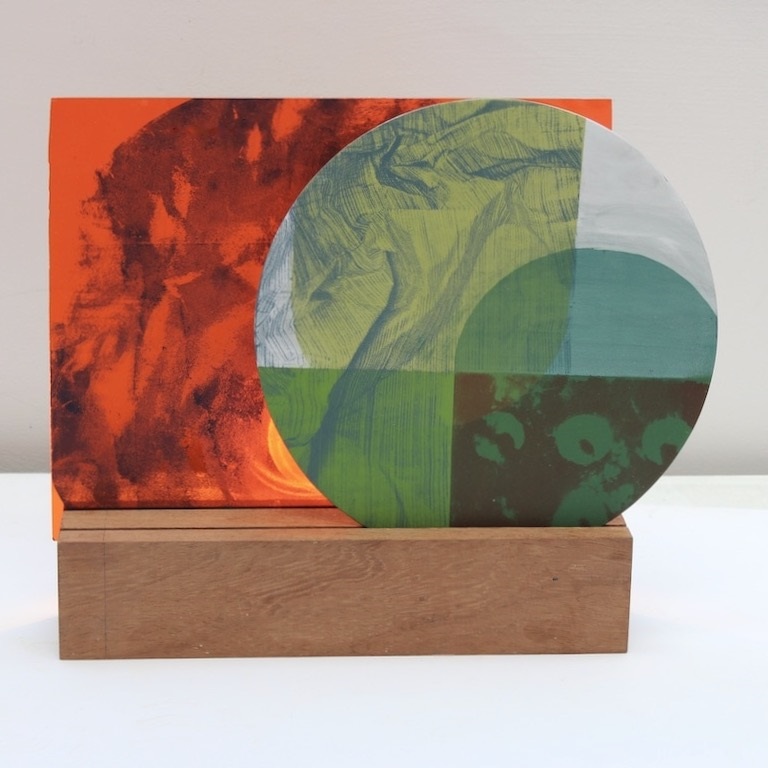 'Territory', Screenprints on aluminium and glass with wooden block, 20x23x4cm.
'Retrace'
Finding our place within the world is an important aspect of human existence and attachment to place is a powerful component in informing and shaping our identity. A need to belong, to be 'at home' somewhere is a fundamental human desire. It is this relationship between self and place and the implications for our identity that I explore in my work.
The philosopher Edward Casey refers to our place of origin 'as an exemplar against which all subsequent places are implicitly to be measured'. This imprint of childhood environment has been labeled a 'primal landscape' and as people move about in life new places are considered in relation to this baseline landscape.
The writer Rebecca Solnit in ' A book of Migrations' (1997) also explores the formative impact of childhood environment in constructing people's identity.
'Children see with a peculiar intensity of vision; it is rare that a new
sight or object can convey to an adult the hallucinatory power in
which recollected experience are bathed. What the very young see
is literally incomparable -nothing like it has come before -and these
encounters are the raw material, the imagery of their psyches. It
often seems to me that all one's creation is done in that first
decade and a half, with an internal landscape comes into being with
the force and activity of primordial volcanoes and plate tectonics: the
rest of ones time on earth is spent retracing, mapping, deciphering,
excavating. Everything else one will see is seen in comparison with
this formative landscape'.

The work on display is an exploration of my own formative landscape, a lakeside playground that provided the raw materials and imagery of my own 'primal landscape'. The resulting works are a composite of visual fact, feelings, memory and imagination.
Margot Galvin is an artist living and working in Dublin. Her work explores ideas about place, home and belonging. She uses psycho-geographical explorations of various locations to question how a 'sense of place' or belonging is developed by how closely our current environment echoes our place of origin. Drawing, painting and primarily printmaking are all used to explore these ideas. She has an interest in extending the norms of printmaking to incorporate materials such as metal, wood and glass. These materials are used to print on and bring print, traditionally presented on paper, into 3D 'print sculptures', objects or assemblages.

Margot graduated from NCAD in 2012 with a 1st Class honours degree in Fine Art print. She completed her Masters in Fine Art at the National College of Art and Design, Dublin in 2014 and is currently a member of 'AtHome' artist group and The Black Church print studio, Dublin.
She has exhibited in the RHA and RUA annual exhibitions, Cairde, RUA RED, Galway arts festival, and more recently Draiocht 'MakingArt Print' as an invited artist. Her work is held in AXA, OPW, Law Society of Ireland, NCAD collections as well as many private collections.

Time Traveller – Peter Burns
Custom House Studios + Gallery are pleased to host Time Traveller by Peter Burns
Exhibition runs from Thursday 13th April until Sunday 7th May 2023

Opening Reception: Thursday 13th April 6pm – 8pm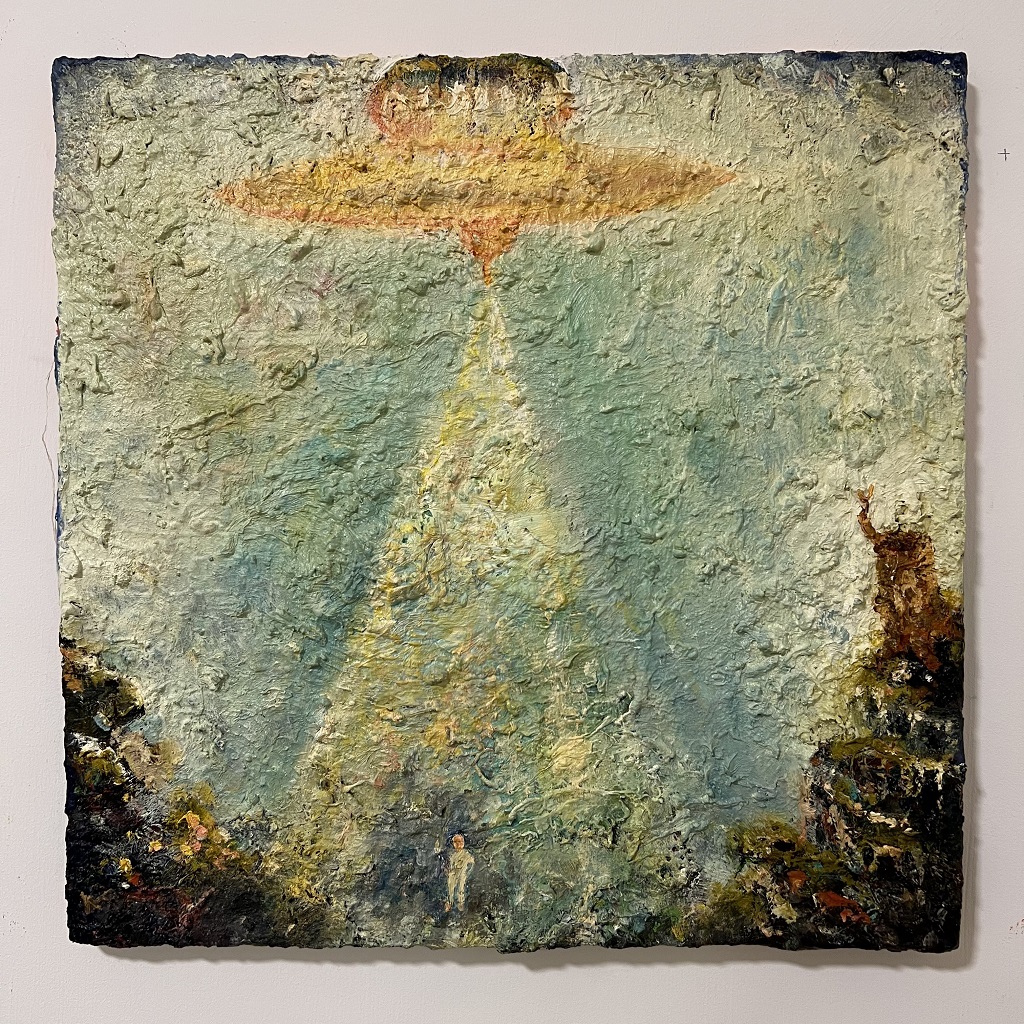 Time Traveller, oil on canvas, 40 x 40 cm, 2019.
Time Traveller
"I spent two periods working in studios at the Custom House at different stages of development in my artistic practice.
Some of the paintings in this exhibition date from around the second period I rented a studio there (c. 2010). More recent works also have their genesis in the surrounding landscape of Clew Bay. The flooded terrain of drumlins, islands, coves and sandbars over time made its way into my work as a setting for reworked Biblical & Mythological themes from art history.
The exhibition will constitute a mini retrospective rooted in time spent working in the Custom House and the influence of the surrounding landscape on the development of my paintings."
Peter Burns
Recent solo exhibitions include; "Dunamis", A Series of Biblical Paintings, RHA Gallery, Dublin, 2023, "Ad Astra", Claremorris Gallery, Co. Mayo, 2022 & "The Astronomer", Fenderesky Gallery, Belfast, 2022. Group shows include "Emotional Rescue", Galleria Annarumma, Napoli, 2022 & "Cruel Intentions", Arusha Gallery, London, 2021.
Peter has shown extensively at international Art Fairs including a solo presentation, "Before the Flood" with Gibbons & Nicholas at London Art Fair in 2018. Forthcoming exhibitions; Arusha Gallery, London, 2023, Simchowitz L.A. 2024
His work has featured in the Sunday Times, Artforum and Irish Arts Review. He is a recipient of the Pollock Krasner Foundation grant. He was awarded a BA in Sculpture & an MFA in Painting from NCAD (National College of Art & Design, Dublin). He lives and works in Co. Mayo.