Brexit Sausages – Shiro Masuyama
Artist Talk in Custom House Studios + Gallery
Sunday, 12th March at 2pm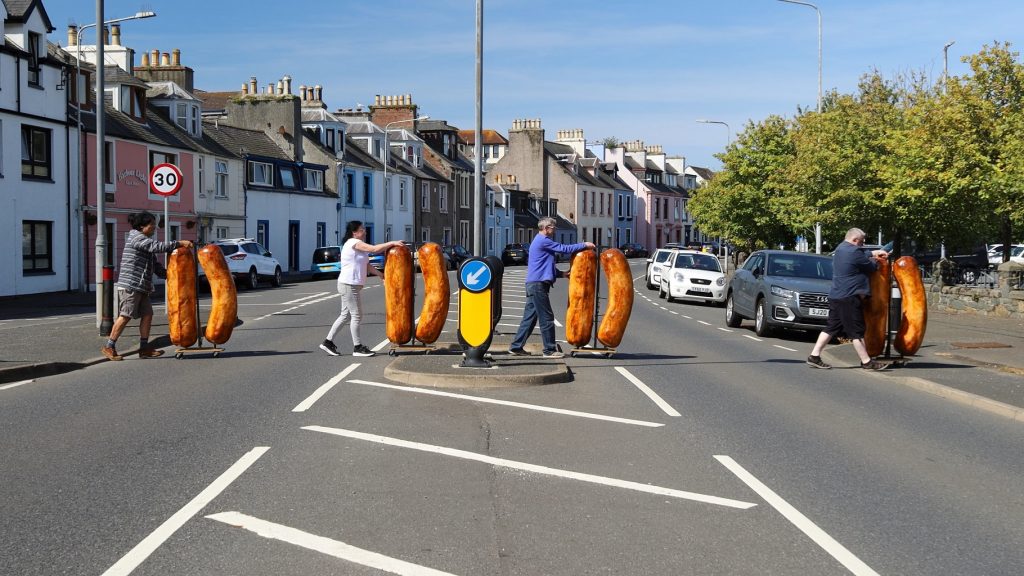 Brexit Sausages
After Brexit, the Northern Ireland Protocol dictated that Northern Ireland would continue to follow EU rules on product standards to prevent checks along its border with Ireland.
Instead, inspections on goods entering Northern Ireland from Great Britain would take place at Northern Irish ports.
This has prompted criticism that a new border has been created in the Irish Sea. Under EU food safety rules, sausages were prevented from entering Northern Ireland from Great Britain (though there have been temporary truces to keep trade flowing).
Belfast-based Japanese artist Shiro Masuyama has created a new social intervention using sausages to highlight this Irish Sea border which was created after Brexit.
With a new project of 'Brexit Sausages' which Shiro made for the Irish Sea border, through his solo show, he will represent two more interventions including 'Feeding Carrots from the South to Wild Donkeys in the North', Cyprus, July 2022 and 'Crossing the border', Amsterdam Schiphol Airport, The Netherlands, April 2010, which he has also made for the border in the different context.
Shiro Masuyama
Born in Tokyo in 1971, he studied architecture to masters level. Following international residencies in the Irish Museum of Modern Art, Dublin (2006) and Flax Art Studios, Belfast (2009), he moved to Belfast, Northern Ireland, where he's been based ever since.
Using his architectural background and his Japanese identity, he makes projects which fundamentally connect people and society: so-called socially engaged art.
As an artist from Japan who has made their home in Northern Ireland, he's in a unique position to question how identity can be influenced by the dominant political forces surrounding us.
He has had numerous solo exhibitions worldwide including 'Brexit Sausages', Cultúrlann McAdam Ó Fiaich, Belfast, Northern Ireland (2022) ; 'Coexistence', Siamsa Tíre – National Folk Theatre of Ireland, Tralee, Ireland (2019) ; 'Self-Sufficient Life', Millennium Court Arts Centre, Portadown, Northern Ireland (2015) ; 'The Heart Rocker', Linenhall Arts Centre, Castlebar, Ireland (2014) and "Farming Life", Leitrim Sculpture Centre, Manorhamilton, Ireland (2012).
His works have been represented in internationally renowned Biennial and Triennial including 'BIENALSUR 2021', MACRO Museum of Contemporary Art Rosario, Argentina : 'Sapporo International Art Festival 2020', Sapporo, Japan (Cancelled due to COVID-19) ; 'Aichi Triennale 2013', Japan.
Artist Acknowledgements:
University of Atypical; Unlimited; Paul Hamlyn Foundation; A City Imagining Belfast; Belfast City Council