'Upstarter's Interspace'
Thursday, 16th December 2021 – Sunday 6th February 2022
'Upstarter's Interspace', two augmented reality art works, by artists from Carrowbeg Enterprises, in association with guest artist Orla Casey.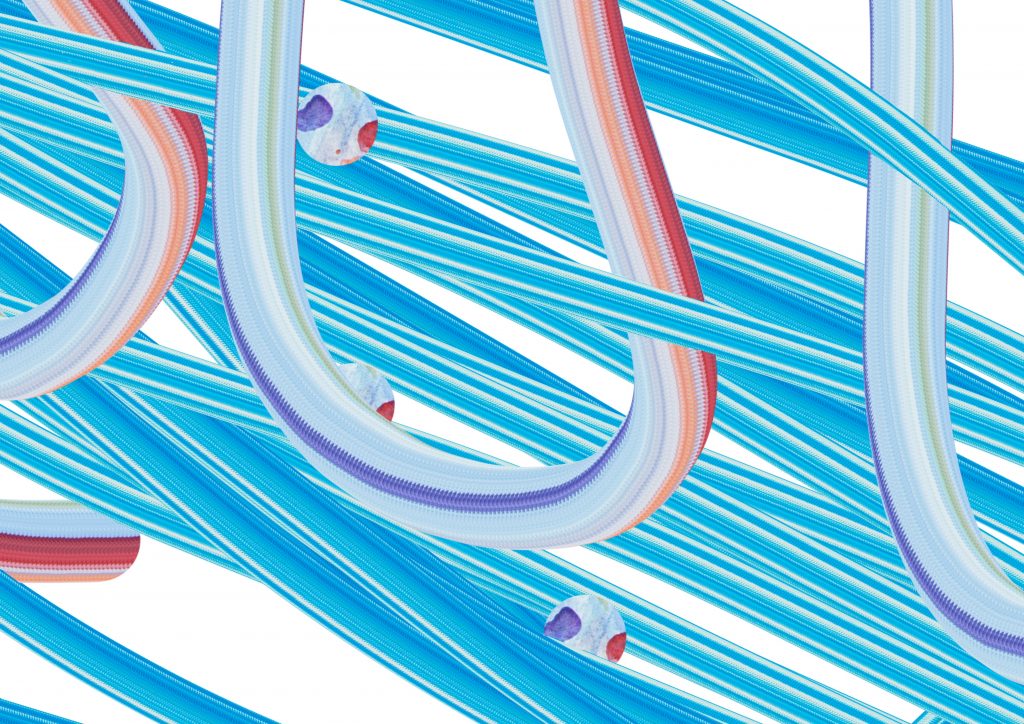 Orla Casey facilitated 8 workshops, with artists Trish Kelly, Sarah Kelly, Anna Rose Lowry, Máire Maguire, Gerry O'Malley and Una Kearns. Together they explored and expanded the tradition of portraiture, from collage, through computer aided design programs to create two augmented reality pieces.
In 2021 this project involves a process which transforms the participants' imagery and experience from printmaking and drawings into augmented reality imagery. This process facilitates imagery making reflective of their personal interests and daily lives. Key aspects is an emphasis on participants self- motivation and expression, the place of the workshop within a weekly schedule and routine of activities, and the active involvement and support of staff from Carrowbeg Enterprises.
Workshops focus on encouragement and support for participants to develop their own expression and imagery through assistance in the use of different techniques. Emphasis on processes which develop and transform the participants' imagery into another medium. This transforming of imagery provides a vital opportunity and context for each participant to engage in a complex process, which in turn acts to enrich the individuals' experience of working on an art project on a regular weekly routine.

Artist facilitators involved: Caroline Masterson, Breda Burns and Orla Casey.
Project supported by Mayo County Council, Western Care and MSLETB.
The Free Flowing of Giving – Western Care Association
Thursday, 16th December 2021 – Sunday 16th, January 2022
The Free Flowing of Giving a sale of Art work in aid of Western Care Association.
Celebrating all who give freely of their time, talents and effort to help others.

Western Care Association online shop: www.westerncare.com/shop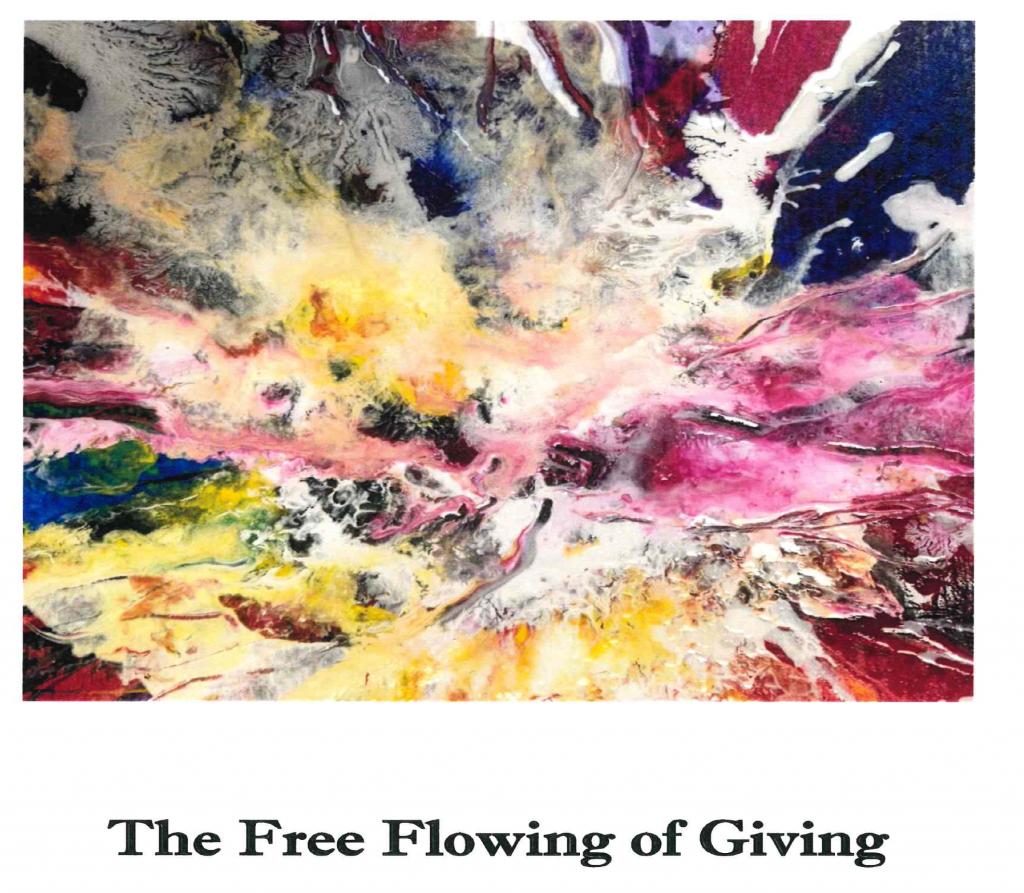 "Celebrations" – Octagon Quilters
18th November – 12th December 2021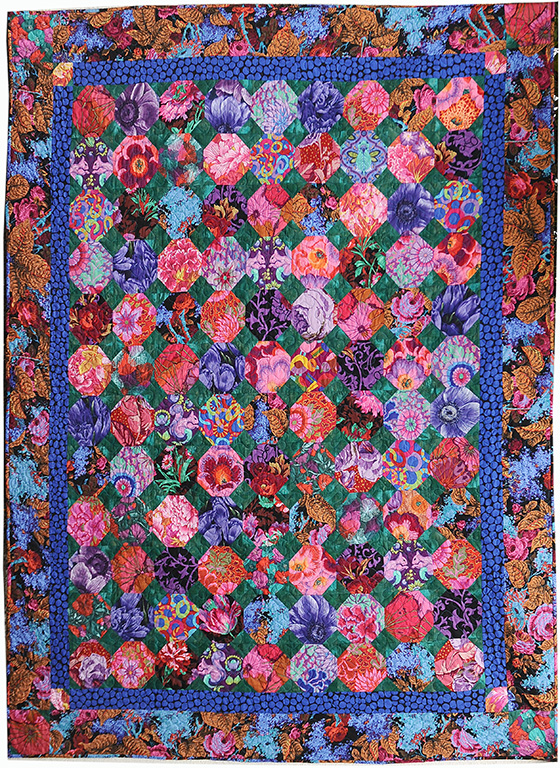 The Octagon Quilters celebrated their 30th anniversary in 2021 with an exhibition of new work in the Custom House Gallery, Westport.
The group normally meet weekly to sew, participate in workshops and create pieces for our chosen charity of the year. We have exhibited regularly during Westport Arts Festival and at other venues throughout the County. Some of our members belong to the Irish Patchwork Society and the Quilters Guild of Ireland and have exhibited nationally and internationally.
Mater – Joanne Proctor
18th November – 12th December 2021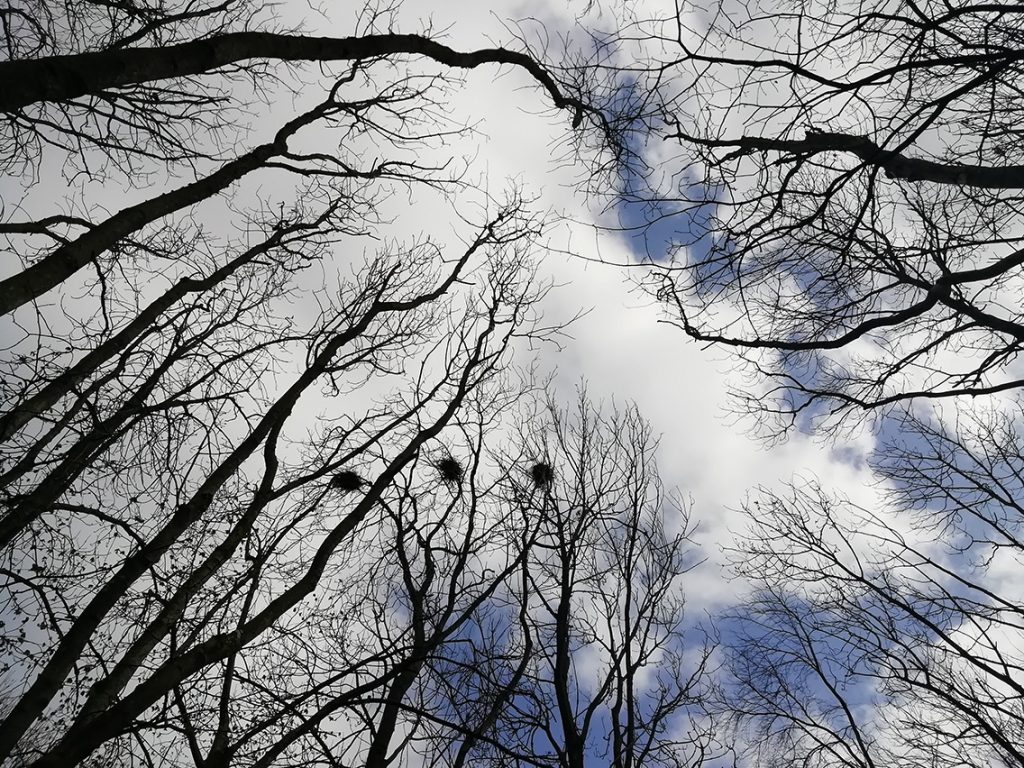 The title of the exhibition Mater, (Latin for Mother), references the loss of the artist's mother, who passed away at the Mater Infirmorum, Belfast, and the grief that unfolded, whilst also attempting to navigate the strange times we all found ourselves in throughout the lockdowns of 2020/2021. As a visual artist Proctor is known for creating myriads of small intricate marks with both traditional materials (e.g. ink on paper) and more unconventional explorations within the expanded field of contemporary drawing, namely her own hand-stitched human hair. The concept of time is inherent in her working processes, created through hugely laborious techniques that reference a multitude of sources, investigating the world around and within. This exhibition takes a somewhat difference approach, in exploring drawing, photographic and poetic text-based work, addressing life's systems, cycles, transitions and ephemeral nature.
Joanne Proctor is a visual artist based in Northern Ireland. She graduated from Ulster University, Belfast School of Art in 2008 with a First Class BA Honours Degree in Fine and Applied Art. Recent exhibitions have included Acquisitions Collection, Arts Council of Northern Ireland, Duncairn Arts Centre, Belfast (2019) Serial Aliquots, Georgian Gallery, Ards Arts Centre, Newtownards (2019) Dark, Darkness, R-Space Gallery, Lisburn (2017) Bristle: Hair and Hegemony, Highlanes Gallery, Drogheda, Ireland (2017) Paper, Table, Wall and After, International Exhibition Hall, National Taiwan University of Arts, Taipei, Taiwan (2015) and Gallery North, Northumbria University, Newcastle upon Tyne (2014-15) The Poetry of Form, Custom House Studios, Westport, Co. Mayo (2015) Little Kingdoms, Catalyst Arts, Belfast (2014) Line – An Ambiguous Journey, with touring locations at The Drawing Project, Dun Laoghaire (2013) Crescent Arts Centre, Belfast (2013) and Gerard Dillon Gallery, Culturlann, Belfast (2015).
Proctor was shortlisted for the Bank of Ireland Student Toradh Award (2008) and was the recipient of the F.E. McWilliam Fine Art Bursary (2009) Support for the Individual Artists Programme (SIAP) Award, Arts Council of Northern Ireland (2013, 2014, 2016) and was selected by the Golden Thread Gallery, Belfast to participate in their Artist Career Enhancement Programme (2014-15) and awarded an Oppenheim-John Downes Memorial Trust Award (2015) and Artist Career Enhancement Scheme (ACES) award by the Arts Council of Northern Ireland (2016-17).
Public collections include: Brooklyn Art Library, Brooklyn, New York; The Siena Art Institute, Siena, Italy; Arts Council of Northern Ireland and many private collections.
'Contemplating the Ineluctable' – Brian Bourke
with new sculpture by Tim Morris
21st October – 14th November 2021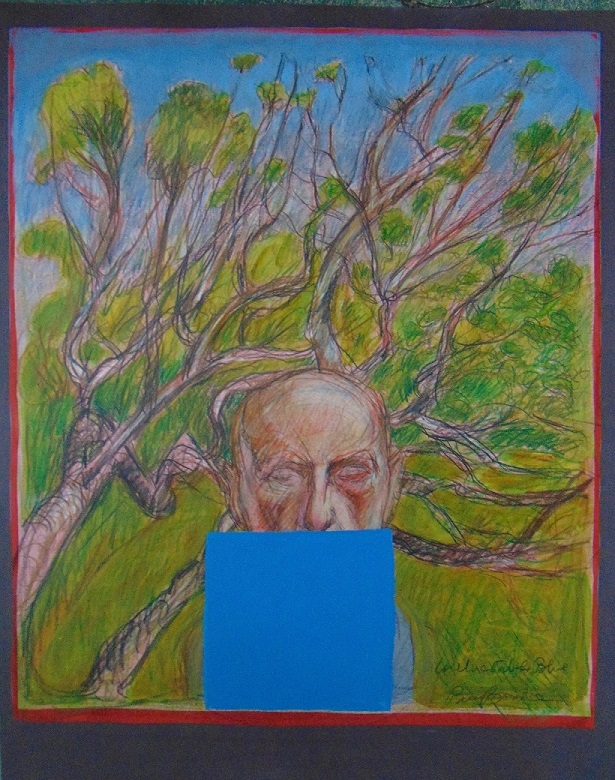 'Ineluctable Blue'
Self in garden holding a rectangle of blue. No two blues are alike. A subconscious challenge to the viewer.
'The Beehive Garden'
A small overgrown space of ancient apple trees which was once a very well kept apiary, and locally still goes by the name Beehive Garden.
Brian Bourke was born in Dublin in 1936. Mostly self taught, except for brief periods in N.C.A.D. and St.
Martin's School of Art in London, he was later based in Dublin, with periods of working in Upper
Bavaria and Switzerland. He was a founder member of the Independent Artists and a member of the
Graphic Studio. He set up life drawing classes with Michael Farrell in Trinity College Arts Society which
continue to this day. In 1975 he moved to Co. Kilkenny and Co.Clare, finally settling in Galway, with
periods of work in Andalucia, Extremedura, Denmark and Manhattan, New York.
He works mostly in long series, examples being 'Women Giving Birth to Men', 'Don Quixote', 'Sweeney
Astray', Manhattan Vertigo', Didi, Gogo and the Two Thieves', 'Frau Stutz's Cherry Tree' and series of
portraits as in 'Jay with Basque Hat'.
He was chosen to represent Ireland in both the Biennale de Paris and the Lugano Exhibition of Graphics.
In the same year he won the Arts Council prize for portraiture and then in 1967, won the first prize in the Irish Exhibition of Living Art competition.
A regular exhibitor at the Dawson and Taylor Galleries in Dublin, and at art galleries in Switzerland,
England, Ireland, Norway and America, his paintings were included in the Delighted Eye, Hibernian
Inscape, and ROSC exhibition in 1980. In 1985 the Sunday Independent newspaper named him Artist of
the Year, and in 1993 he received the O'Malley Award from the Irish-American Cultural Institute. In
1991 he was appointed artist-in residence at the Becket Festival at the Gate Theatre, Dublin, while his
accompanying works appeared at the Douglas Hyde Gallery, Dublin.

In 1988 he had a major retrospective exhibition 'Brian Bourke; Twenty five years' at the Royal Hospital,
Kilmainham and another in 2010, 'Brian Bourke; Five decades' for the Galway Arts Festival in the
Fairgreen Gallery, Galway. This was accompanied by an art book of the same title.
Brian Bourke's paintings appear in many important collections throughout Ireland and worldwide.
He is an honorary member of R.H.A and an elected member of Aosdana.
Recycled by most, Slept on by many Éire 2021
Tim Morris was born in Wicklow in 1965. He served his apprenticeship as stonecutter with Roe and O'Neill's granite quarry from 1980-84. From 1985-1987 Tim studied under the American Sculptor Robert Schoen at his studio in Carrara, Italy. Tim works form his studio/foundry in Foxford.
Solo exhibitions: 1990 Work from Furnace, Temple Bar Galleries / 1995 Pawn's Day Out, Jo Rain Gallery, Dublin / 1999 New Works in Bronze, Linenhall Arts Centre, Castlebar / 2000 Clusters, Kevin Kavanagh Gallery, Dublin / 2004 Meltdown, Norman Villa Gallery, Galway / 2004 Metropolis, Linenhall Arts Centre, Castlebar / 2007 Urban Landscapes, Norman Villa Gallery, Galway / 2012 Riding Pillion with Ballard, Taylor Galleries, Dublin / 2015 War, Taylor Galleries, Dublin.
Collaborations: 1991Debacle, Head Gallery, Dublin / 1992 The Colour of Your Money, RHA, Dublin / 1993 The butcher has gone off his bed, Ormond Multi Media Centre, Dublin, / 1996 Portraits, Galway Arts Centre / 2007 Urban Landscape, with Brian Bourke – Taylor Galleries./ 2021 Recycled by most, Slept on by many Éire 2021 – with Brian Bourke, Custom House Studios + Gallery, Westport.
Selected Group Exhibition: 2003 Tulca, Galway / 2004 & 2005 Norman Villa Gallery Galway / 2005 Linenhall Arts Centre, Castlebar / 2016 Invited RHA, Dublin / 2016 & 2017 Richard Scott Sculpture exhibitions, Ballymaloe, Cork.
Commissions: Graffito Head, Ballina Co Mayo / 1999 The Flyer, Bohola Co Mayo.
Awards: 1989 / 1994 Arts Council of Ireland / 1998 – Mayo County Council.
Publications: 2000 Arts West Issue no. 67 / Irish Times, Aidan Dunne That was then this is now.Film: 1992 State of the Art, Araby Productions for RTE. / 1994 The Admiral Brown Project for RTE.
"The War Room" – Mick O'Dea
21st October – 14th November 2021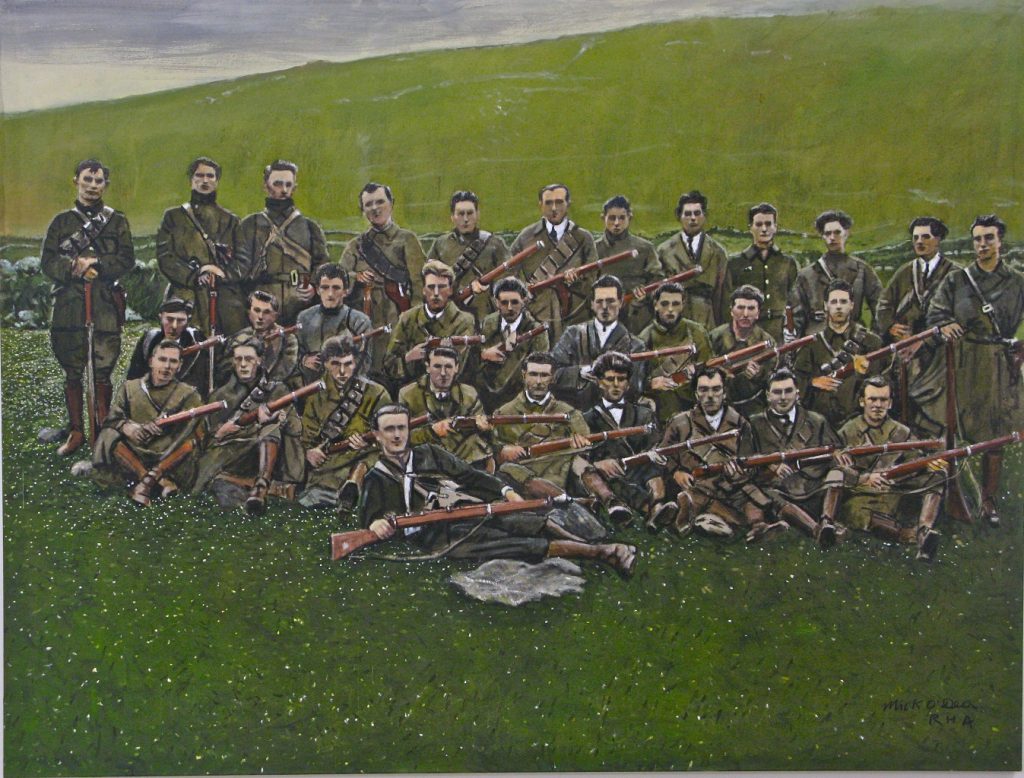 Mick O'Dea is a painter and sculptor living and working in Ireland. The War Room is based on work he has been doing over the past 10 years on the War of Independence.
Past President of the Royal Hibernian Academy, a member of Aosdána, an Honorary Member of the Royal Scottish Academy, a Fellow of the Anatomical Society, Chairman of the Stamp Design Advisory Committee for An Post and a past member of the Board of Governors and Guardians of the National Gallery of Ireland.
His work is included in a number of Public and Corporate Collections including The National Gallery of Ireland, The Crawford Municipal Gallery, Cork, The Royal Hibernian Academy, Limerick City Gallery, Cēsis History and Art Museum, Latvia, Trinity College Dublin, Dublin City University, The University of Limerick, Cork Institute of Technology, Glucksman Ireland House New York University, The National Concert Hall, Government Buildings and Leinster House, Belfast City Hall, The Arts Council of Ireland, The Ballinglen Arts Foundation, Centre Culturel Irlandais Paris, St Patrick's Hospital, St Luke's Hospital, Jury's Hotel Group, and Doyle Collection Hotels.
In addition Mick's work is featured in many private collections in Europe the United States and Asia.
PARALLEL FAMILIARS – Emma Zukovic
23rd September – 17th October 2021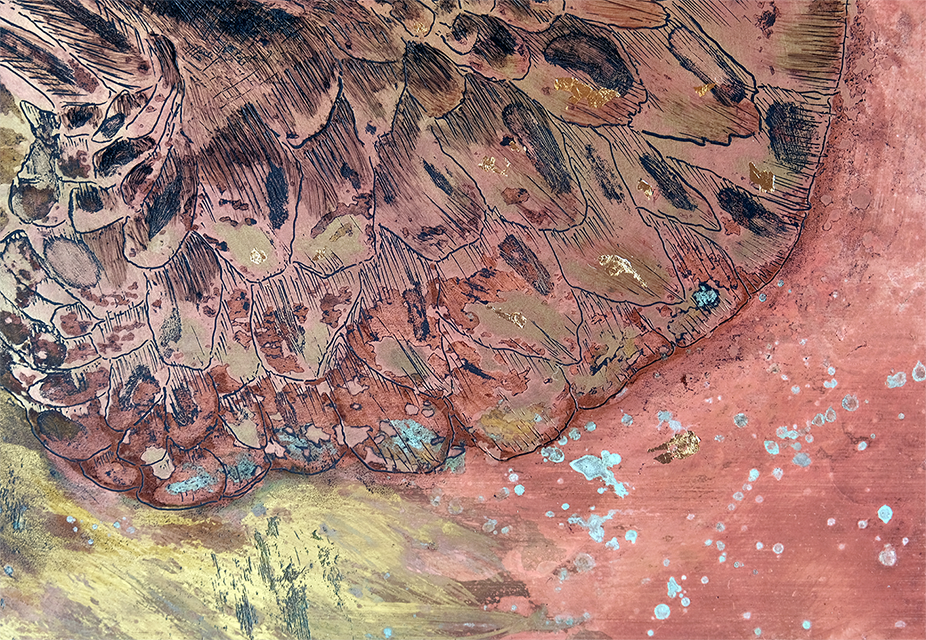 Emma Zukovic, an artist and filmmaker, was born in Lymington, England, and is now based in the west of Ireland. The artist's mother is of Irish nationality and her father is from Macedonia. Since receiving a BA in Fine Art Printmaking and Contemporary Practice in Limerick School of Art and Design, Zukovic has exhibited extensively both nationally and internationally including Russia, Italy and Canada and has received awards for her efforts.
The artists work is concerned with her ties and affinity towards her mixed heritage and her subsequent cultural identity and 'Parallel Familiars' addresses that. Zukovic works with a multitude of mediums to portray defining landscapes from both Ireland and Macedonia including filmmaking, installation, printmaking and drawing.
"Progression" – Rosemary Hurrell"
23rd September – 17th October 2021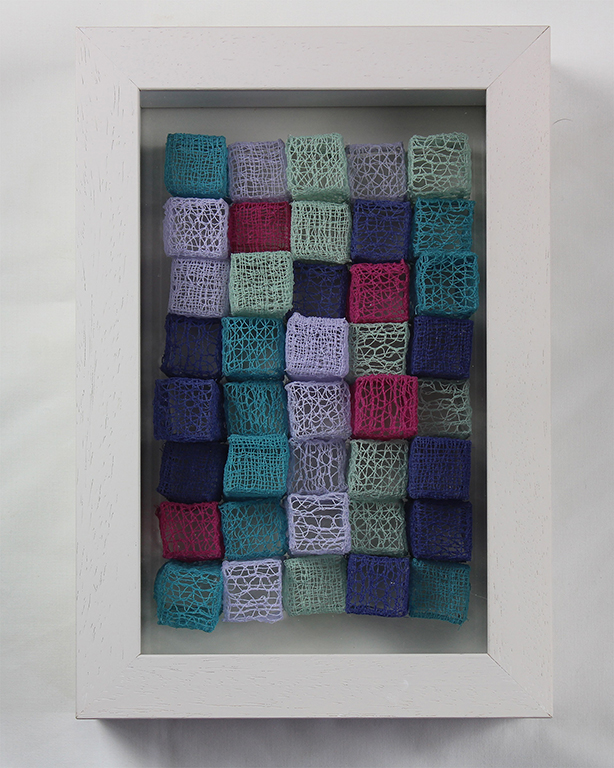 "Progression"
My practice has evolved from a lifetime's fascination with traditional embroidery. Employing a contemporary approach using free motion embroidery to construct 3 dimensional forms that focus on texture, colour and detail, inviting the viewer to engage and observe at close range.

Earlier work was influenced by an interest in the natural world, whereas current inspiration originated from patterns found in marquetry, contemporary architecture, and shapes found in our everyday environment.

The process is unique, continually evolving, creating a fine balance between lightness and movement, strength and delicacy. The use of thread on soluble film, enables the construction of geometric forms. The process involves numerous stages, and the sculptures composed of multiple pieces of free motion machine embroidery, sewn on soluble material, which are subsequently hand sewn, dissolved, handcrafted on wooden blocks and the final work constructed by hand sewing all components together.

'Progression' is a series of works that explores the construction of geometric shapes in varying sizes and proportion including height, depth and angles.

Exploring the optical illusion that variations in tone, texture, and shade create, questions our visual perception. The choice of colours and shapes have been largely influenced by the Covid 19 pandemic and is a response to mood and desire to establish routine.

Rosemary Hurrell
Originally from the West of England, Hurrell has lived in Co. Sligo, Ireland for 24 years. Hurrell graduated with a BA (Hons) in Fine Art at the Institute of Technology, Sligo in 2017. Her graduation show was favourably reviewed in Circa online magazine by Marianne O'Kane Boal (Art and Architecture Critic and Curator). She has established herself as a practising artist in Sligo. Her first solo exhibition "Echoes" was held at The Hyde Bridge Gallery, Sligo in Spring 2018 with subsequent exhibitions including solo, groupand selected both nationally and internationally, the most notable being FLUX exhibition at The National Army Museum, London, March 2019.

Her work has also been seen in exhibitions at The Greenwich Peninsula London, Ovalo Galeria de Arte Mexico City, Hyde Bridge Gallery Sligo, Solas Art Gallery Ballinamore and The Atrium Gallery Nazareth House Sligo.
Her work has been featured in the FLUX Review magazine (2nd edition), The Flux Review Online and The Flux Review Virtual Exhibition.

Seeing Earth – Pauline Garavan
26th August – 19th September 2021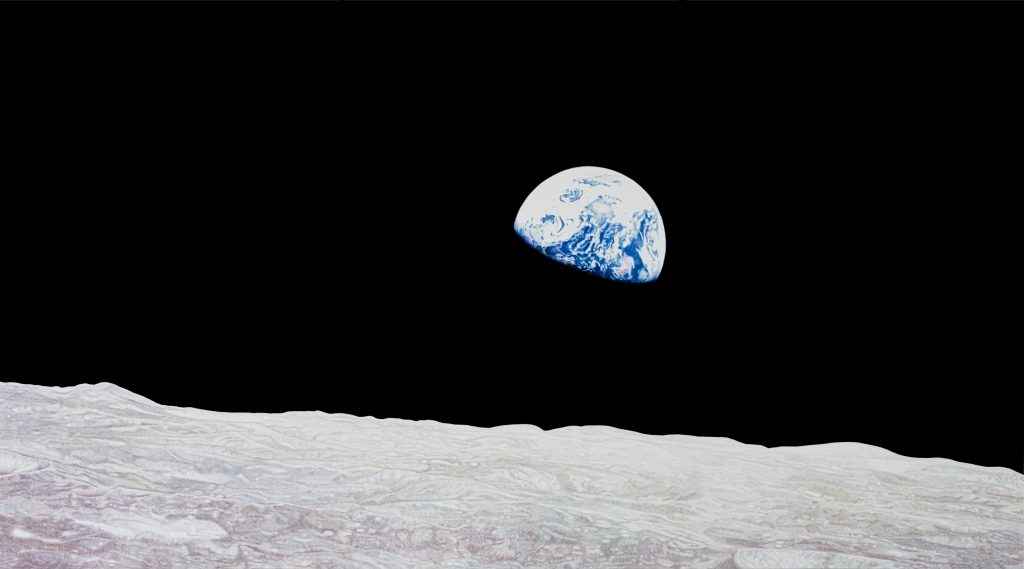 This exhibition invites the viewer to see planet Earth through fresh eyes. First, a series of intimate images draws the viewer into an up-close engagement with the intense beauty of a living world often overlooked or taken for granted. The images explore the organic forms of an Earth resonant with life. In these encounters the evocation of light, colour, and texture open up new vistas of the hidden, breathing planet. A flower aflame with the sun, a hint of a cetacean moving in the great ocean, fungus settling into new colour, haws gleaming on stalks – each image hints at worlds within worlds unfolding before the eye which pays attention. The taken-for-granted is given the gift of being seen.
Then, the exhibition brings the viewer into a direct visual encounter with the Earth in its totality using the iconic image taken by William Anders in 1968 from the Apollo 8 moon mission. Here, the human eye is presented with a painting of the first ever picture of its planetary home. The scale of deep seeing is now that of the planet itself. The marvel of life and its fragility is revealed when the blue Earth is seen against the vast expanses of dark space. This image shows an Earth on which all life is connected, and no borders exist. The journey from the micro realms to the macro sphere of the planet situates the human within the community of shared being.
In an era of climate peril and habitat loss, this exhibition challenges us through life-celebrating meditative observation to enter the depth of what it is to fully be in harmony with all that surrounds us.
Pauline Garavan's practice is based primarily in paint and some small scale sculpture. She is represented by The Trinity Gallery, Dublin. She has shown her work in many solo shows and has exhibited widely in selected and open group exhibitions. Her work is held in public and private collections in Ireland, the UK, and the United States. In November she will travel to Krems in Austria, to take up a one month artist residency.
In 2019 she was selected to travel to Philadelphia to exhibit her work in the Straight Out of Ireland exhibition. In 2016 her work Shackleton's Endurance was shown in Athy Library as part of Co Kildare's official Centenary celebrations of the rescue of Ernest Shackleton's crew off Elephant Island in the Antarctic. This work now forms part of the permanent collection of the Shackleton Museum in Athy. Her work has also been shown in the Royal Hibernian Academy; Royal Ulster Academy; The Dock, Carrick-on-Shannon; The Cork Vision Centre; Íontas Arts Centre, Co Monaghan; Leitrim Sculpture Centre; The Kenny Gallery, Galway; Linenhall Arts Centre; The Higher Bridges Gallery, Enniskillen; National Museum of Ireland – Country Life, Castlebar; Ballina Arts Centre; The Trinity Gallery, Dublin.

Of the Body – Vera Ryklova
26th August – 19th September 2021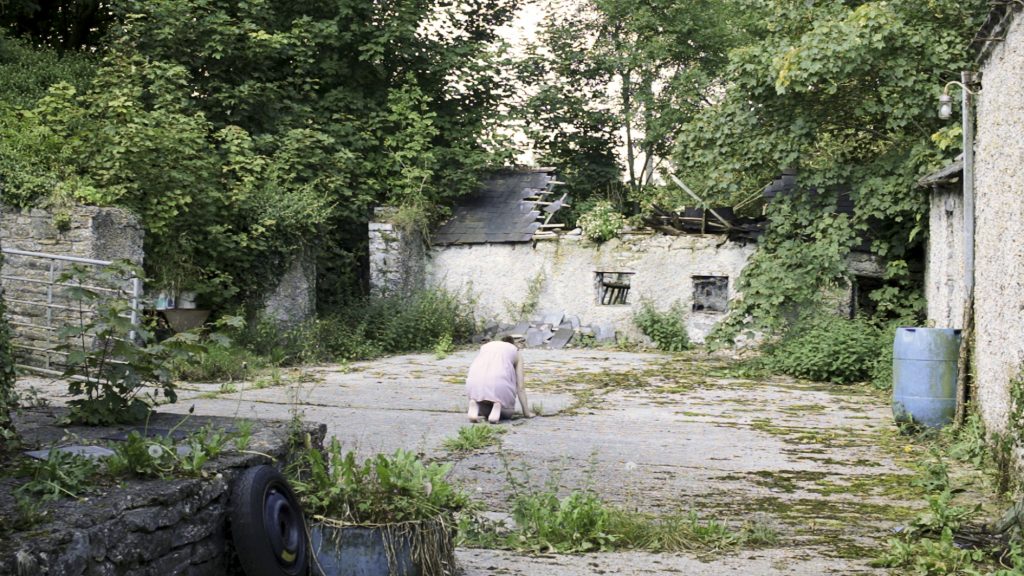 This exhibition is a temporary piece of work by its nature as it introduces two projects that are at the stage of work-in-progress, the Optimal Distance and the only real thing to do. Vera Ryklova experiments with the material she has produced for her new body of work and represents it in a way that refers to a wider sense of a state of incompletion, process, search for resolution.
Optimal Distance is a photographic exploration of a sense of belonging. This project Ryklova initiated after living almost ten years in Ireland to confront her longing for feeling at home in one place that maintains her mind free of concern. While producing the work she gains an access to inhabited places where she performs while letting herself be inspired by as well as using their original interior designs to claim each place to be her home. This creates an illusion that fixes the grieving mind.
the only real thing to do is a project that questions the role of faith and represents the human struggle to achieve a state where need and desire are united. The first piece of the video series presented here in the exhibition the only real thing to do #1 was performed in the back yard of a vacant farm cottage in the countryside of a small Irish town. Through the real experience of physical pain this piece depicts the course of maintaining (almost painful) hope of attaining what has been longed for.
The physical spaces the artist has occupied connote the process of seeking and the artist's body is where the psychological drama takes place.
Ryklova is a Dublin based artist who works in lens-based media. She was one of five selected Irish Talents representing PhotoIreand in 2020 at FUTURES, a Europe-based platform for photography. She won the Hotron Art Works Prize for work by a recent graduate in 2017 and was shortlisted for the Hennessy Portrait Prize in 2016, which exhibited at the National Gallery of Ireland.
She presented two solo exhibitions, in 2021 at the Irish language, arts and cultural centre Cultúrlann Mc Adam Ó Fiaich (Belfast) and in 2018 at Triskel Arts Centre (Cork). She has also exhibited in several group exhibitions held in Ireland and the UK, including the FiLiA Feminist Conference (London and Manchester).
Her work has been featured in photography journals and publications and it is included in the art collections of Trinity College and The Arts Council.
In her current practice Ryklova explores the concept of the self and the events that impact its social construction. Her own lived experience is her source and her own body is her medium. Both she deliberately uses to intimate women's reality to the public eye. She performs to the lens and produces photographic and video self-portraits using the form of the series. Self-portraiture is not necessarily a genre she has focused on, it is rather the method she employs to explores her subject.
The key concept of her practice is confrontation. The camera has a function of a distancing device she utilises to experience a state of catharsis. Her work is particularly concerned with emotional conflict that results from the clash between two realities. One reality is designed and dominated by socially constructed expectations, roles and practices, while the other is desired and formed through the concept and perception of one self. Her imagery layers elements of her past and present, which together builds a subject for the viewers to explore, and invites their life experiences to impact the reading of her work.
Originally from the Czech Republic, Ryklova was brought to Ireland on a journey of personal discovery and since 2007 she has been living and working here. She recently completed an MA in Art and Research Collaboration (2021) at the Institute of Art, Design and Technology, Dún Laoghaire. In 2015 she graduated from the same Institute with a BA (Hons) in Photography. www.veraryklova.com

Tapani Hyypiä: Utuisaa / Hazy
29th July – 22nd August 2021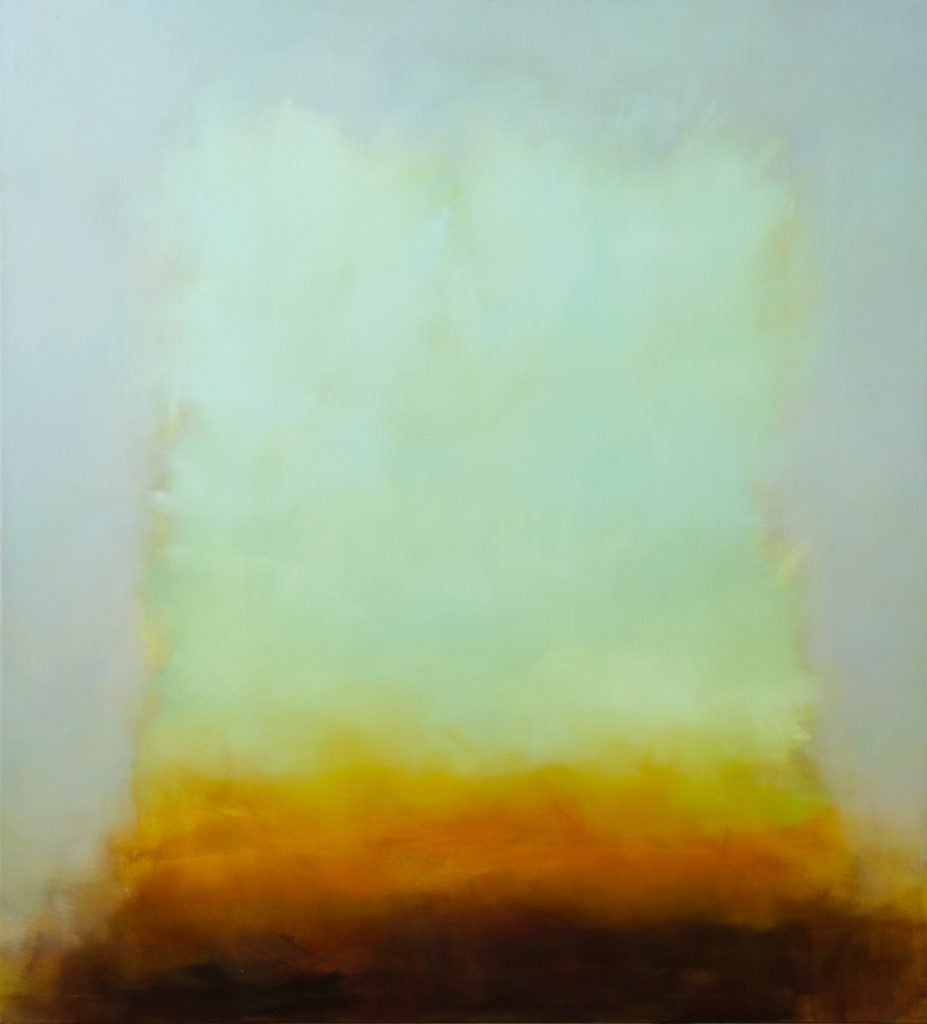 Finnish artist, Tapani Hyypiä's paintings are process-orientated, adhering to the modernist tradition of abstraction, with influences from the heritage of European landscape and Early Renaissance painting. His process is intuitive and involves a keen observation of natural phenomena different cloud formations, skies, seascapes and other atmospheric and ephemeral conditions as inspiration sources. His methods of working include a special focus on the nuances of colour, a purposeful repetition and self imposed restrictions where a recognizable form emerges again and again mutating from painting to painting. Hyypiä meticulously builds up each painting using several thin translucent layers in a delicate play between clarity and opacity, creating a deep and intense feeling to the vibrancy of the paintings. The illusion between depth and surface manifests itself in various ways making visible distant traces of skies or possible landscapes others appear out of focus, a blurry image, and others give the impression of smoke after a fire, or a dense impenetrable fog. The collection of paintings together form a myriad of meditative spaces or perhaps cathartic states where colours can wash over the viewer and engulf one in a soft dreamy haze of introspection.
Tapani Hyypiä is a Finnish artist, who lives and works in Helsinki.
He has been active in the Finnish art field for over twenty years, with a dedicated painting practice. He completed his fine art painting studies in 2000 at the revered Free Art School, Helsinki known for its particular focus on the tradition of painting. His art practice is heavily process based, with a focus on abstraction and a strong emphasis on the craft of painting. His paintings pursue the ephemeral meditative qualities of light and colour.
He has exhibited his works extensively in Finland, and internationally with exhibitions in Estonia, Latvia and Germany. Recent solo exhibitions include; Paintings, Galleria Nuovo, Lahti, Finland (2019), Paintings & Drawings, Galleria Ama, Helsinki, Finland (2018) and recent group exhibitions include Summer Exhibition, Galleria Ama (2020), The Collectors Gaze, Pori Art Museum, Finland (2019). He has also take part in artist residencies at the Heinrich Böll Cottage on Achill Island, Ireland and WerkStadt, Berlin among others.
Hyypiä's works are in major public art collections including; Amos Anderson Art Museum Collection, Pori Art Museum Collection and Finnish State Art Collection among others. Tapani Hyypiä is represented by Ama Gallery, Helsinki.
The exhibition has kindly been supported by the Finnish Cultural Foundation. For more info www.tapanihyypiae.com
Hinterlands – Phill Foley
29th July – 22nd August 2021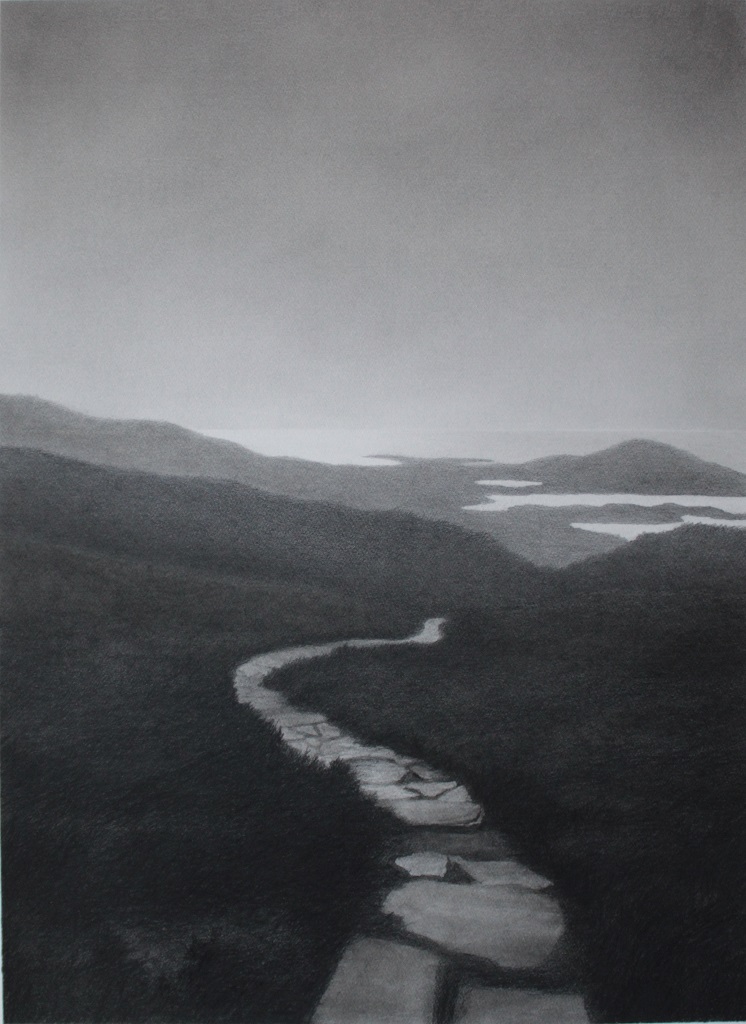 The areas of extensive countryside around the west of Ireland are often referred to as the 'hinterlands' – a German term that loosely translates as 'the land behind'. It describes how we perceive these places as remote yet connected to us. Through my practice, I depict these natural spaces, investigating how the hinterlands inform our sense of time and place in subtle but crucial ways.
Phill Foley is an Irish visual artist based between Galway and Dublin. Phill studied Fine Arts at Galway Mayo Institute of Technology Centre for Creative Arts and Media and graduated in 2014 with a First-Class BA (Hons) in Painting. Through his practice of drawing Phill depicts the liminal spaces of the natural landscape, investigating how these hinterlands inform our sense of time and place in subtle but crucial ways.
Phill has exhibited across Ireland and abroad, participating in major shows, such as the annual RHA exhibition and the RDS Student Art Awards, as well as exhibiting work in the Galway Arts Centre, Rua Red, The Hunt Museum and The Model. Phill has also shown work as part of group exhibitions with The Dock (A Knowing Nature, 2015) and 126 Artist-Run Gallery (Synthesis, 2014) completed his first solo exhibition with Newtownards Arts Centre (Hinterlands, 2018). In addition to maintaining a professional art practice, Phill also works as an educator teaching art to children and adults.
Return To A Changing Tide – John McAleer
1st July – 25th July 2021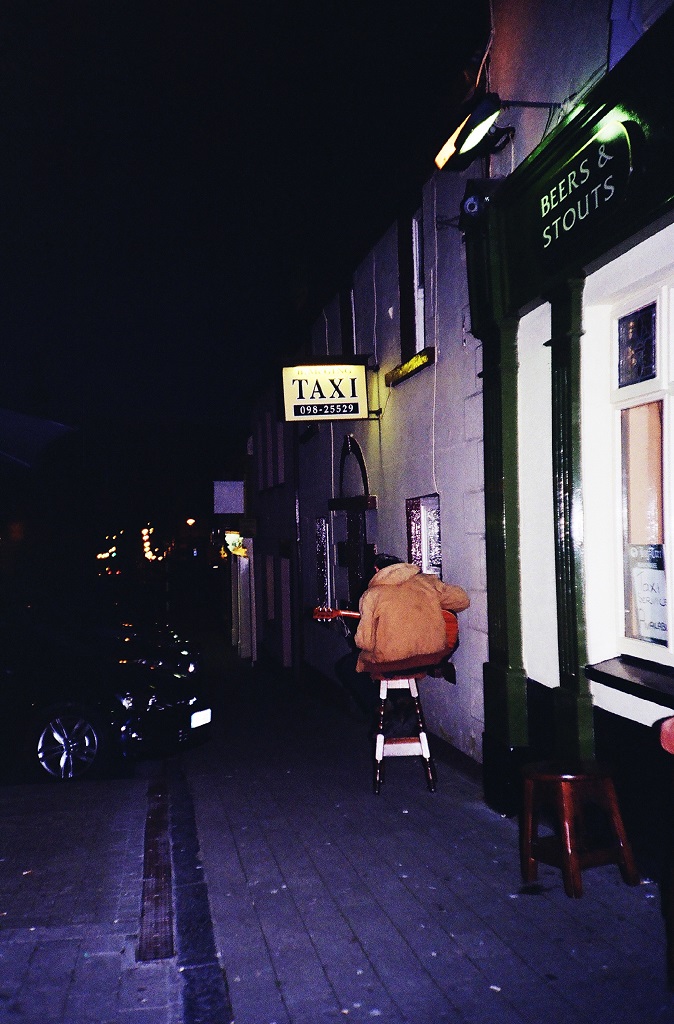 Return To A Changing Tide
In 2015 my father died, and shortly after I moved from Dublin city back to Westport, a place I hadn't lived in nearly twenty years. This exhibition of work is a response to how I rediscovered the place I grew up in, the rural corners and liminal spaces of my childhood.
I found a home that was the same but radically different, as was I. The landscape became an extension of my grief and also helped me find a place for me to live and thrive. The anachronistic rituals, the old ancient land that lay in the shadow of a holy mountain resonated with me and pulled me from my urban reverie and into the wild natural ways.
I returned a changed man, renewed and refreshed by the land of my youth. From death, a new life was born, I understood the draoicht surrounding me, it was the land and the people of Westport.
John McAleer is a photographer based in Westport, Co. Mayo. He has exhibited extensively across the country with his first book Fight Night published in 2016. His latest exhibition is due to be released as a major book later this year.
Art Level 6, 2020-2021, End of Year Exhibition
Westport College of Further Education
1st July – 25th July 2021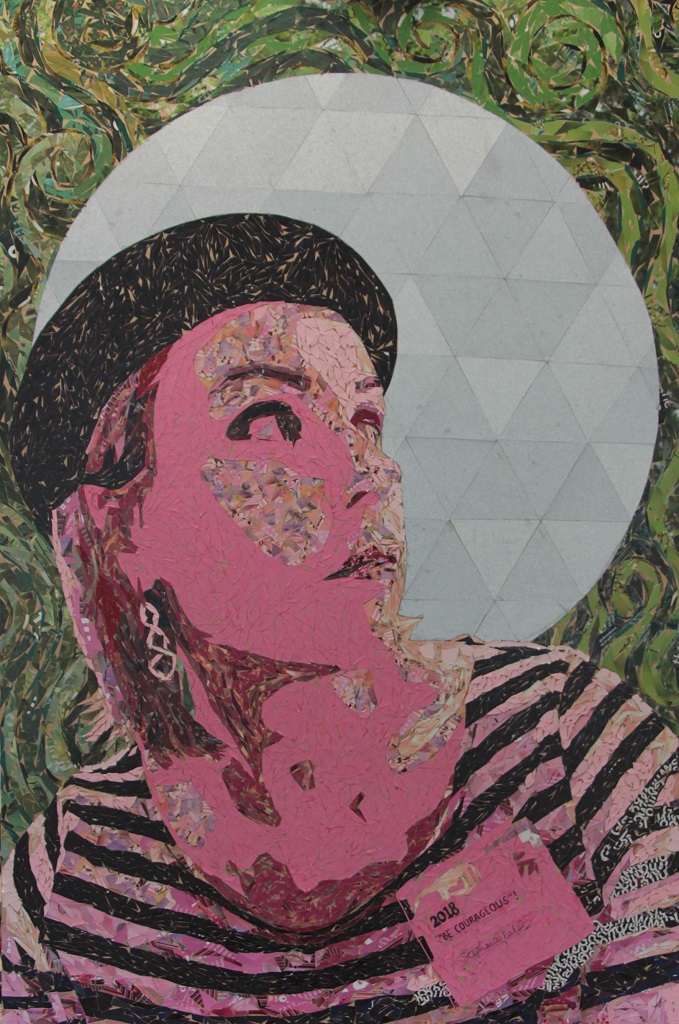 Exhibition feature works by:
Sarah Bohan / Sean Gillespie / Eilis Kennedy / Stephanie Lalor / Janet McCracken / Brenda McEllin / Brendan Murphy / Nicola Reilly / Miriam Sayago
From Under the Hill – Pat Byrne
3rd June – 27th June 2021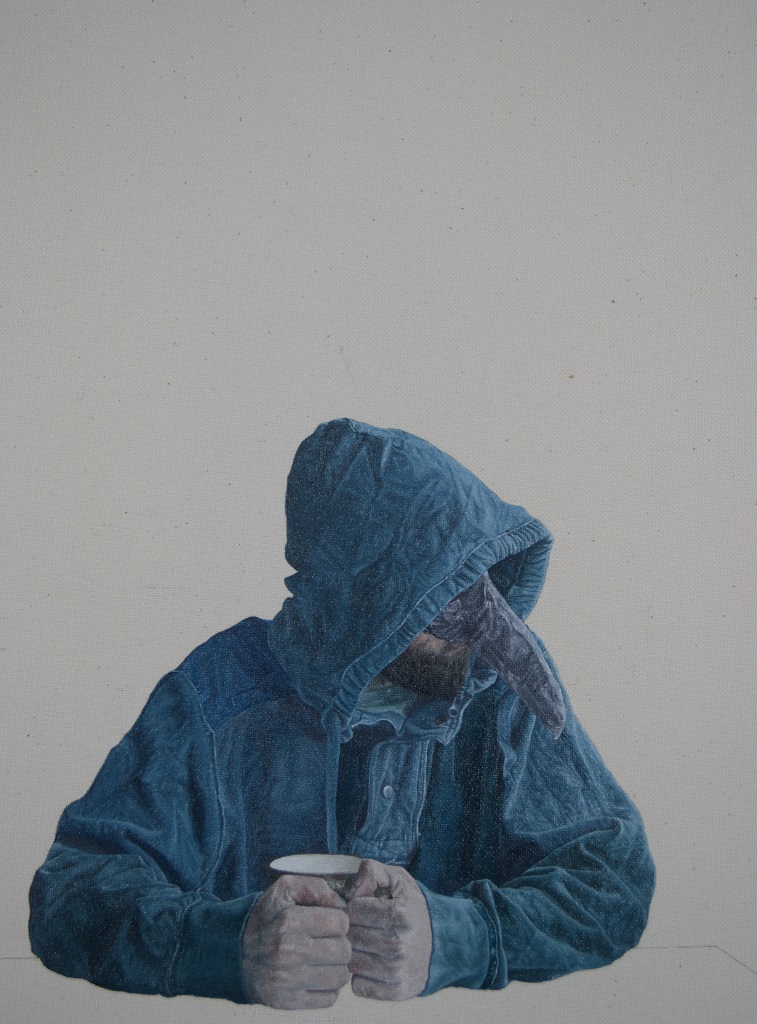 Pat Byrne's practice explores superstitions and folklore as he looks at mythological humanoids and fairies while attempting to portray them in a more realistic and contemporary fashion wanting to render them as somebody who could possibly pass us by on the street. Superstitions have always held a core place in Irish culture but as time progresses the mischievous and malevolent spirits that once occupied the spoken word and imagination are being forgotten only to be seen as figures of parody. The lack of faith and interest in this make-believe world is something that he felt reflects the current economic climate in Ireland with so many people unemployed and no structure to their daily lives, figures of folklore are effectively in the same situation and on the mythological dole queue simply living out each day completing mundane tasks.
Pat took the leprechaun as a starting point for the subject matter of his work painting the shoe maker in casual attire such as hoodies and tracksuits tucked into socks. He took the assumptions people have of these clothes and style of dress as synonymous with shady character and used them to amplify the shoe making fairy's reputation as a trickster. As Pat works from photographic sets that he has posed for himself, the hoodie allowed for anonymity, not wanting to have these figures identifiable but to retain a certain status as a talisman of Ireland while inadvertently adding a theatrical element to the work.
Pat Byrne is an Irish artist based in County Laois. He graduated in 2015 from the National College of Art and Design, Dublin with an MFA in painting. Prior to this he graduated with a BA Honours Degree in Fine Art from Galway – Mayo Institute of Technology in 2010. Recent exhibitions include The Soul Noir Festival of the Dark Arts, Dublin at which he received the Best Emerging Artist Award, Myth & Lore at Styx, London, To Catch a Certain Fortune at Birr Arts Festival, and Beneath the Dock Leaf at the Dunamaise Arts Centre.
Interior and Exterior Exteriors – Patricia McCormack
3rd June – 27th June 2021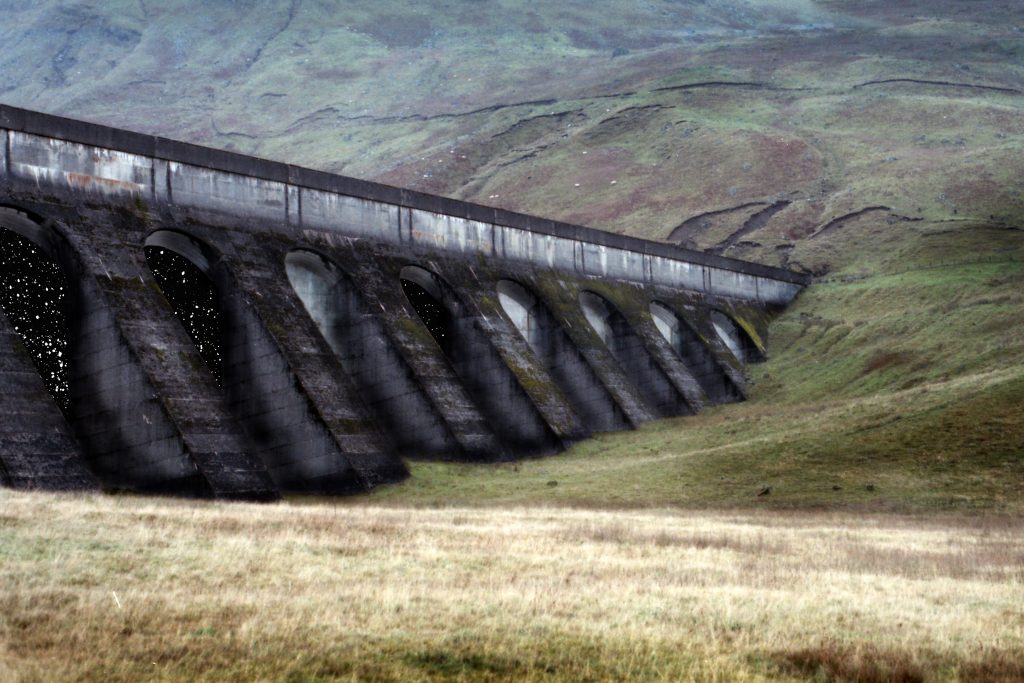 A distant murmur in an almost inaudible utterance.
A series of helpful notes in the structure of a galaxy.
A recurring idea to which the only response is 'I know'.
If everything in the Universe is moving, then why do we call it static?
This photographic series presents the artist's fascination with the emptiness of open and contained spaces. Each location has been filled with more emptiness by opening them up to an exterior beyond their own exteriors. The vacuum of space, the everything and the nothing. What lies beyond these exteriors is a place so dark you can see all that is bright; every birth of a star, every death of a sun. A place where stars do not twinkle because there is nothing in their way. A boundless place, so full and so empty at the same time, where anything permitted by the laws of physics can and will happen, given enough time.
These images have been created with a combination of 35mm colour film and ink on paper. The landscapes and interiors the artist has chosen for this series have been collected over the last several years, from places she simultaneously did and did not want to be in. There is both a coldness and a warmth to these hybridized places.
The former is emphasized in the dictionary styled definitions provided alongside the series. Incidentally, these definitions are as ungraspable as the subject itself is.
The exteriors within these places are artificial constructions, and this is a fact not hidden from the viewer. They have been heavily influenced by long nights spent by the artist at various telescopes, trying to catch a glimpse of that cold and silent vastness above, from her cold and silent vantage point below. Two pieces from the series stand alone, in black and white. They are repurposed from 19th century advertisements plucked from books discarded by the librarians at Edinburgh College of Art.
Each image, and their respective titles, creates a launch pad for conversation around our knowledge of astrophysics, our relationship with space exploration and science fiction, our inability to know everything about the cosmos, and humanities constant search for the answer to the question – why are we here?. The scenes in these photographs sit on the astronomical fence between fact and fiction. They are not real, and yet they also are.
Patricia McCormack is an Irish artist based in Edinburgh, Scotland. Her work explores astronomy and astrophysics through photography and painting, collage, installation and, more recently, Python code. Born in Ireland in 1988 Patricia graduated from the Dún Laoghaire Institute of Art, Design and Technology, Dublin, with a First-class Honours degree in Visual Art Practice (2011).In 2012 she completed a Diploma in Photography and Digital Imaging at the National College of Art and Design, Dublin. She then moved to Scotland to undertake a Masters in Contemporary Art Practice at the Edinburgh College of Art and the University of Edinburgh, (2016). She has exhibited her work in galleries throughout Scotland, England and Ireland.
Interior and Exterior Exteriors is Patricia's first solo show in Ireland.
Reopening
10th May – 30th May 2021
Reopening exhibition featured paintings and printmaking from nine artists:
Tom Brawn / Kate Cuddy / Bryan Gerard Duffy / Pauline Garavan / Genevieve King / Maggie Morrisson / Susie Quinn / Benita Stoney / Ian Wieczorek.