Fold – Lucy Hill
Custom House Studios + Gallery are pleased to host Fold by Lucy Hill.
Exhibition runs from Thursday, 12th May until Monday, 6th June 2022.
Opening Reception
Thursday, 12th May, 6-8pm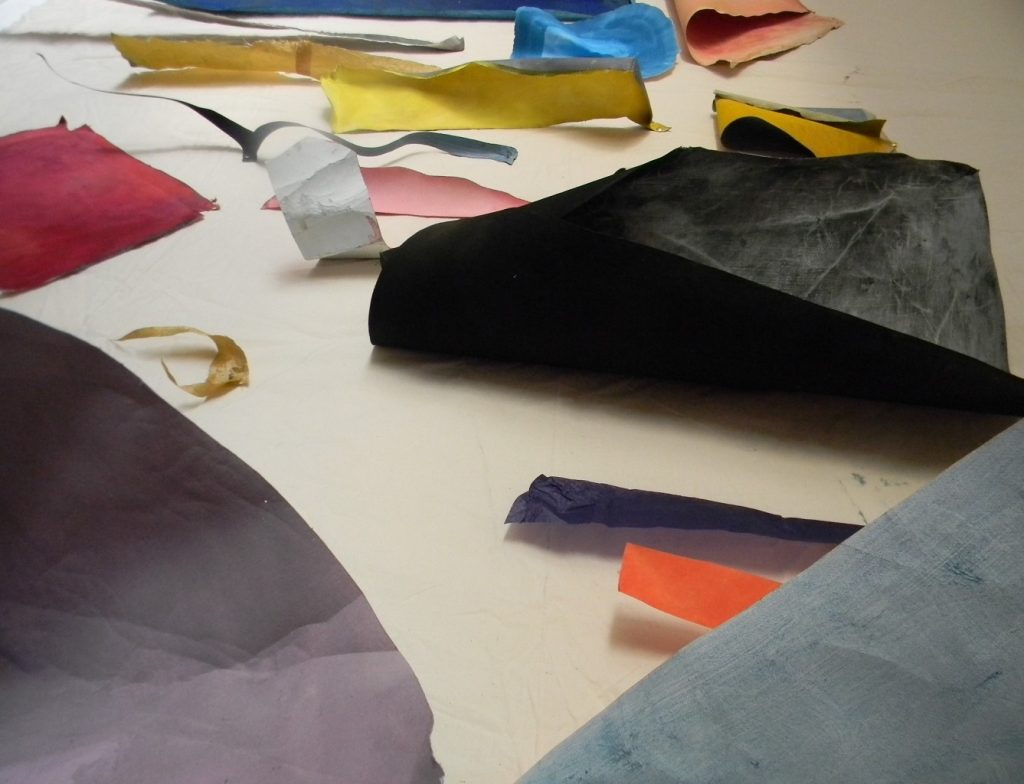 Fold
The process whereby a protein molecule assumes its intricate three-dimensional shape
A geological process that causes a bend in a stratum of rock
An action that changes the shape of a thing

To make compact by bringing from an extended to a closed position
To bring from a compact to an extended position: unfold
To place together and intertwine. To envelop or clasp: enfold
A cover for keeping loose papers together
A fenced enclosure for livestock
A flock of sheep
A congregation
A thing capable of collapsing or being collapsed
A doubling of one layer of material over another
To bring in close to the body
Crease. Forceful folding. Evidence of a forceful fold.
To discontinue. To close. To fail. To withdraw in defeat. To give in, buckle under pressure, weaken, or collapse from exertion.

To aerate by blending a light ingredient into a heavier mixture with a series of gentle turns

The form of connection that follows the general principles of a Deleuzian concept: open-ended & inexhaustive, non-exclusive & unlimited, exterior & infinite.
This exhibition/installation/painting will be changed (folded, unfolded, rehung, collapsed, aerated etc) by the artist at irregular intervals throughout its run. Changes will be documented and available to view.
This work is dedicated to the memory of Mary Hoban (nee Staunton)

Lucy Hill is a visual artist and academic. She has been awarded a PhD in art education from NCAD (2021).
She completed her M.F.A at Winchester School of Art in Barcelona, after her degree in painting at Crawford College of Art in Cork. She has won several awards, including a residency on the artist's work program at IMMA. She has completed four public art sculpture commissions and has exhibited her work in numerous solo and selected group exhibitions including EV+A. She has had her academic writing published with Sage, Routledge, and Springer. Lucy was the inaugural Prof. John Coolahan Early Years Artist in Residence at The Ark Cultural Centre for Children and was an invited speaker at the International Art Education Conference in Seoul Museum of Modern Art, Korea. She was a Creative Associate with the Arts Council Creative Schools program from 2018-2021. She is currently a lecturer and supervisor on the PME (Professional Master's in Art Education) at NCAD. You can see some of Lucy's work at her website: https://www.lucyhill.ie/.
Light Catchers – Oscar Fouz Lopez
Custom House Studios + Gallery are pleased to host Light Catchers by Oscar Fouz Lopez.
Exhibition runs from Thursday, 12th May until Monday, 6th June 2022.
Opening Reception
Thursday, 12th May, 6-8pm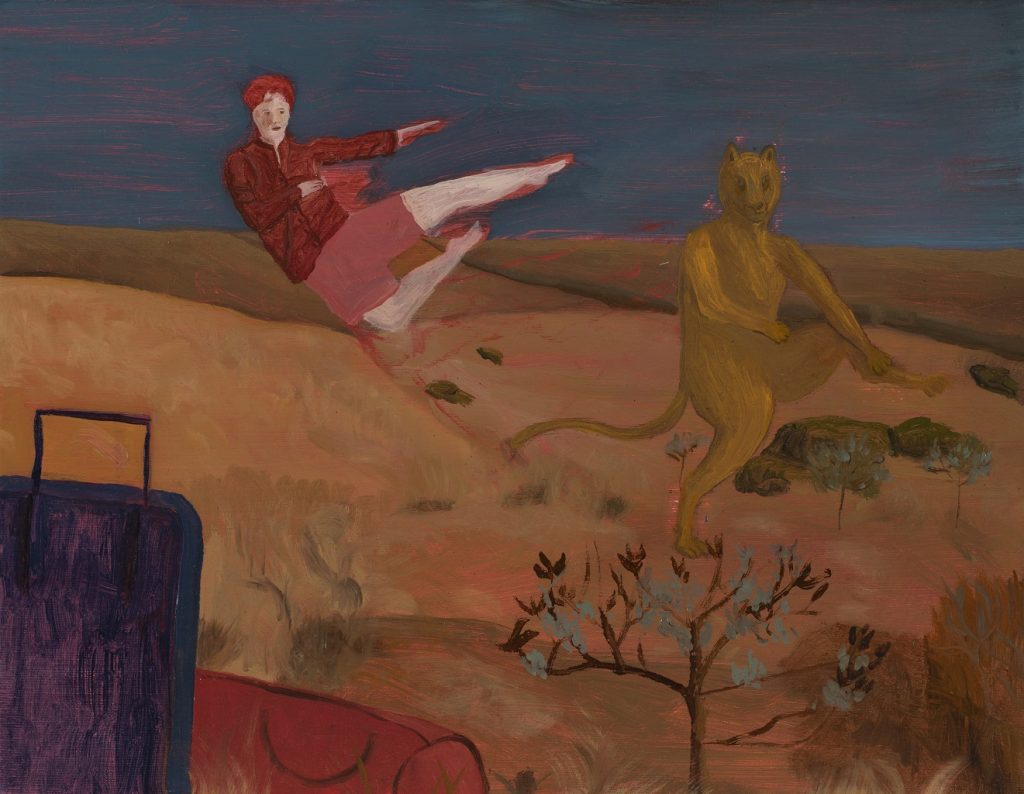 Light Catchers is an exhibition of new works by the artist Oscar Fouz Lopez.
The work of Oscar Fouz Lopez is informed by mythological stories and their synthesis of history, metaphor and philosophical teachings.
His latest paintings feature a cast of characters, the Light Catchers, absorbed in their own thoughts, travelling through surreal landscapes, engaged in activities at once mundane and metaphysical.
He posits the idea of a group of people living and thriving in a campsite at the heart of a forest. In doing so, he's not reaching for a utopian idyll, but rather for a way of living that's achievable, as well as being desirable. His subjects live together in nature, enjoying the simple pleasures of dancing and telling stories. His purpose is deliberately reductive – to strip life back to a pure, uncomplicated, and joyful essence. By accentuating the positive in our collective psyche and presenting goodness as the strongest driving force, he implicitly rejects the allegory for human nature William Golding constructs in The Lord of the Flies.
The settings for the paintings are inspired by a trip the artist took to the redwood forests of California, where he walked and sketched among some of the oldest trees on Earth. On the same trip, the artist also visited the De Young Museum in San Francisco and discovered the textiles of the Navajo tribe. He was struck by the vibrancy and colours of their woven blankets and rugs. The sacred art of weaving is engrained in Navajo culture, in the believe that the universe was woven together by the Spider Mother. The artist was inspired by the alignment of the tribe's daily lives with their holistic concept of the universe, in which doing and being are one and the same. His work is a homage to this truthfulness, merging the real with the imaginary and allowing for new realities to open up and invite the viewer to enter. In doing so, he offers us an entrée into the world of the Light Catchers, who dwell in luxuriant nature.
Oscar Fouz Lopez is a Spanish-born artist who lives and works in Dublin. His work has featured in group exhibitions such as, Insider Art (2016) in MCE, Belfast, Everything is in Everything, (2019) in the Sirius Arts Centre, Cobh, and Chrysalis, (2021) in the Molesworth Gallery, Dublin. He was also selected for The Annual Show at the Royal Hibernian Academy in 2017, 2018, 2019, 2020 and 2021. Recent solo shows include, Pickled Chimp Ears held at Pallas Projects as part of its 2018 programme, and Don't Look Back, Baby, (2020) in the Molesworth Gallery, Dublin. He graduated with a BA in Fine Art from DIT in 2010 and was shortlisted for the Most Promising Graduate Award at the Talbot Gallery the same year. Lopez also holds an MFA in painting from NCAD (2016) and was the Tony O'Malley artist in residence for 2018/19. His work is held in public and private collections, including those of the OPW and Trinity College, Dublin.
"Refractions" – Gavin Mc Crea & John Murray
14th April – 8th May 2022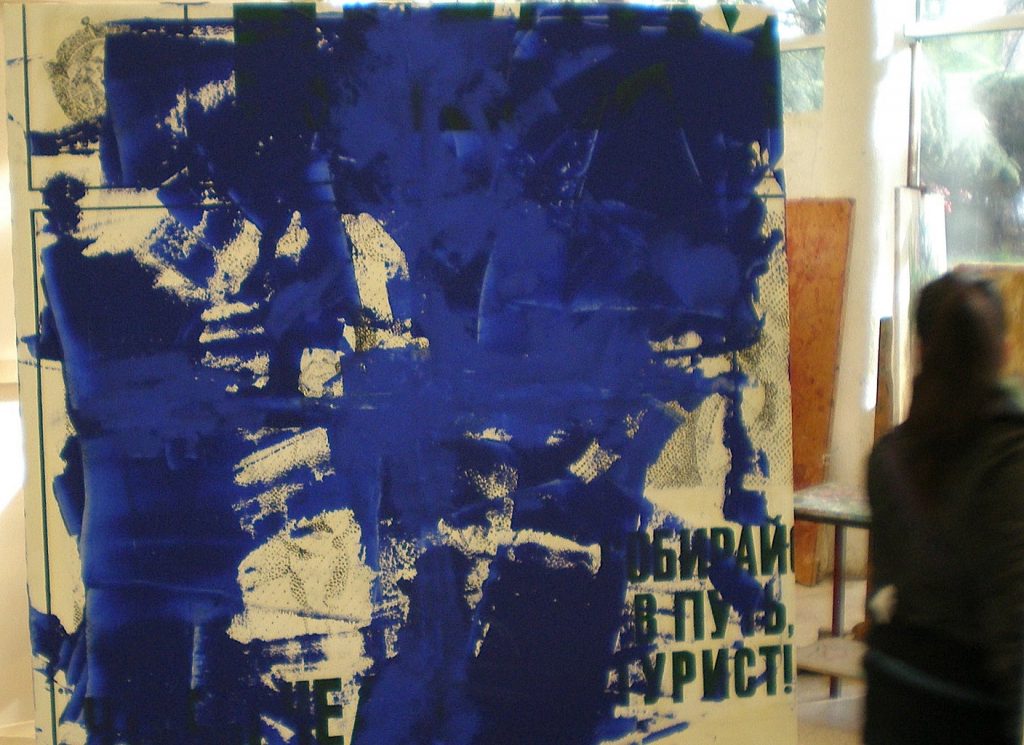 Gavin Mc Crea
Concerned with connections and human relationships with place, Mc Crea draws upon a range of embodied memory's associated with place and movements established from a lifetime of immersion in the sea through surfing. Although practiced and honed, each new surf session challenges these embodied movements through ever changing factors, winds, weather, tidal ranges and wave sizes. Each session differing movements and responses are brought to the fore, whilst intuitively traversing the wave face. No two waves ever repeated across a lifetime, this much like the painting process, were no two outcomes can be repeated, differing stretchers, paint qualities, brush marks and mood. In creating the work, I am interested in the sense of place and space, encompassing both past, present, old and new.
Embodied movements are acted out in the form of painterly gestures, across often familiar re-contextualised materials. Spontaneous, unpredictable and at times violent, reminiscent of surfing, they are juxtaposed against methodically produced sharp edge chevrons and stripes, normally associated with barriers, fences, flags or obstacles, for Mc Crea they are embodied memories from childhood car journeys navigating border crossings and checkpoints.
Works created from these inter-connected realms, are produced first and foremost as paintings but when placed within the space, take on new forms and function as both object and painting, some are wall-fixed and others floor-resting or standing or self-contained, the interactions between traditional painting surfaces and ordinary hardware materials used addressing painting as an act of construction, as well as art object. The creation of obstacles and unexpected use of materials, are an attempt to surprise, elicit memories, invite interaction and ultimately immersion within the painting realm by challenging viewer relationships with the sculptural forms arranged within space. These forms suggestive of the checkpoints, barriers, the painting studio, the fascination of painting itself, and embodied connections and relationships with seemingly utilitarian materials.
Visual artist Gavin Mc Crea grew up in Sion Mills, Co Tyrone in Northern Ireland but for over 25 years has lived on the West coast of Ireland where he pursues his love of surfing and painting. He has a BA Hons with a 1st in Fine Art from IT Sligo, and was awarded The Hyde Bridge Gallery Graduate Award Solo exhibition 2017. Solo shows include Innermost Limits at The Hyde Bridge Gallery, Sligo, Intertidal at Ballina Arts Centre and Alley Theatre, Strabane and most recently Speed Power And Flow at Ards Art Centre, Newtownards. Recent group shows include Mind Breath Beat at 126 Gallery, Galway and Minecraft Show, through Regional Cultural Centre, Letterkenny.
John Murray
My current work, including the four pieces for this show, is a visual remembrance of my time living and working in the Soviet Union. For these paintings, I have reproduced fragments of text and images selected from newspapers and magazines of the period and overlaid them with a less structured, more personalised layer that attempts to reveal the patterns and paradoxes — the warp and weft — concealed beneath the public surface.
John is a painter working and living in Dublin. He received his degree from IADT and has exhibited throughout the country in various solo and groups shows. He was named Irish Print Journalist of the Year for his reporting from Russia with The Sunday Tribune newspaper. He holds a PhD in Russian Linguistics and is a lecturer with the Russian Department at Trinity College, Dublin.
For more information, see website:
johnmurray.ie ,https://nuacollective.ie/artists/john-murray/ and instagram.com/johnmurray1000.
My Way – Gerry O'Malley

14th April – 8th May 2022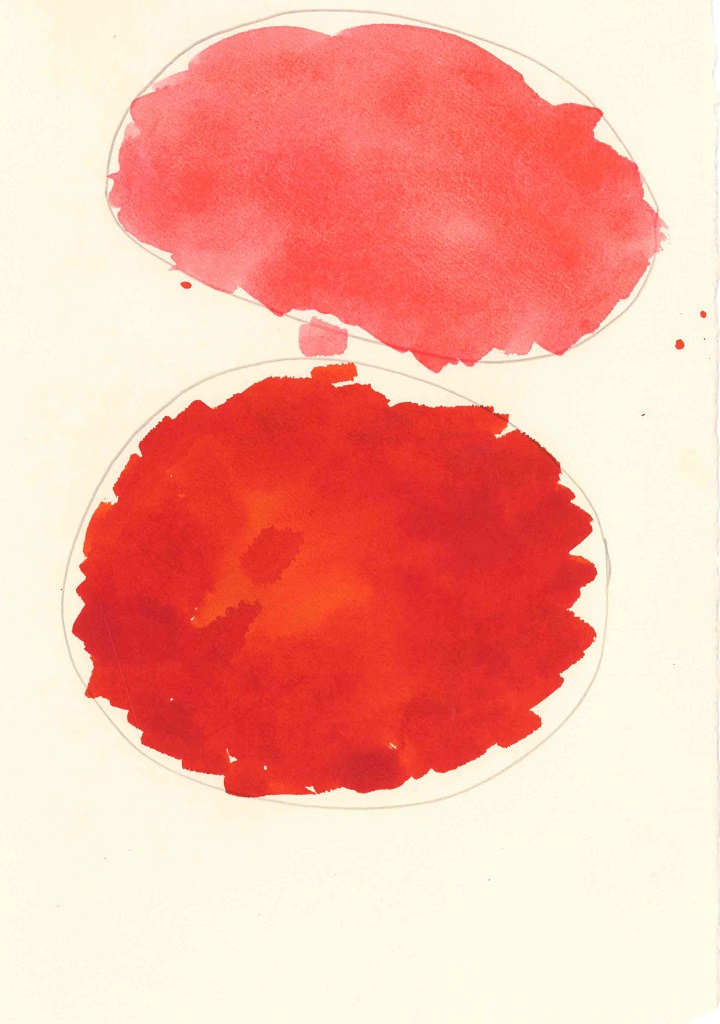 Gerry O'Malley, is a Mayo based artist, who works intuitively with many mediums.
'My Way' is O'Malley's first solo show, exhibiting his colour rich, abstract paintings and assemblage.
Gerry's work moves between a formal symbolic language of shapes and line, and painterly suggestions of an ethereal place. His works are always a conversation between form and value, a richly, sensitive, and energetic veneration of colour. The initial minimalism of shape and application, understates the significance of this exhibition.
Kickstart is an initiative of Mayo County Councils Arts Service in partnership with the Arts Council of Ireland and with support from Creative Ireland.
Remmidemmi – Susanne Wawra

17th March – 10th April 2022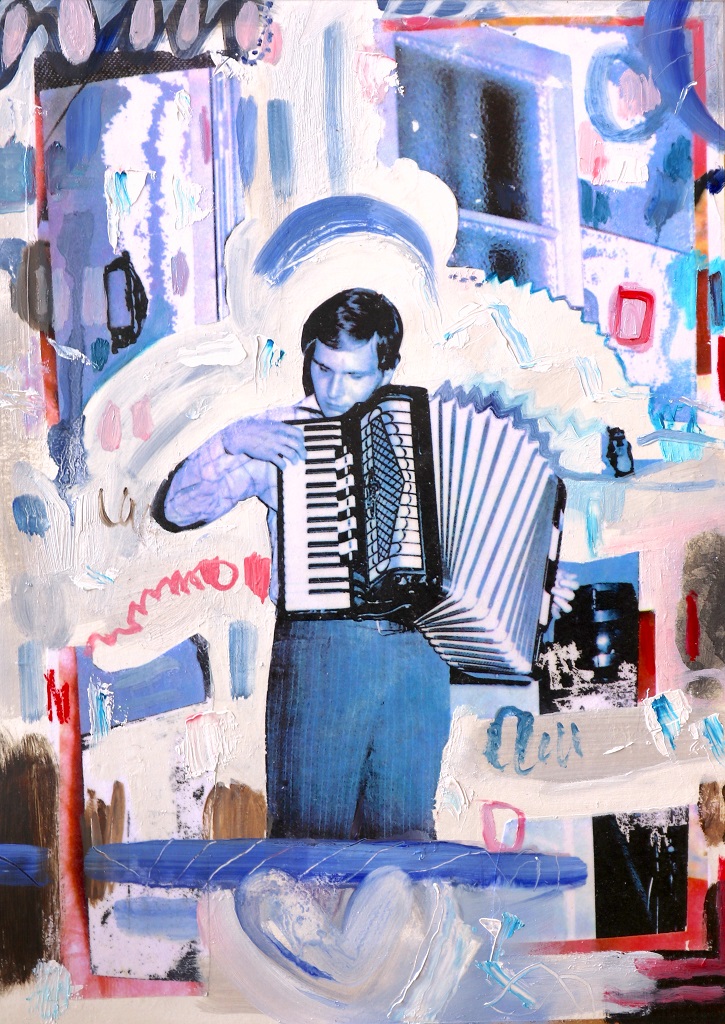 Remmidemmi is a German colloquialism for exuberance, frolicking, antics – a noisy, busy indulgent shindig. Something is happening; people are moving, creating joyous chaos. They are celebrating, making music and dancing, having the craic.
We experience a communal high in these events through a life-affirming breaking out of the ordinary, the everyday. It has become more apparent that it is not a permanent condition but something ephemeral in our current situation.
German artist Susanne Wawra puts Remmidemmi in the context of these challenging times of cabin fever and lockdown fatigue. The exhibition shows mixed media paintings and works on paper, print on carpet and low relief carving. The work is partly autobiographical, partly fictitious. Working from her family photo archive and found photographs, Wawra moves her protagonists around, and both creates and fills in the gaps.
The imagery draws on the black and white photographs from before the Fall of the Wall in Germany.
A young man is playing the squeezebox at her parent's wedding and won't stop playing, while everyone is hoping for the DJ to come on to do the shimmy. The themes of the works created between 2017 – 2022 are social gatherings, get-togethers, and occasions.
This sense of togetherness, the permission to let our hair down, let off steam and live it up, is contrasted by work made in reaction to the recent loss of connection and community. So personified, Remmi and Demmi are walking away from each other. Yet, contrast is also what it means to be alive.
Susanne Wawra (b.1980) is a German visual artist based between Dublin and Thuringian Forest, Germany. Working across different media, she explores the intersection between personal autobiography and broader histories. She employs photography, printed matter and documents from her family possessions and from abandoned private archives bought via the internet to expand on her background of growing up in East Germany before the fall of the Wall.
In 2019, The Irish Museum of Modern Art (IMMA) showed Wawra's work in a group exhibition titled
"A Vague Anxiety" curated by Seán Kissane. In 2018, Susanne exhibited "Portals", The LAB, Dublin (IE) and "Living in a Bubble", Luan Gallery, Athlone (IE). In 2020, she showed solo "Fernauslöser (Remote Release)" in her native country Germany, as well as "Sitzfleisch (Seat-Meat)" virtually and physically at Olivier Cornet Gallery, which represents Wawra in Ireland.
Trace Elements – Pascal Ungerer
17th March – 10th April 2022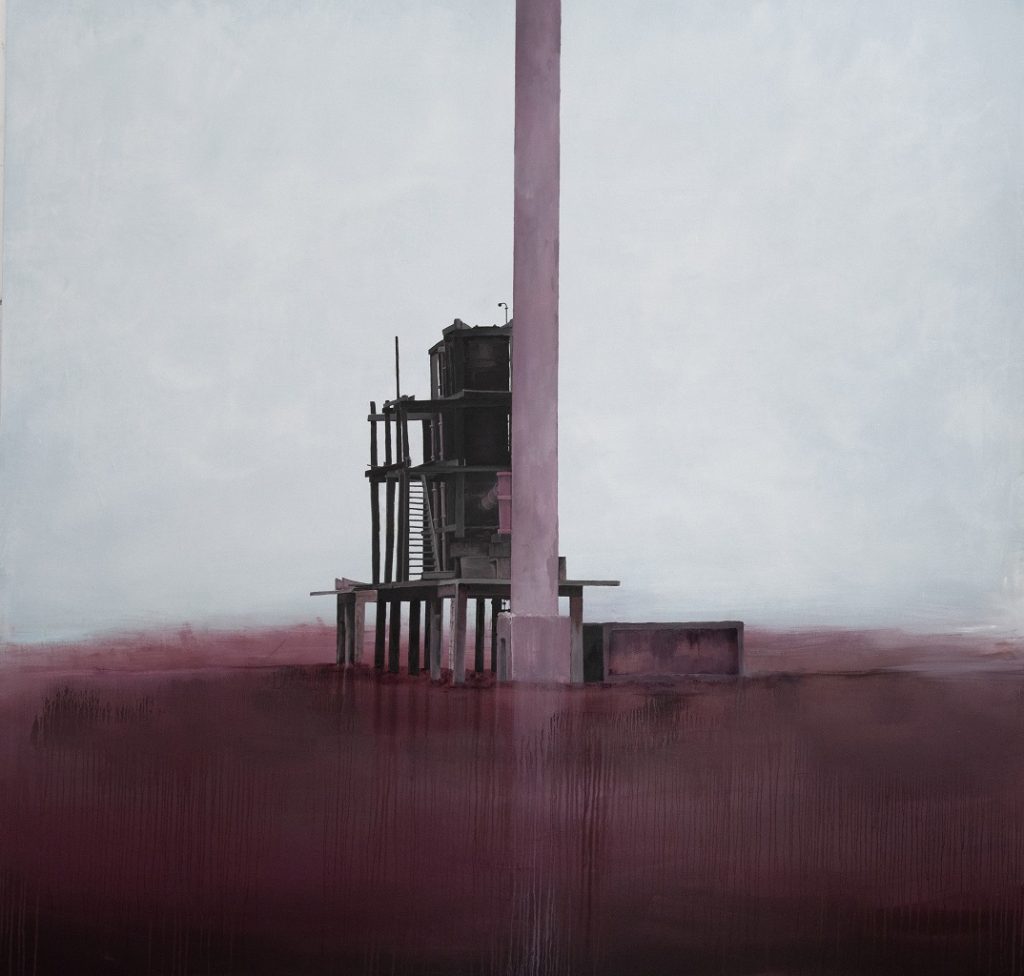 My thematic interests are primarily concerned with spatial cultures in the context of peripherality and place. My work often examines the in-between spaces that lie at the intersection of the urban and rural.
I have a particular interest in obsolete structures on the margins of urban development and in rural hinterlands, as well as areas of post-industrialisation, ecological degradation and rural de-population.
Much of my recent painting work looks at liminal landscapes on the margins of human habitation. I look at these landscapes as temporal with a cyclical flux between abandonment and habitation.
I am often drawn to unusual structures or topographies as well as places that have storied, hidden or layered histories. For me, many of these places represent a kind of 'otherness' in a sometimes bleak and foreboding environment.
Most of my paintings are fictional landscapes where I amalgamate different places and ideas into a metaphorical space to reflect upon wider socio-geographic issues, but these paintings are also intrinsically linked to the places and stories that have inspired them.
I am interested in people's connection to place and land and the wider perception of the natural or built environment and the interrelationship between these two contrasting spaces.
'Trace Elements' bring together many of these interests, in pensive, foreboding and empty landscapes as well as abandoned industrial infrastructure, which for me is emblematic of an 'architecture of the periphery' because of its obsolescence, marginality and alterity.
Pascal Ungerer is a visual artist originally from West Cork. In 2018 he completed a scholarship funded MFA in Fine Art at Goldsmiths University London. He has exhibited his work extensively throughout Europe as well as North America and Asia, including Blackburn Museum, CICA Museum, South Korea and Roman Road Gallery London. He has won and been shortlisted for many awards such as the Alliance Franciase de Cork Exhibition Award, the Bloomberg New Contemporaries, The Solo Award, The Sunny Art Prize, The ACS Studio Prize and the Ashurst Emerging Artist Prize. He has received funding awards and bursaries from the Arts Council of Ireland, Cork City Council, Cork County Council and from Goldsmiths University London. In 2020 he was awarded the Cork County Council and Uillinn West Cork Art Centre Residency Award and he recently completed a 12 month Project Residency at Backwater Studios in Cork. His work is held in numerous collections in Ireland, the UK, the US, France, Germany and Switzerland.

Boundless States – Olga Guse, Anthony D Kelly, Hina Khan
17th February – 13th March 2022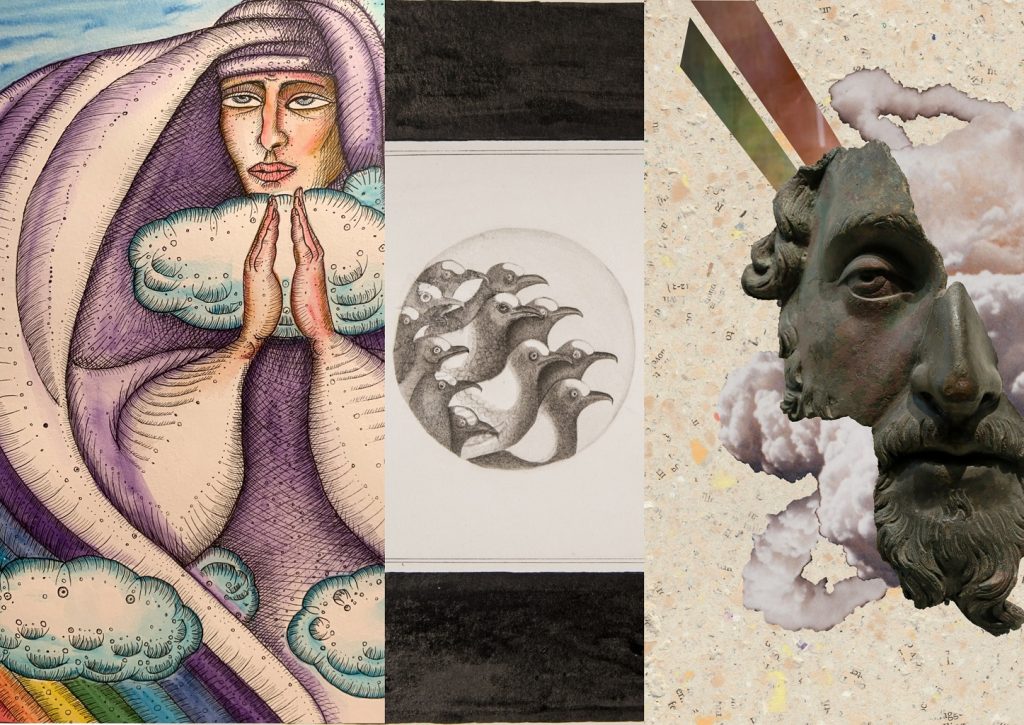 Olga Guse
Film "The Pray"
Environmental disasters, global warming, serious viral diseases, wars and strained relations between countries have recently complicated our lives. Some actively struggle with the fate that has overtaken him. But others can only pray …
Study
1996 – 2000 State Regional Art School in Saratov, Russia
2001 – 2003 studies at the University of Saratov, Russia
Field of study: Art History
From 2013 to 2016 created puppet animated films.
Since 2016 created video art: animated films based on original graphics and paintings.
Since 2017 at IAA International Association of Art as a holder of IAA international Identity Card for professional artists.
Since 2012 Participated in different international art and film-festivals.

The largest of Festivals:
XXVII Festival Les Instants Vidéo (2014, Frankreich), 17th International Art Exhibition NordArt (2015, D), 8th & 9th OSTRALE international panorama exhibitions of contemporary arts in Europe (2014, 2015, D), 4th Aurora Arts Festival in Dallas (2015, USA), 17th FILE – Electronic Language International Festival (2016, Brazil), 12th Athens Digital Arts Festival | Digital Pop (2016; Athen, Greece), Chrom-Art´s 'TRIBE' Alternative Art Festival (2016; London, England), NAHNU Exhibition, Städtische Galerie Dresden (2016; Dresden, Germany)

Awards:
8th The Digital Graffiti at Alys Beach Festival (2015; Panama City Beach, USA) Honorable mentions Award
the INCUBARTE International Art Festival (2015; Valencia, Spain): awarded from Centre d' Art Contemporani Addaya
Anthony D Kelly
"Until you make the unconscious conscious, it will direct your life and you will call it fate." – Carl Jung
Through his studies and work in the area of Humanistic and Integrative Psychotherapy Anthony D
Kelly draws upon a deep knowledge of the origins, functions and potentials of the cognitive, emotional, and somatic states which surface in the body and mind. Utilizing the medium of Digital Collage he clarifies and gives solid form to these abstract, elusive and transient states which continually emerge to temporarily occupy our inner spaces. These crystalized images of inner states offer the viewer a chance to recognise these unconscious movements within themselves and others.

Anthony D Kelly is an Illustrator, Writer, Visual Artist and Integrative Psychotherapist. He is currently based in Castlebar, County Mayo located on Irelands West Coast. He has extensive experience as a Gallery Administrator, Curator and Project Facilitator from his time at Basement Project Space an artist led initiative which was part of the cultural fabric of Cork City, Ireland. The aim of this initiative was to generate an exhibition/project space independent of established institutions, to provide development opportunities for emerging artists and to encourage cutting edge experimental practice across a broad range of disciplines.
He has studied Arts Administration, Arts Participation and Global Development and Humanistic Integrative Psychotherapy. Anthony is greatly interested in the Arts as an effective method for engagement with Social, Political and Global Development issues; and for seeking beyond the known to formulate the new. He works mainly with Illustration, Collage and Assemblage techniques to create hopeful, humorous, and sometimes unnerving and deeply satirical imagery.

Hina Khan
Miniaturist / Visual Artist
Human perception can present things very sensitively and for me Art is not just an activity, it is a passion. It is a medium that I used as an activist. I use it to describe my feelings, my pain.
I have chosen Miniature because of its intricacy and delicacy of brush work which tends their unique identity. Most of my work is a mixture of traditional and contemporary miniature. I always attracted by the graceful lines, rhythm and depth of colors in a miniature. My work is the constant search for the best way to interpret the ideas expresses my own ideologies through symbolism.
Born in Pakistan in 1980, I completed my MFA with majors in Miniature Painting from Pakistan. I am using a mixture of traditional and innovative techniques in Miniatures. I portray social issues, immigration, humanitarian crises like prostitution, gender discrimination, gender restrictions, trauma, child abuse & killing etc in my work. I have chosen Miniature because of its intricacy and delicacy of brush work which tends their unique identity. Most of my work is a mixture of traditional and contemporary miniature. My work is the constant search for the best way to interpret the ideas expresses my own ideologies through symbolism. Shifting my practice to installation, videos, 3D.
I am creating a dialogue through my art. My art is reflection of inner connection, immigrants, nomadic artists are part of this land, migration is deeply rooted in my blood. I have carried two cultures one where I was born and other is this culture where i am trying to re-root myself. Sometimes situation is not in our control, but life always takes us to different voyage. This journey built up constant transition in my art., personality, experimentation, allows me to evolve my art practice.
I have participated in number of groups shows in Pakistan from 2002 to 2011.
I came to Ireland in 2015 and participated in number of exhibitions in Dublin, Co. Laois, Co. Mayo, and Co. Cork. I have been rewarded several residencies with Fire Station Arts Center, Create Ireland, West Cork Art
Center and Cow House Studio. I have displayed my solo exhibition at Ballina Art Center, Mayo, and Strad bally Art house. My next solo exhibition is in pipeline in the coming months.
My art pieces are also in the permanent collection of Arts Council Ireland.
I am the recipient of several Awards from Arts Council Ireland, Create Ireland, and different counties.
Currently I am preparing solo show will be displayed in LHQ Gallery in 2022.
An Island Disappears – David Smith
20th January – 13th February 2022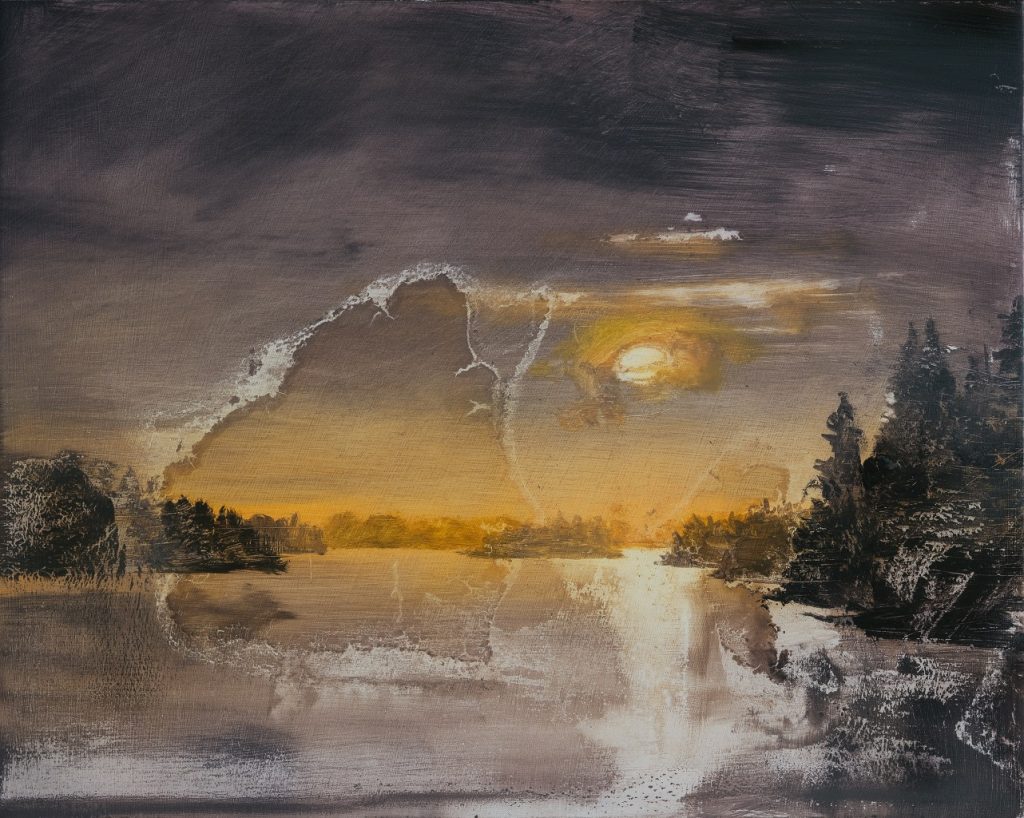 An Island Disappears
These paintings depict natural forms and spaces on solid, wood panels. They use the chemical qualities of oil washes to disrupt, dissolve or decay the image surface. The light, space and forms are shifting, living and dying, displaying a fragile and temporary nature. The dynamic of the work has emerged from travelling back and forth between Ireland and Hong Kong, where I lived for over 11 years.

As nature is further and further hemmed in, dominated and compromised by population, material culture and environmental degradation, this work seeks to create an internal sanctuary,
That reflects this pressure as well as a hope for a new sublime. Influenced by zen, ink painting, abstraction and photography, they play with the mysterious and the elemental.
Previous work in music/score and film has recently come to the fore and has found a form in recent short film, Eó Mughna's Lament, which was commissioned by The Dock in Leitrim.
David Smith is an Irish artist who works with painting and also film/music works. He has recently held solo shows in Hong Kong and The US He has participated in the Hong Kong art prize and also in the Hong Kong-Shenzhen Biennale of Urbanism and Architecture. His works have been featured in 8 out of 9 International Painting Annuals (INPA) published my Manifest press. He taught painting and foundation studies at the Savannah College of Art & Design in Hong Kong before returning to Ireland in 2016. Recent exhibitions include The RHA Open, The RUA Annual, RUA RED Winter Open and Second Summer at The Dock. His film Eó Mughna's Lament is currently screening at Cannes Short Film Festival. Originally from Mayo, he is now based in Co. Sligo and is currently artist in residence at The Dock in Co. Leitrim.