'Inverts on the castle wall, Perverts in the tall grass below'
Kian Benson Bailes

1st December 2022 – 15th January 2023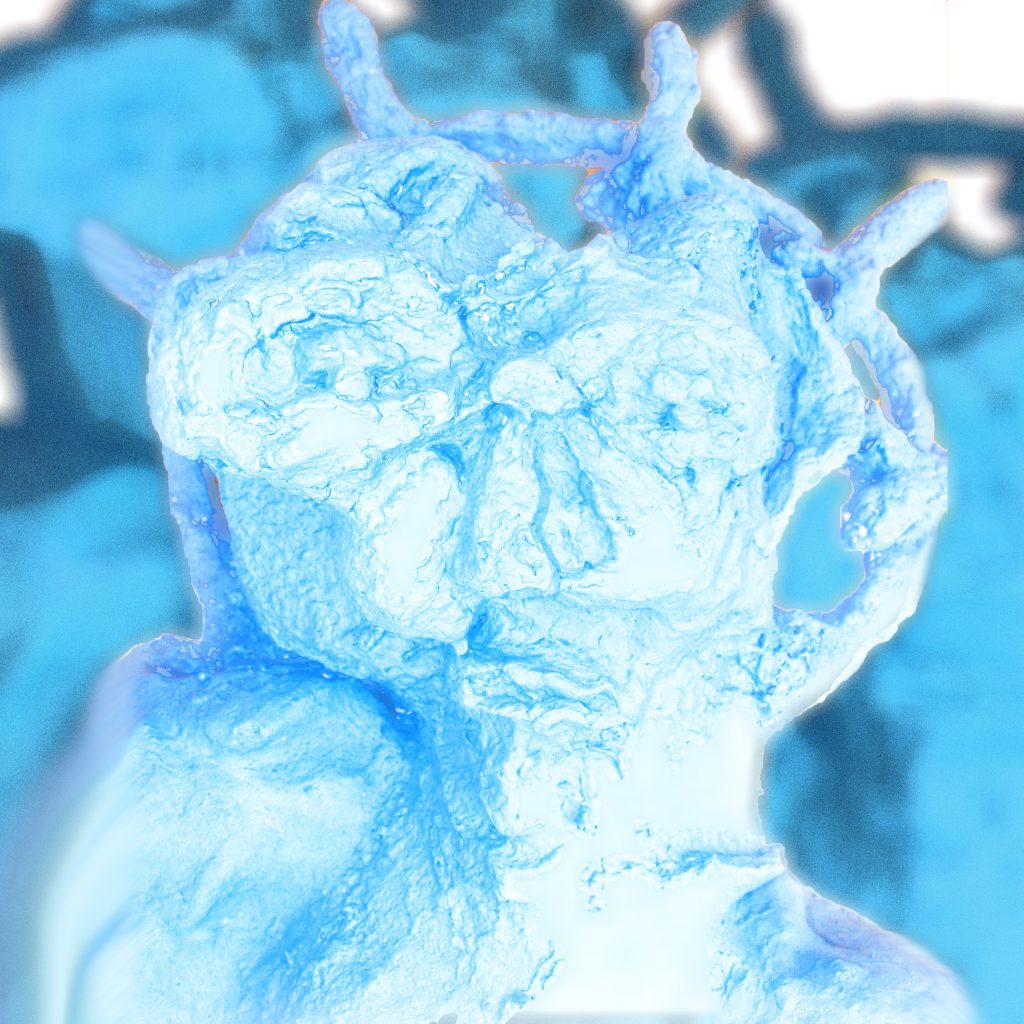 'Inverts on the castle wall, Perverts in the tall grass below'
'Inverts on the castle wall, Perverts in the tall grass below', is a body of work produced from investigations into rural Ireland, aesthetic language associated with rural and regional art spaces and queer communities. Using historical canon to construct alternative narratives around queerness and more specifically rural Irish queerness, the title of the exhibition frames language, and anglicisation of queer academia and asks how this written and documented theory manifests and is engaged in Irish culture in its pre and post-colonial history. When explicitly archived theory and queer / art canon exists for an urban anglicised society, the question is posed, "how do rural Irish queers reckon with this establishment in context of its own complicated colonial history?" Using craft processes, folklore, and a queering of canon, 'Inverts on the castle wall, Perverts in the tall grass below' expands and proposes ideas and making that draws from a culmination of a childhood in rural Ireland, an art education in an urban centre, and a re-evaluation of queerness and reconciliation of place and self upon return to rural Ireland. This exhibition is kindly supported by Arts Council Ireland.
Kian Benson Bailes is an Irish artist residing in the northwest of Ireland. He graduated from IADT, Dublinin2016, his multifaceted practice explores rural Ireland, visual language and identity politics. Recent exhibitions include 'Bog Cottage: Life in the Community' The Hyde Bridge Gallery, Sligo, 'Queer As You Are' Luan Gallery, Athlone and 'Shiftings' Kilkenny Arts Office, Kilkenny.
Understory – Helena Gorey

1st December 2022 – 15th January 2023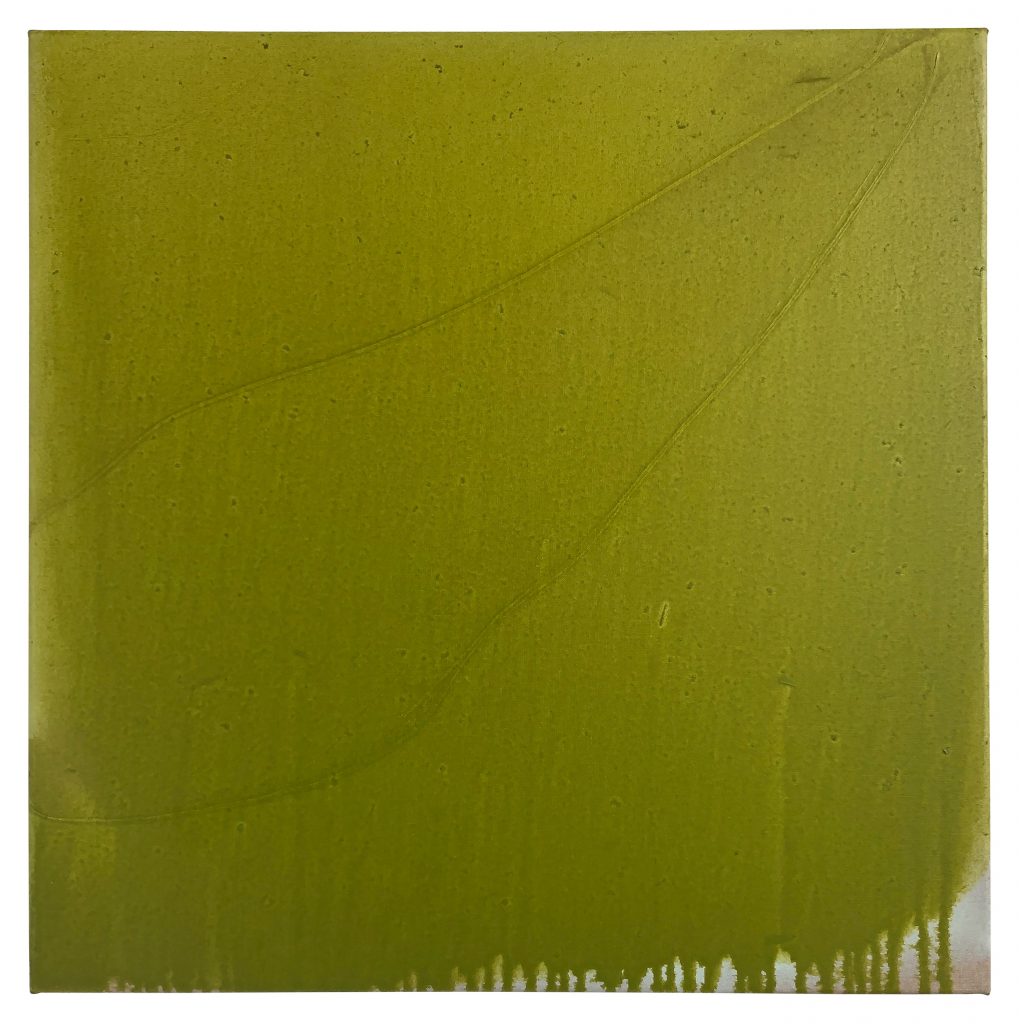 Helena Gorey's home is a cottage situated in pastoral landscape close to where she grew up, with a view to a field with an almost perfect horizon line. One of her earliest memories is picking blackcurrants in this field planted by her father. The experience of growing up and living in this place and its surrounding nature has influenced much of her work. Hers is not a desire to represent but to distill the essence of this place. Her approach is intuitive and her paintings are developed slowly over time. She aims to make works that have a sense of depth but may appear effortless. Paintings are sometimes bisected by a subtle horizontal line suggesting a possible land or seascape and conjure the atmosphere of nature through a veil of – light, mist, fog and rain. When a sense of completeness is not achieved on first touch a process of layering from light to dark and dark to light is developed in order to arrive home.
In an ongoing exploration of 'Understory' she continues this engagement with nature and focuses on the beauty in humble plants of the hedgerows, concentrating on the richness of colour and texture in nature and using titles such as Lady's Bedstraw, Leaf, Sloe Berry and Brindled. The Catchment Series use the contours of recycled paper to create rivulets through which the paint flows creating a texture similar to a topography landscape or ripples on the surface of the ocean. The scale, form and installation of these paintings are determined by the architecture of the long narrow path like space of the upstairs gallery at the Customs House, with a nod to the remnants of sessile oak woodlands at Brackloon just outside Westport and the Gallery facing the sea at Clew Bay. She attempts to create an immersive sense of landscape without trying to representing it.
Helena Gorey's most recent solo exhibition was the first iteration of Understory at Highlanes Gallery earlier this year. Her work has consistently engaged with the natural world and a sense of place which has been reflected in exhibitions such as 'Proscenium', Ashford Gallery, 2018, 'The Orchard' Butler Gallery 2013, 'Two Trees' The Dock 2006, 'The Blackcurrant Field' 2001 and 'Landscape & Memory' 1999 at Kevin Kavanagh Gallery.
Her work was recently selected for group exhibitions at Mark Borghi Gallery, New York and Contemporary Irish Arts Centre Los Angeles and exhibitions at Rathfarnham Castle and Farmleigh Gallery curated by Mark St. John Ellis. She won the Artworks Award at Visual Carlow in 2020 and received a Highly Commended award for Highlanes Gallery Open Submission in the same year. She curated The Overhanging Garden for AKA Kilkenny Arts Festival 2021 and her work is installed at Grangegorman Primary Care Centre as part of GDA public art program.
Her work can be seen in many public collections including The OPW, The Irish Museum of Modern Art, Limerick City Gallery of Art, The Arts Council, Highlanes, Butler and Glebe Galleries.
She studied at Limerick School Art & Design and is represented by Nag Gallery.
Home and Away – Mike Bernard & John Brady

26th October – 27th November 2022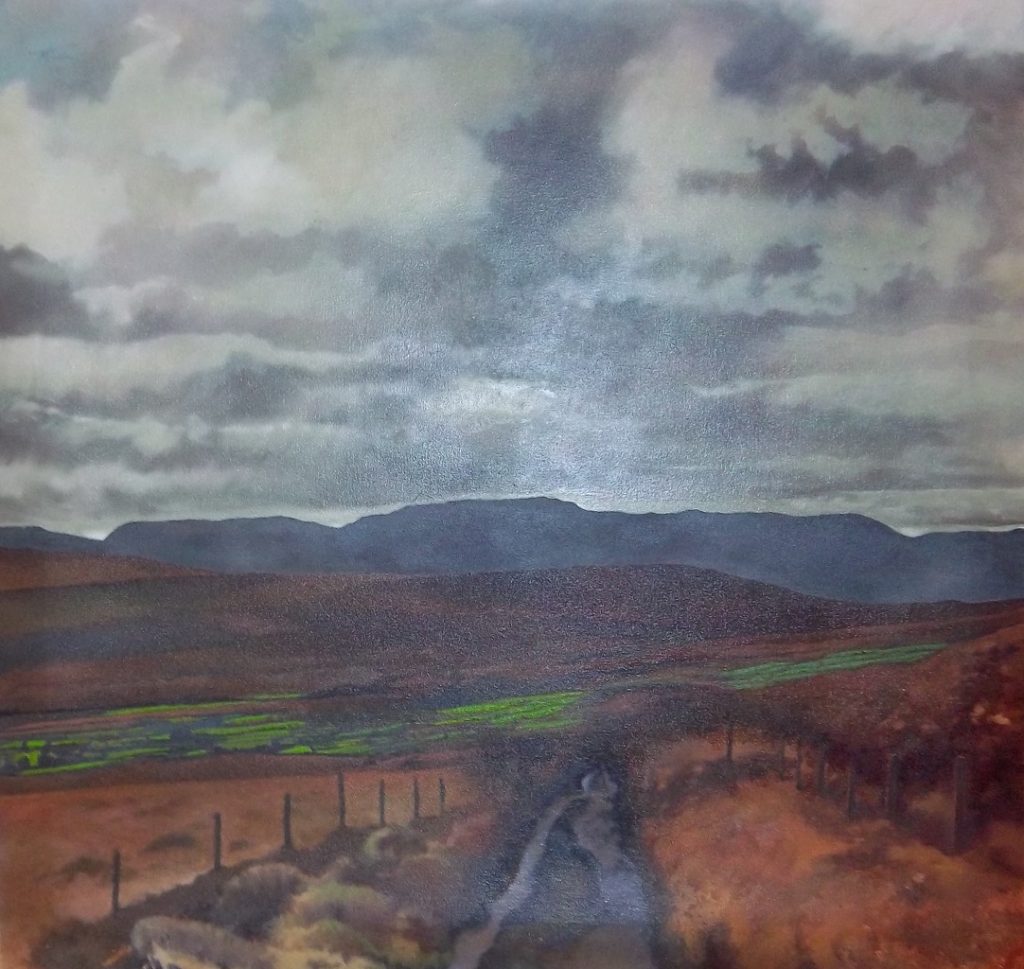 Home and Away
Mike and John were involved in several community arts projects in Westport in the 1980s which lead to the establishment of the Customs House Studios + Gallery of which they were founding members. They then went on to pursue their own successful careers in the visual arts and, having previously exhibited together in 1996 and in 2002, are pleased to come together again as part of this year's Westival programme.
Mike Bernard's paintings in this exhibition span a lifetime of work; they derive their inspiration from the rural environment in all its contexts and particularly from the natural world which surrounds him at his home in Cloona. 'Working in a studio surrounded by mountains, woodlands, meadows and water, the sky becomes a clock counting out the year; spring is the colour change over Black Hill, moving through the neon lights of summer and back into the grim magnificence of autumn'
'Painting is what happens when words don't do it for you; it has its own language of emotions, reactions; not just a decoration but a demand to be seen and then to absorb you.'
John Brady's paintings are the responses to sketches done nearly ten years ago when he spent 14 months travelling the world. The modern day 'Grand Tour' went through over 20 countries and he filled around 25 sketchbooks which were then posted back to Ireland.. These drawings have proved to be a bridge to that extraordinary year and a major inspiration for him. While the paintings are done as a response to the drawings, there is also an aspect of reverie in the work an evocation of the moods, the people s and sights from that time.
'Travel is a huge part of my life and provides me with a chance to explore being out of place. The strange and the very familiar overlap in every corner that Ive had the privilege to visit. In the end its always lovely to get home again among friends and family,
'To arrive where we started and know the place for the first time'.

Mike Bernard
Mike Bernard is a contemporary painter, born in Liverpool; he lives and works in Co. Mayo.
He is an artist responding to the rural environment in all its contexts. His work is realist in nature and has been described as having a 'magical intensity '.
John Brady
Born in Westport, Co Mayo, Brady has degrees in fine art painting from both the RTC in Galway, and the Crawford Art School in Cork. In addition, he gained a Masters in Fine Art from the Winchester School of Art, in Barcelona Spain. At his Artspace studio, he works in nearly all media, including oils, acrylics, watercolours, mixed-media, encaustics, tempera, pastels, graphite and charcoal. In addition, he has made maquettes in a wide range of materials, such as wire, wax, paper-construction, lead and found objects, and a number of small-scale and large-scale sculptural works.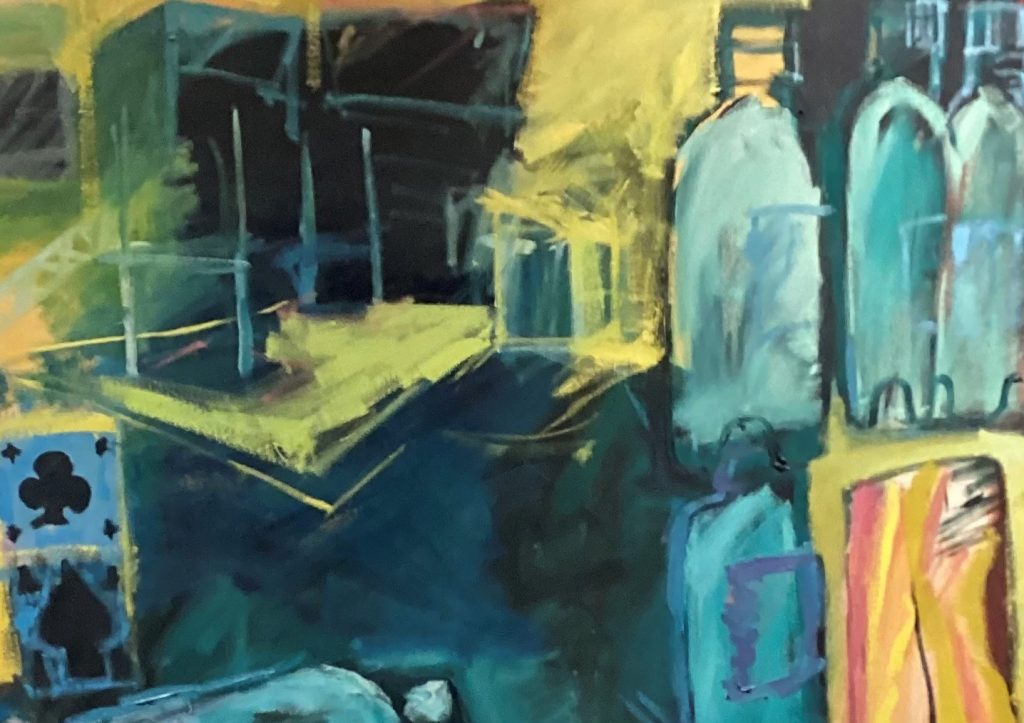 IMAGINE LIFE WITHOUT ART – Bernadette Kiely

29th September – Sunday 23rd October 2022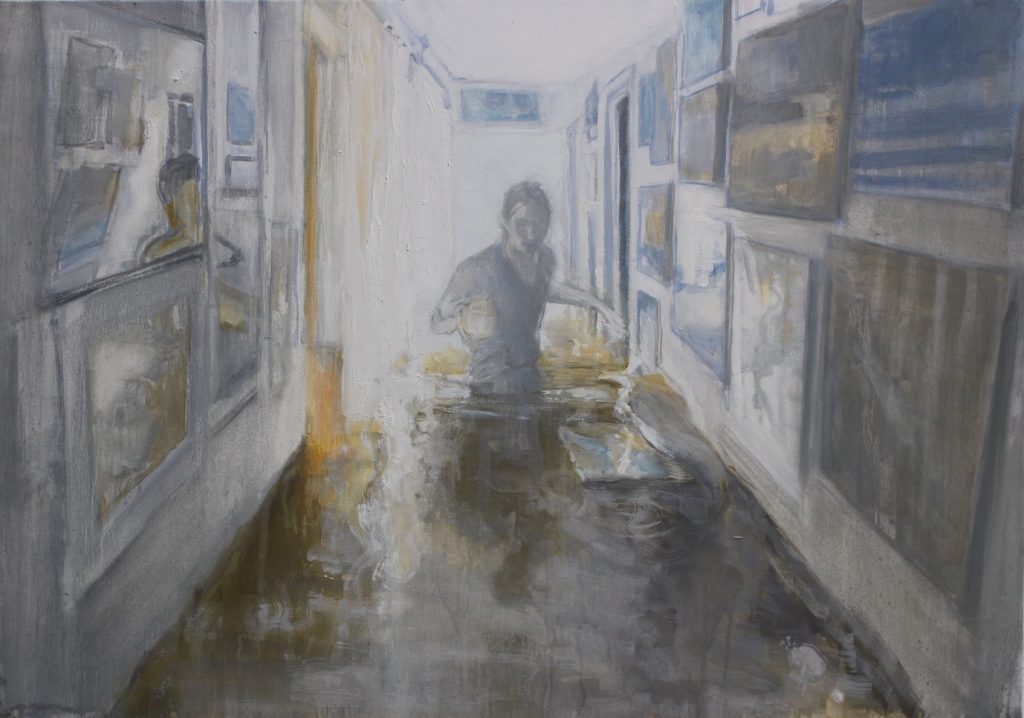 IMAGINE LIFE WITHOUT ART
Bernadette Kiely grew up on the banks of the river Suir and has lived and worked on the quayside of the river Nore since the 1980's.
This exhibition is an exploratory journey around her primary themes of the effects of weather and changing climate on land, landscape and human lives over time. It will feature paintings, drawings and moving image created over a 25 year period. These will dialog with work made in the present day coalescing in a continuum of artworks.
Delving into the myriad connections between art and nature her works subtly question the role and value of art and collecting in a time of shifting geographies and climate turmoil.
Accompanying the exhibition will be a poster/publication with essay by Dr. Ciara Healy. Writer, Curator and Lecturer in Art and Heritage.
Biography/

Bernadette Kiely (Carrick on Suir, Co. Tipperary 1958) lives and works in Thomastown, Co. Kilkenny in a studio built in the old handball alley by her predecessor, the late painter Barrie Cooke.
Graduating from the College of Art and Design (SETU) in graphic design/visual communications, she worked in design in London, architecture in New York and as first administrator of the Butler Gallery, Kilkenny before attending the Slade School of Fine Art, London.
From largescale painting and drawing on canvas to small sketches and drawings her work addresses geographical and environmental concerns through her observation and engagement with everyday life.
Recently shortlisted for the Contemporary British Painting Prize 2022 (Huddersfield and London) for her paintings on environmental disruption Bernadette has also been shortlisted for the Zurich Portrait Prize 2022 (National Gallery of Ireland and Regional Cultural Centre, Letterkenny) for her portrait 'An artist becomes their work – portrait of Paul Mosse in his studio'.
Recent exhibitions include the RHA Annual Exhibition 2022 and 'one touch of nature [makes the whole world kin]' at Taylor Galleries, Dublin (2020).
Bernadette has exhibited her work nationally and internationally. She is a member of Aosdana and is represented in Ireland by Taylor Galleries, Dublin.
See full biography onwww.bernadettekiely.ie


"Place and Pour, Surface Additions" – Elizabeth Archbold
29th September – 23rd October 2022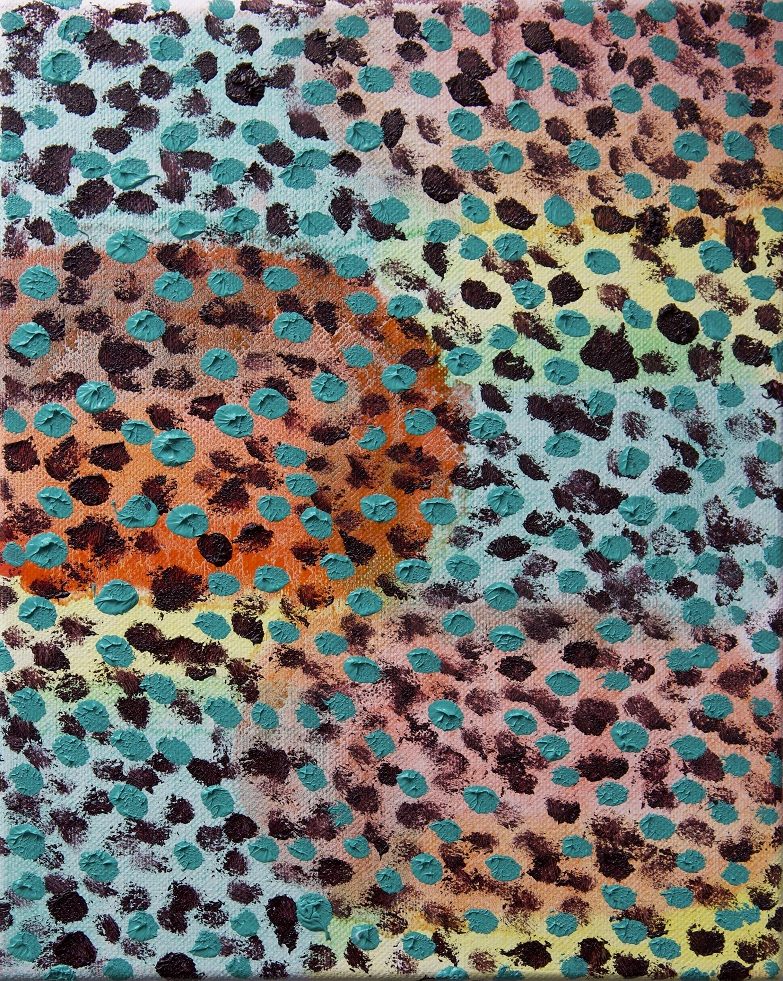 "Place and Pour, Surface Additions" is an exhibition of experimental oil on canvas paintings. The work is concerned with an interrogation of what abstract painting can be and possible modes of communication through the medium. The paintings are a response to the moment of making with the surfaces being built up gradually over time.
There is an emphasis on an interplay between representational space and the materiality of the medium on the surface of the painting, holding a direction inward towards illusional and imaginary space and at the same time being an object in the world.
The notion of resistance of painting in the making process leads to improvisational applications. These applications are an index of consciousness and are informed by an adjacency to forms, objects, occurrences, and brush strokes within the field of experience.
Elizabeth Archbold is a visual artist who lives and works in Dublin. She has exhibited solo exhibitions at the Ashford Gallery, at the RHA in Dublin, 2022; Pallas Projects/Studios, Dublin, 2017; and in Rua Red, Gallery 2, Dublin, 2010. Recent group exhibitions include; Culture Connects at Wilton Park, Dublin, 2022; Artform, Waterford, 2021; and the RHA Annual Open Submission Exhibition, 2022. Her practice is kindly supported by the Arts Council of Ireland and Fingal Arts Office.


an idle plasticity
(also a floating unreality)
by Helen Hughes

1st September – Sunday, 25th September 2022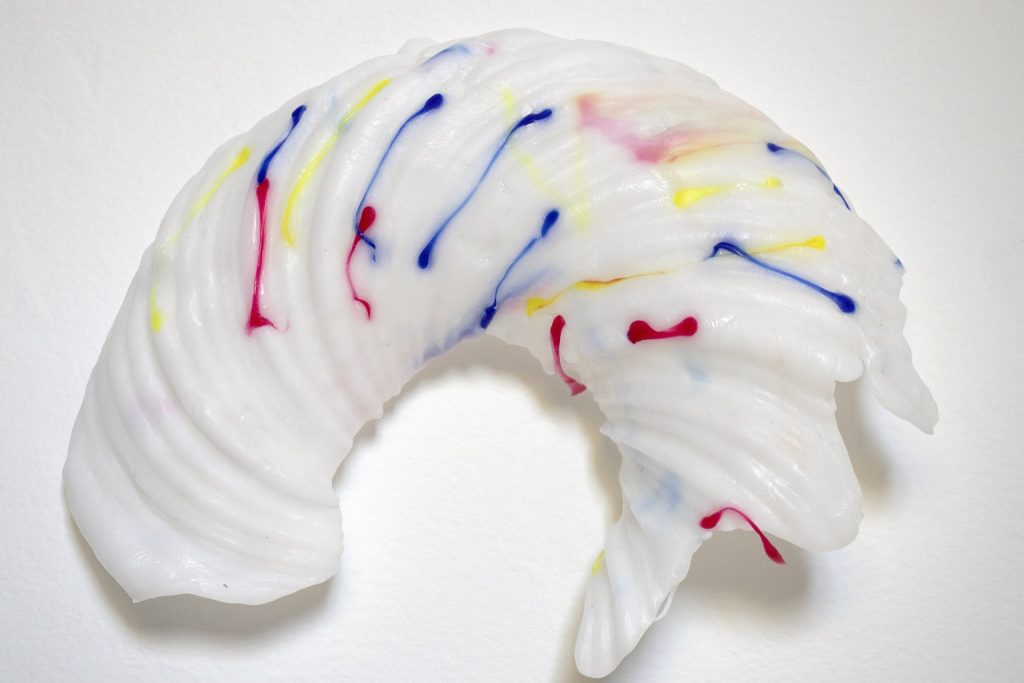 Making and materiality are foundational in my predominantly sculptural practice which takes influence from mass produced commodities and the fetishistic surfaces of retail. Manipulating industrially manufactured elements, I probe the homogeneity prevalent in consumerist society to participate and engage with capitalist concepts and constructs differently. Honing and developing my own improvised, markedly physical processes, and utilising materials that are wilful and difficult to control (eg, balloons, fast-cast resins) my practice is rooted in the body and its ways of understanding. My intention counters increasingly virtual ways of navigating the world and a growing remove from materiality. Material elements are reworked through removal, addition and recasting to disguise or reveal appearances and to mimic each other and other things. Pushing against the nature of materials and their designed functioning, I embrace the surprise and perversity that materialises to reference the accidental/incidental occurring in manufacture. Drawing attention to latent qualities and hidden agency within materials, I view this as an expansion of the industrial process where my improvised actions result in a more human sensibility.
Helen Hughes is a process based sculptural artist living and working in Dublin. She is a graduate of Chelsea College of Art and Design, London (BA Hons Fine Art) and IADT, Dublin (MA Visual Arts Practices). She presented a solo exhibition at Roscommon Arts Centre, "and Yes, daydreamer s u r R e n d e r " (January 2022). Recent group exhibitions include "Periodical Review #9" at Pallas Projects, Dublin (2019), "Dearly Beloved…" VISUAL, Carlow (2019), "Syntonic State" TULCA, Galway (2018) and "A Bounce Borrowed", The Dock, Carrick on Shannon (2017). She is a recipient of a Creative Ireland Visual Arts Bursary in 2020, a Visual Arts Agility from the Arts Council in 2020, and a Professional Artist Development Bursary from Dun Laoghaire Rathdown County Council in 2019. She was recently awarded a place on the 2022 Platform 31 scheme led by the Local Authority Arts Offices and the Arts Council. Her work is in the Arts Council of Ireland collection.
Helen has upcoming solo exhibitions at Butler Gallery in Kilkenny (2024), and Ballina Arts Centre (2025). She is the current holder of the National College of Art & Design studio award 2022-23.
Enaction, a private sphere – Ciara McMahon
1st September – Sunday, 25th September 2022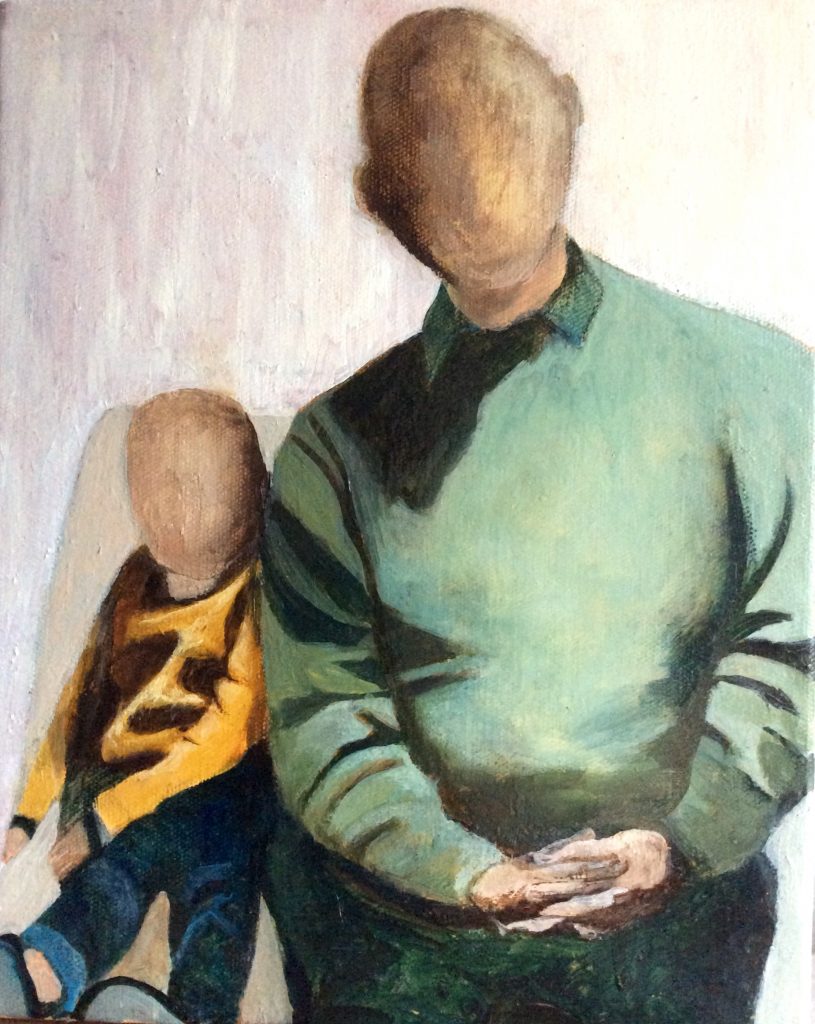 Bean and Dad, oil on linen, 20cmx30cm, 2017

Enaction, a private sphere
This is a show about portraits – of people and Objects, in relationship with each other and how meaning can come to be created somewhere between the two. Influenced by the seminal work of cognitive science The Embodied Mind, (Francisoc. J.Varela, Evan Thompson and Eleanor Rosch) I am preoccupied with how our intimate relationships tell through our body language: How we sit, or stand. How we are in the world. I am also intrigued by our relationships with / to Objects. Those soft toys, shoes, ovens which – possibly who? – have been with us through thick and thin, occasionally longer than our significant other. I'm intrigued by quirky, idiosyncratic, or potentially ugly meaningful objects.

Is it possible to make a portrait of an Object or indeed a person? Can a body part or a partial Object act as a portrait?
(Evan Thompson 2010, Mind in life: Biology, phenomenology, and the sciences of mind)
Ciara McMahon is a Dublin based multidisciplinary artist. Her practice is realized through painting; photography; video and site specific performative installations. McMahon is preoccupied by the play of embodiment between Self / NonSelf, and how this is experienced both in private or within the wider socio-political society. My practice repeatedly and provocatively mines borderline objects, experiences and places.
McMahon's solo exhibitions include Temporal Sequencing: Present Perfect Continuous, The Other Gallery, The Banff Center, Banff, Alberta (2011), Time to Remember, The Cline Space, The Banff Center, Alberta (2011), Liminality, NCAD Gallery (2011), Détruis Space, The Joinery (2009), Mutual:Esteem, SIN Nightclub (2009),The CrossOver Event, Mountjoy Prison (2008).
Selected group exhibitions include Weaponising Speculations, Block T, Dublin (2013), Augment, Catalyst Arts, Belfast (2012), What Kind of Old Do You Want to Be? Garter Lane Arts Center, Waterford (2012), The Art and Health, Bath Royal Science and Literacy Institution ( 2011), This is my Body, Birkbeck College, University of London (2011), Preface, Pallas Projects (2010), Summer Show, RUA Red, Tallaght (2010), 127th Annual Royal Ulster Academy Exhibition (2008).
McMahon was awarded the Adurey E. Klinck scholarship at the Banff Arts Centre, Canada (2011); Artist in the Community Award Phase 1 and 2 from CREATE (2010), Arts Council Travel and Training Award and DLR arts grants. She is a member of the AtHomeStudio group and is currently based in Dublin.

Summer Group Exhibition
5th August – 28th August 2022
Exhibition of works by 62 artists who worked and exhibited at Custom House Studios over the last year.

Our summer show celebrates our extensive exhibition programmes including works from our resident studio artists and artists that use the print room facilities. In this exhibition we will have works by artists both from Ireland and overseas who have exhibited in our two gallery spaces throughout the year. We also have works from visiting studio artists including two exchange artists from Austria. Seven Artists from Carrowbeg Enterprises will exhibit their individual works in painting, printmaking & drawing.The exhibition also features works from the artist members of the board of Custom House Studios.
Custom House Studios was opened in 2002 by the Westport Artists Group and Mayo County Council to provide work space and exhibition facilities for artists and to facilitate access to the local community and visitors to arts events. The potential of arts and culture as an important element in developing Westport as a good place to live and a quality tourist destination is well established and recognized.

This is the 20th year of full exhibition programs at Custom House Studios providing practical supports and facilities for artists in the Westport and Mayo area – in both the making and exhibiting of art works.
Custom House Studios look forward to continuing to support visual artists and audiences, and facilitating the local community and visitors to Westport.
Custom House Studios acknowledge the support of the Arts Council of Ireland, Mayo County Council, Pobal and the Department of Tourism, Culture, Arts, Gaeltacht, Sport & Media for our programme of exhibitions.
Participating Artists:
Tom Brawn; Brian Bourke; Sheelyn Browne; Breda Burns; Pat Byrne; Ellen Cafferkey; Donnacha Cahill;
Aoife Casby; Jane Cassidy; Rayleen Clancy; Kate Cuddy; Maeve Curley; Clemens Denk; Bryan Gerard Duffy; Eileen Fitzgerald; Andrew Folan; Phill Foley; Oscar Fouz Lopez; Betty Gannon; Pauline Garavan;
Conleth Gent; John Gibbons; Vivian Hansbury; Felicity Hedley; Lucy Hill;Rosemary Hurrell; Tapani Hyypiä; Una Kearns; Anthony D Kelly, Sarah Kelly; Trish Kelly; Hina Khan; Genevieve King; Anna Rose Lowry;
Eileen Mac Donagh; Máire Maguire; Caroline Masterson; Bruce Mathieson; John McAleer;
Patricia McCormack; Gavin Mc Crea; Tim Morris; Maggie Morrisson; Paul Mosse; John Murray;
Lelia Ni Chathmhaoil; Kathlyn O'Brien; Mick O'Dea; Gerry O'Malley; Grainne O'Reilly; Verena Prenner; Joanne Proctor; Octagon Quilters; Susie Quinn; Vera Ryklova; David Smith; Betsy Stirratt; Benita Stoney; Pascal Ungerer; Susanne Wawra; Ian Wieczorek; Emma Zukovic.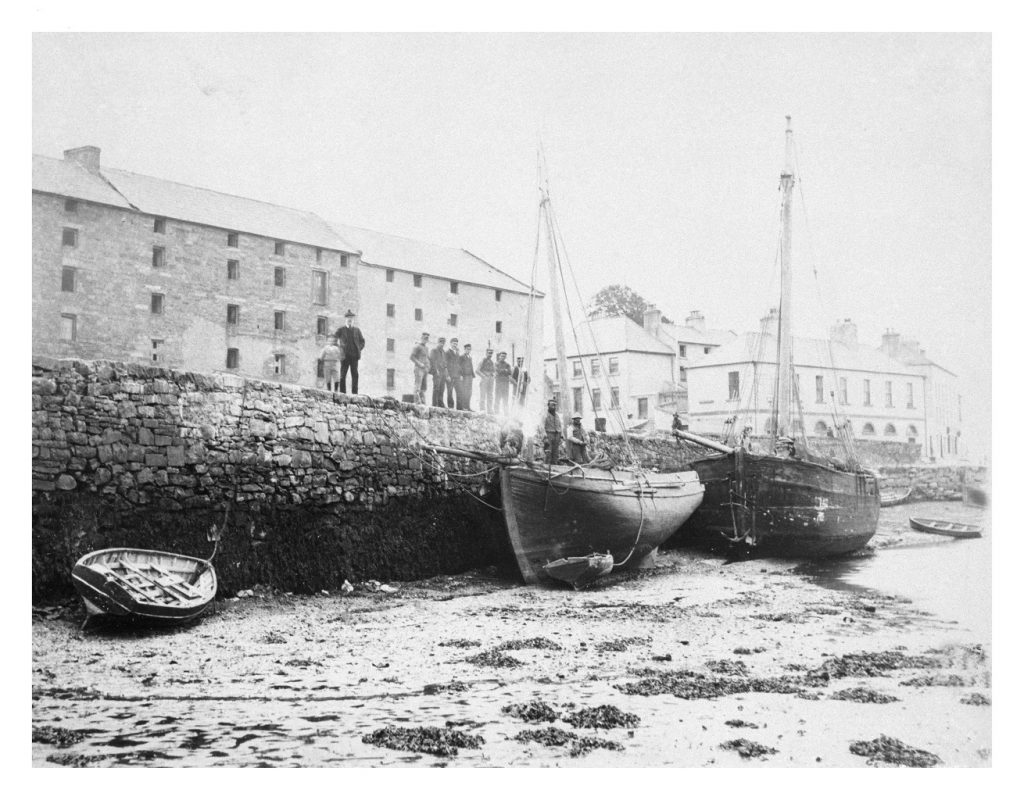 In The Hollow Rocks – Rayleen Clancy
7th July – 1st August 2022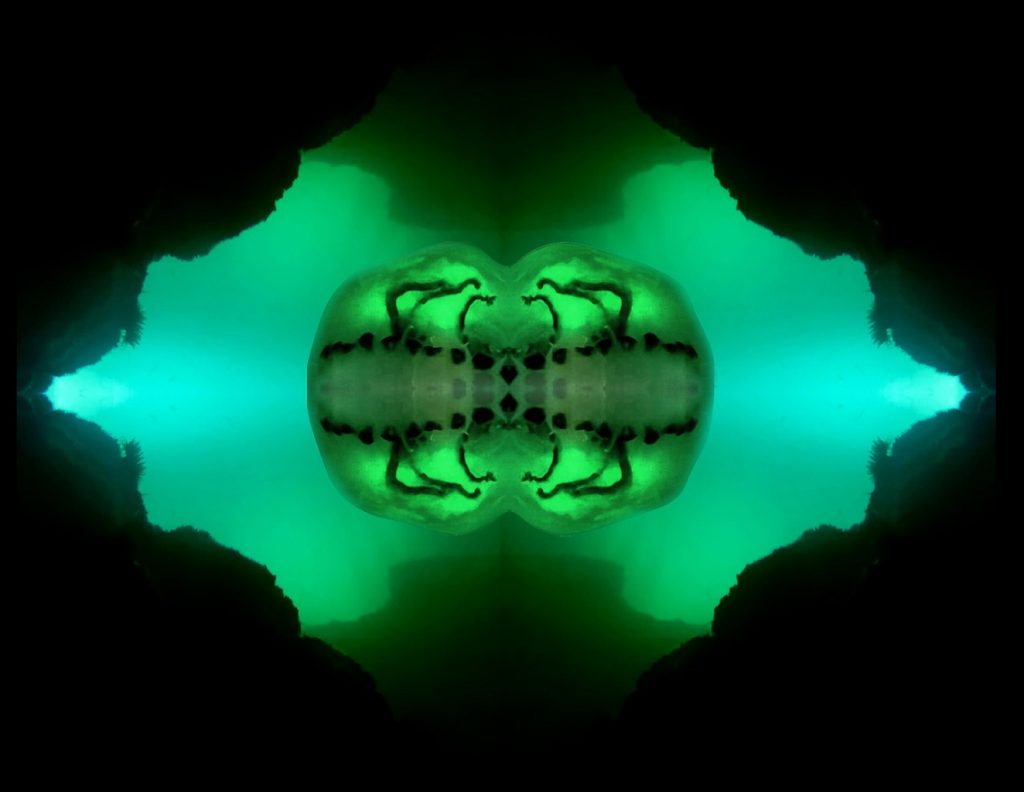 Rayleen Clancy is a visual artist based in County Waterford. She works in stained glass, painting, ceramics and video installation. Her work references mysticism, symbolism, female identities and human consciousness. Living on the southeast coast, the sea is a constant source of inspiration, her experience of open water swimming is a lens through which these topics are examined. Her work often depicts images of jellyfish, sharks, yetis, UFO's, snakes, birds, biomorphic bodies and female genitalia embedded in underwater compositions.
The exhibition, 'In the Hollow Rocks', transforms the Custom House Gallery into a cavernous subaquatic space. The exterior windows are obscured except for stained glass roundels that glow from within, creating a contemplative space for the viewer. The gallery contains wall mounted stained glass light boxes depicting vulvaed forms pulsating through rocky canyons and creatures reminiscent of medieval bestiaries hybridised with modern day cryptid myths. Rayleen's video 'The Secret Cave'occupies the back gallery wall. The hypnotic underwater film takes the viewer on a psychedelic adventure, punctuated by pudendal forms that morph and float in rhythm to Percy Shelly's 'The Witch of Atlas'. This abridged version has been recontextualised; the witch is reflecting on the aging process and imagining her own mortality.
Rayleen has exhibited in group and solo shows across Ireland and Northern Ireland. Recent awards include The Arts Council Agility Award, ArtLinks Bursary Award, Waterford City and County Arts Grant, Cill Rialaig Residency Award and The Tyrone Guthrie Centre Residency Award. She has works in the Waterford Municipal Collection and the Office of Public Works Collection. She studied in Fine Art and Film in the National College of Art and Design, Dun Laoghaire Institute of Art and Technology and the San Francisco Art Institute.
'Selected'
2022 Graduates, BA in Contemporary Art Practices
Atlantic Technological University, Mayo Campus
7th July – 1st August 2022
Exhibition features works by:
John Barrett / Annaliese Brown / Susan Clarke / Alice Corley / Katherine Loftus / Aoife Ludden /
Orla Mc Donagh /Brian McHugh / Theresa Murphy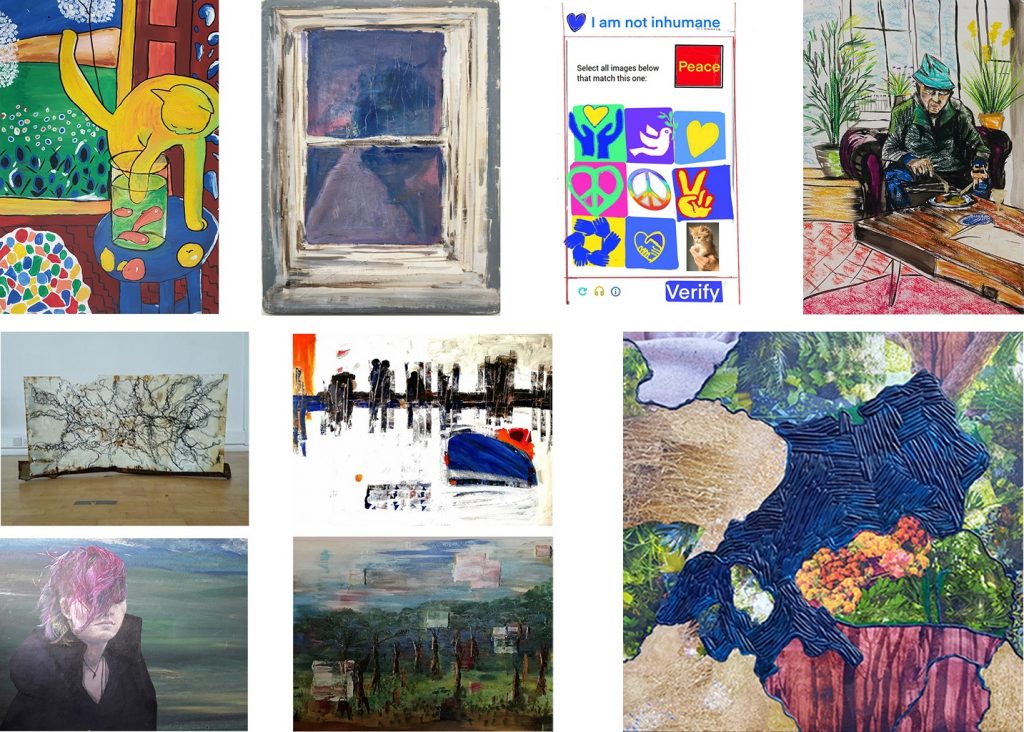 DRINK UP THE MOON – Jane Cassidy

10th June – 3rd July 2022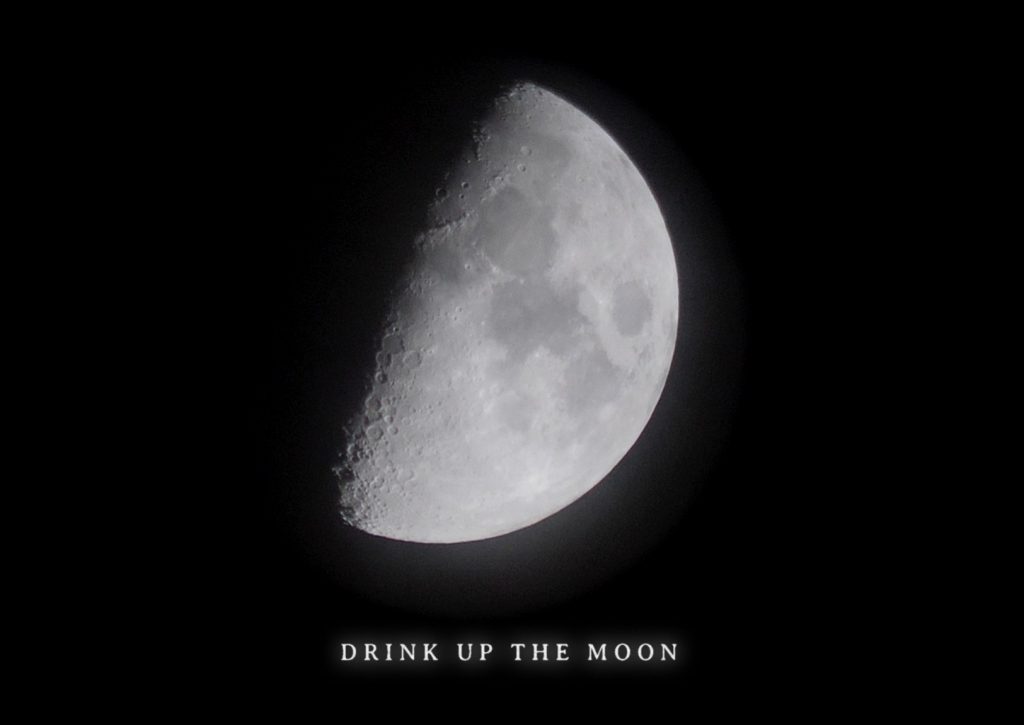 Drink Up The Moon celebrates how life can be better lived when we are in tune with the world around us.

The pandemic was a challenging time to be creative and by observing the natural cycles around me, I found my artistic practice was nurtured. Immersion in nature is well documented as being hugely beneficial to our mental health and well-being and I am creatively motivated by how this can be translated into multi-sensory artwork.
The development of this body of work began when I started to film my winter swims in Salthill, Galway. This creative habit changed the way I experienced my swims and kept me cycling to the beach, even during a blizzard. The luscious slow-motion video captures glistening light, the sensation of waves crashing, and the aggression of hailstones on open water. "You never regret the swim," is a mantra my friend Gav gave me years ago and this project is indebted to those wise words.
In tandem with my swims, I studied the moon and filmed its changing phases. The more I paid attention to our magnetic satellite, the more I heard birdsong when I would usually sleep, and the more in tune I was with my own rhythms. I filmed it rising behind mountains and shining across beaches, and its face was just as beautiful from my doorstep in the bright city as it was in remote places.
In this exhibition, meditative audiovisual installations, from multi-channel video to synesthetic light and sound sculptures, try to capture the magic and mysticism of sunlight on choppy seas, rambling on the seashore, and deeply listening to our environment.

Exhibition Events:
Friday, 10th June: Opening Reception, 6pm – 8pm, Custom House Studios + Gallery
Sunday, 12th June: Seaweed identification/foraging workshop, 10am, Old Head Beach

To help explore themes in the exhibition and the beautiful bounties to be found on our shores,
Marie Louise Heffernan, an ecologist living in north Connemara, will lead a seaweed identification/foraging workshop on Sunday, 12th June at low tide, 10 AM at Old Head Beach,
we will meet at the pier. If you have any questions please email janecass@gmail.com.
Sunday, 3rd July: Artist walk-through on the final day of the exhibition, 2pm at Custom House + Gallery

Jane Cassidy is a multi-disciplinary artist and educator from Galway. Trained in music and visual art, Jane earned a Masters in Music and Media Technologies from TCD in 2008 and an MFA in Digital Art from Tulane University in New Orleans in 2014. Jane's main interests lie in immersive audiovisual environments, multi-sensory work and synesthesia. She has had solo shows at the Mobile Museum of Art, the Montgomery Museum of Fine Arts, the University of New Orleans, and the Ann Arbor Film Festival. Exhibitions include the European Media Art Festival, Germany, the New Orleans Film Festival, Punto Y Raya Festival, Spain, Currents New Media Festival, New Mexico, Galway International Arts Festival, live visuals for Animal Collective and Nanu Nanu, as well as group shows internationally. www.janecassidy.net

Art Level 6, 2021-2022, End of Year Exhibition,
Mayo College of Further Education and Training, Westport Campus.
10th June – 3rd July 2022

Exhibition features works by:
Brendan Coyne / Siobhán Cronin / Maria Davey / Saoirse Hegarty / Lena Lennon / Janet McCracken / Siva McDonald / Brenda McEllin / Killian McGing Robinson / Áine Mulcahy / Cole Rima / Dylan Ryder / Lidija / Eabha Walsh / Paulina Welec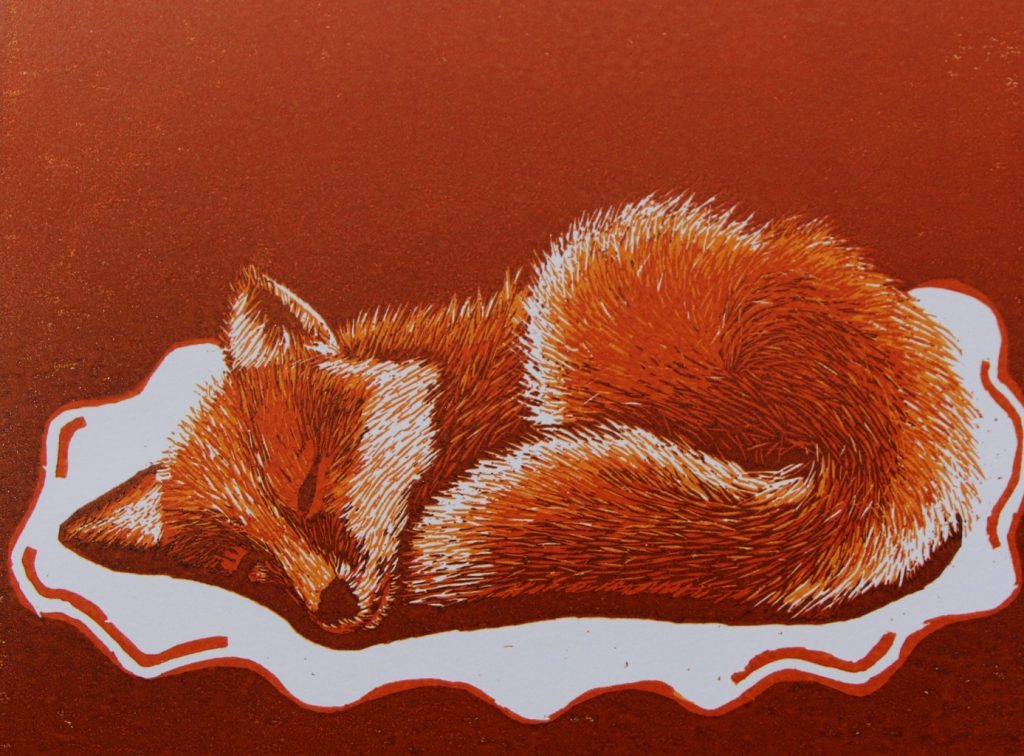 Fold – Lucy Hill

12th May – 6th June 2022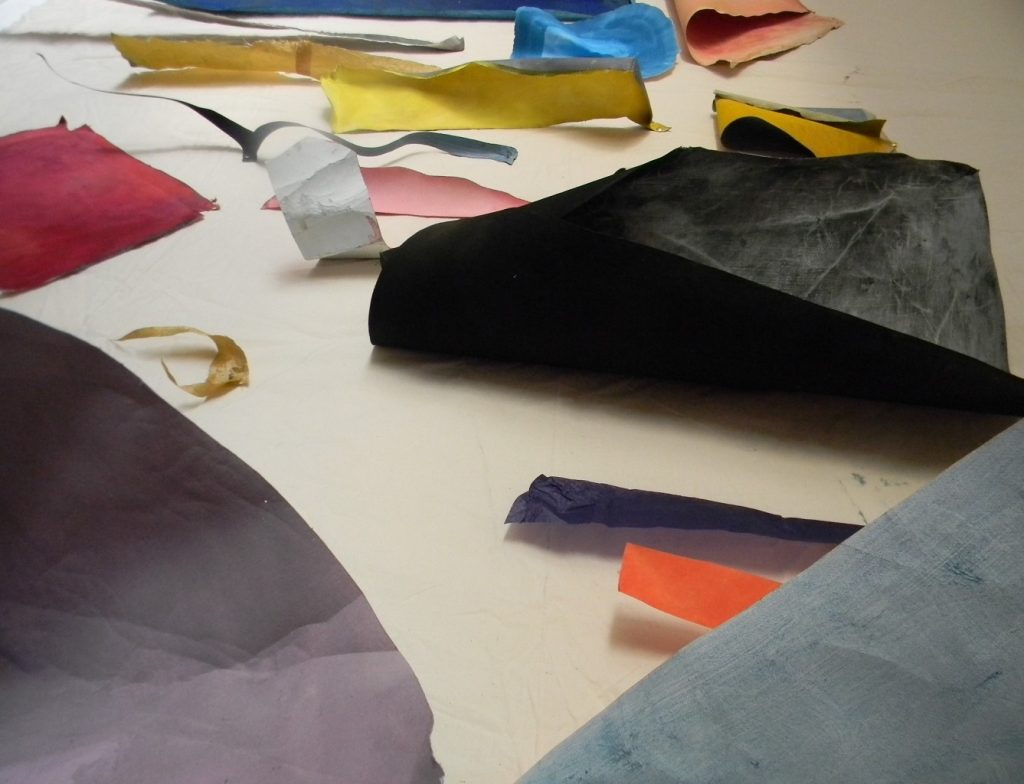 Fold
The process whereby a protein molecule assumes its intricate three-dimensional shape
A geological process that causes a bend in a stratum of rock
An action that changes the shape of a thing

To make compact by bringing from an extended to a closed position
To bring from a compact to an extended position: unfold
To place together and intertwine. To envelop or clasp: enfold
A cover for keeping loose papers together
A fenced enclosure for livestock
A flock of sheep
A congregation
A thing capable of collapsing or being collapsed
A doubling of one layer of material over another
To bring in close to the body
Crease. Forceful folding. Evidence of a forceful fold.
To discontinue. To close. To fail. To withdraw in defeat. To give in, buckle under pressure, weaken, or collapse from exertion.

To aerate by blending a light ingredient into a heavier mixture with a series of gentle turns

The form of connection that follows the general principles of a Deleuzian concept: open-ended & inexhaustive, non-exclusive & unlimited, exterior & infinite.
This exhibition/installation/painting will be changed (folded, unfolded, rehung, collapsed, aerated etc) by the artist at irregular intervals throughout its run. Changes will be documented and available to view.
This work is dedicated to the memory of Mary Hoban (nee Staunton)

Lucy Hill is a visual artist and academic. She has been awarded a PhD in art education from NCAD (2021).
She completed her M.F.A at Winchester School of Art in Barcelona, after her degree in painting at Crawford College of Art in Cork. She has won several awards, including a residency on the artist's work program at IMMA. She has completed four public art sculpture commissions and has exhibited her work in numerous solo and selected group exhibitions including EV+A. She has had her academic writing published with Sage, Routledge, and Springer. Lucy was the inaugural Prof. John Coolahan Early Years Artist in Residence at The Ark Cultural Centre for Children and was an invited speaker at the International Art Education Conference in Seoul Museum of Modern Art, Korea. She was a Creative Associate with the Arts Council Creative Schools program from 2018-2021. She is currently a lecturer and supervisor on the PME (Professional Master's in Art Education) at NCAD. You can see some of Lucy's work at her website: https://www.lucyhill.ie/.
Light Catchers – Oscar Fouz Lopez

12th May – 6th June 2022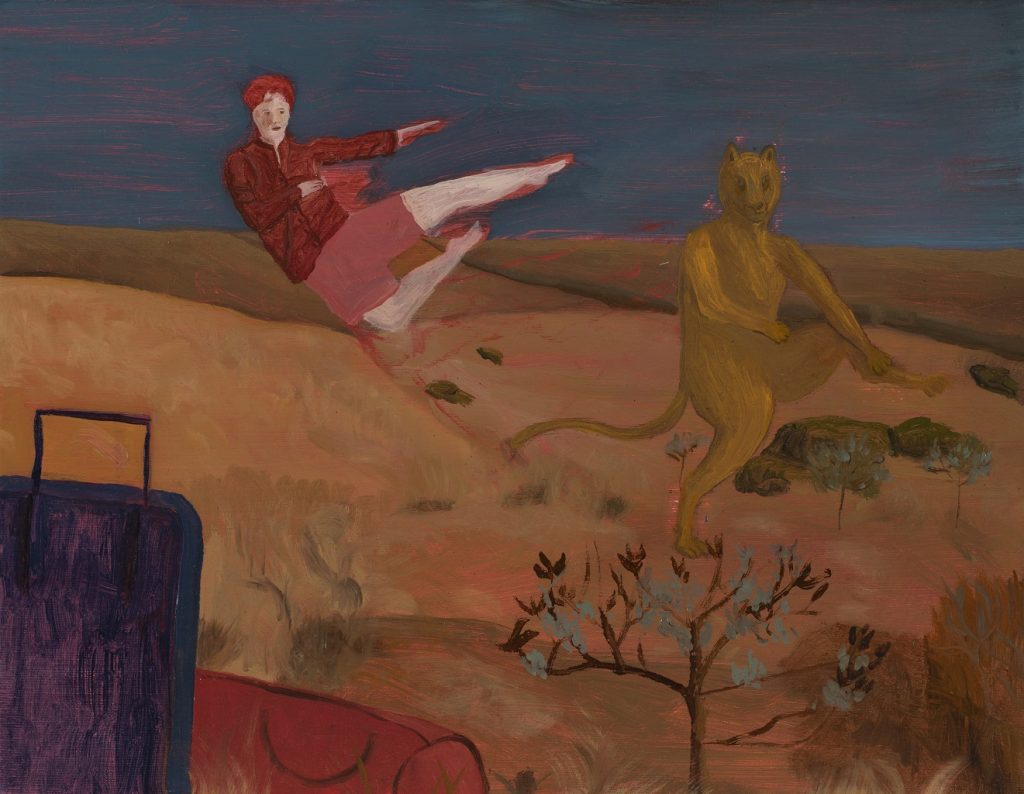 Light Catchers is an exhibition of new works by the artist Oscar Fouz Lopez.
The work of Oscar Fouz Lopez is informed by mythological stories and their synthesis of history, metaphor and philosophical teachings.
His latest paintings feature a cast of characters, the Light Catchers, absorbed in their own thoughts, travelling through surreal landscapes, engaged in activities at once mundane and metaphysical.
He posits the idea of a group of people living and thriving in a campsite at the heart of a forest. In doing so, he's not reaching for a utopian idyll, but rather for a way of living that's achievable, as well as being desirable. His subjects live together in nature, enjoying the simple pleasures of dancing and telling stories. His purpose is deliberately reductive – to strip life back to a pure, uncomplicated, and joyful essence. By accentuating the positive in our collective psyche and presenting goodness as the strongest driving force, he implicitly rejects the allegory for human nature William Golding constructs in The Lord of the Flies.
The settings for the paintings are inspired by a trip the artist took to the redwood forests of California, where he walked and sketched among some of the oldest trees on Earth. On the same trip, the artist also visited the De Young Museum in San Francisco and discovered the textiles of the Navajo tribe. He was struck by the vibrancy and colours of their woven blankets and rugs. The sacred art of weaving is engrained in Navajo culture, in the believe that the universe was woven together by the Spider Mother. The artist was inspired by the alignment of the tribe's daily lives with their holistic concept of the universe, in which doing and being are one and the same. His work is a homage to this truthfulness, merging the real with the imaginary and allowing for new realities to open up and invite the viewer to enter. In doing so, he offers us an entrée into the world of the Light Catchers, who dwell in luxuriant nature.
Oscar Fouz Lopez is a Spanish-born artist who lives and works in Dublin. His work has featured in group exhibitions such as, Insider Art (2016) in MCE, Belfast, Everything is in Everything, (2019) in the Sirius Arts Centre, Cobh, and Chrysalis, (2021) in the Molesworth Gallery, Dublin. He was also selected for The Annual Show at the Royal Hibernian Academy in 2017, 2018, 2019, 2020 and 2021. Recent solo shows include, Pickled Chimp Ears held at Pallas Projects as part of its 2018 programme, and Don't Look Back, Baby, (2020) in the Molesworth Gallery, Dublin. He graduated with a BA in Fine Art from DIT in 2010 and was shortlisted for the Most Promising Graduate Award at the Talbot Gallery the same year. Lopez also holds an MFA in painting from NCAD (2016) and was the Tony O'Malley artist in residence for 2018/19. His work is held in public and private collections, including those of the OPW and Trinity College, Dublin.
"Refractions" – Gavin Mc Crea & John Murray
14th April – 8th May 2022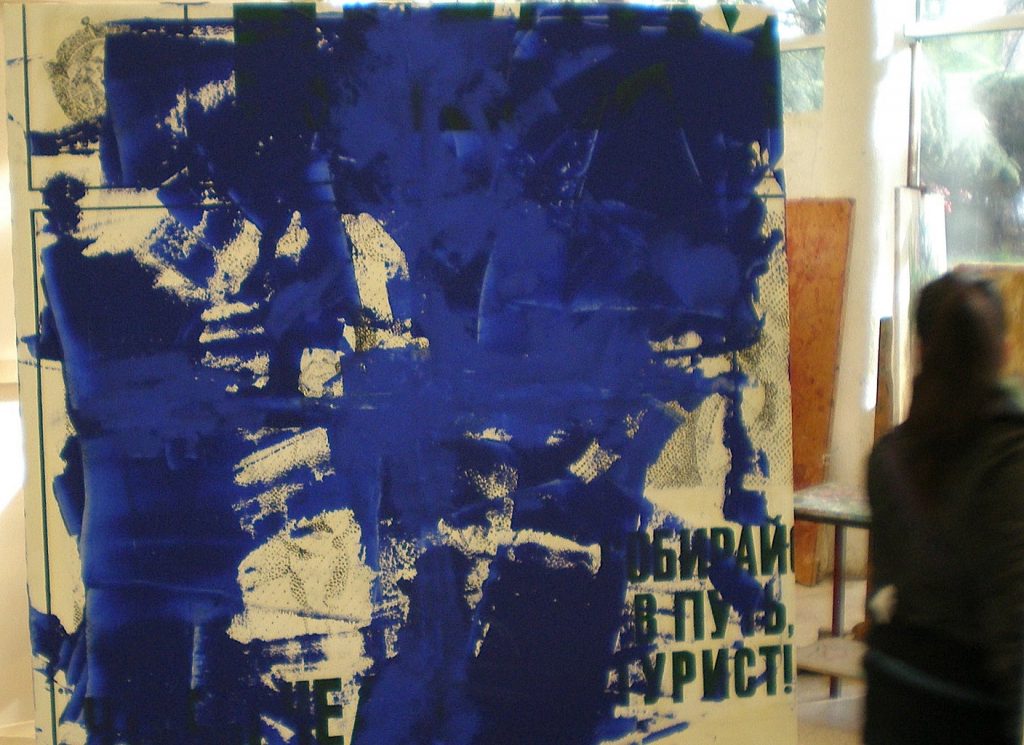 Gavin Mc Crea
Concerned with connections and human relationships with place, Mc Crea draws upon a range of embodied memory's associated with place and movements established from a lifetime of immersion in the sea through surfing. Although practiced and honed, each new surf session challenges these embodied movements through ever changing factors, winds, weather, tidal ranges and wave sizes. Each session differing movements and responses are brought to the fore, whilst intuitively traversing the wave face. No two waves ever repeated across a lifetime, this much like the painting process, were no two outcomes can be repeated, differing stretchers, paint qualities, brush marks and mood. In creating the work, I am interested in the sense of place and space, encompassing both past, present, old and new.
Embodied movements are acted out in the form of painterly gestures, across often familiar re-contextualised materials. Spontaneous, unpredictable and at times violent, reminiscent of surfing, they are juxtaposed against methodically produced sharp edge chevrons and stripes, normally associated with barriers, fences, flags or obstacles, for Mc Crea they are embodied memories from childhood car journeys navigating border crossings and checkpoints.
Works created from these inter-connected realms, are produced first and foremost as paintings but when placed within the space, take on new forms and function as both object and painting, some are wall-fixed and others floor-resting or standing or self-contained, the interactions between traditional painting surfaces and ordinary hardware materials used addressing painting as an act of construction, as well as art object. The creation of obstacles and unexpected use of materials, are an attempt to surprise, elicit memories, invite interaction and ultimately immersion within the painting realm by challenging viewer relationships with the sculptural forms arranged within space. These forms suggestive of the checkpoints, barriers, the painting studio, the fascination of painting itself, and embodied connections and relationships with seemingly utilitarian materials.
Visual artist Gavin Mc Crea grew up in Sion Mills, Co Tyrone in Northern Ireland but for over 25 years has lived on the West coast of Ireland where he pursues his love of surfing and painting. He has a BA Hons with a 1st in Fine Art from IT Sligo, and was awarded The Hyde Bridge Gallery Graduate Award Solo exhibition 2017. Solo shows include Innermost Limits at The Hyde Bridge Gallery, Sligo, Intertidal at Ballina Arts Centre and Alley Theatre, Strabane and most recently Speed Power And Flow at Ards Art Centre, Newtownards. Recent group shows include Mind Breath Beat at 126 Gallery, Galway and Minecraft Show, through Regional Cultural Centre, Letterkenny.
John Murray
My current work, including the four pieces for this show, is a visual remembrance of my time living and working in the Soviet Union. For these paintings, I have reproduced fragments of text and images selected from newspapers and magazines of the period and overlaid them with a less structured, more personalised layer that attempts to reveal the patterns and paradoxes — the warp and weft — concealed beneath the public surface.
John is a painter working and living in Dublin. He received his degree from IADT and has exhibited throughout the country in various solo and groups shows. He was named Irish Print Journalist of the Year for his reporting from Russia with The Sunday Tribune newspaper. He holds a PhD in Russian Linguistics and is a lecturer with the Russian Department at Trinity College, Dublin.
For more information, see website:
johnmurray.ie ,https://nuacollective.ie/artists/john-murray/ and instagram.com/johnmurray1000.
My Way – Gerry O'Malley

14th April – 8th May 2022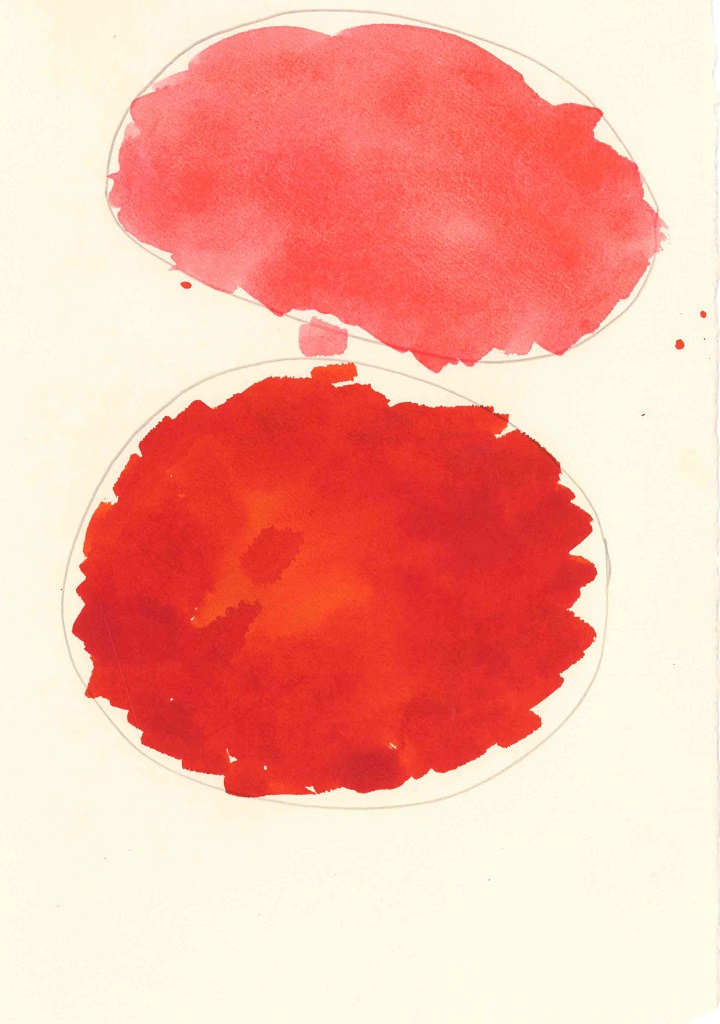 Gerry O'Malley, is a Mayo based artist, who works intuitively with many mediums.
'My Way' is O'Malley's first solo show, exhibiting his colour rich, abstract paintings and assemblage.
Gerry's work moves between a formal symbolic language of shapes and line, and painterly suggestions of an ethereal place. His works are always a conversation between form and value, a richly, sensitive, and energetic veneration of colour. The initial minimalism of shape and application, understates the significance of this exhibition.
Kickstart is an initiative of Mayo County Councils Arts Service in partnership with the Arts Council of Ireland and with support from Creative Ireland.
Remmidemmi – Susanne Wawra

17th March – 10th April 2022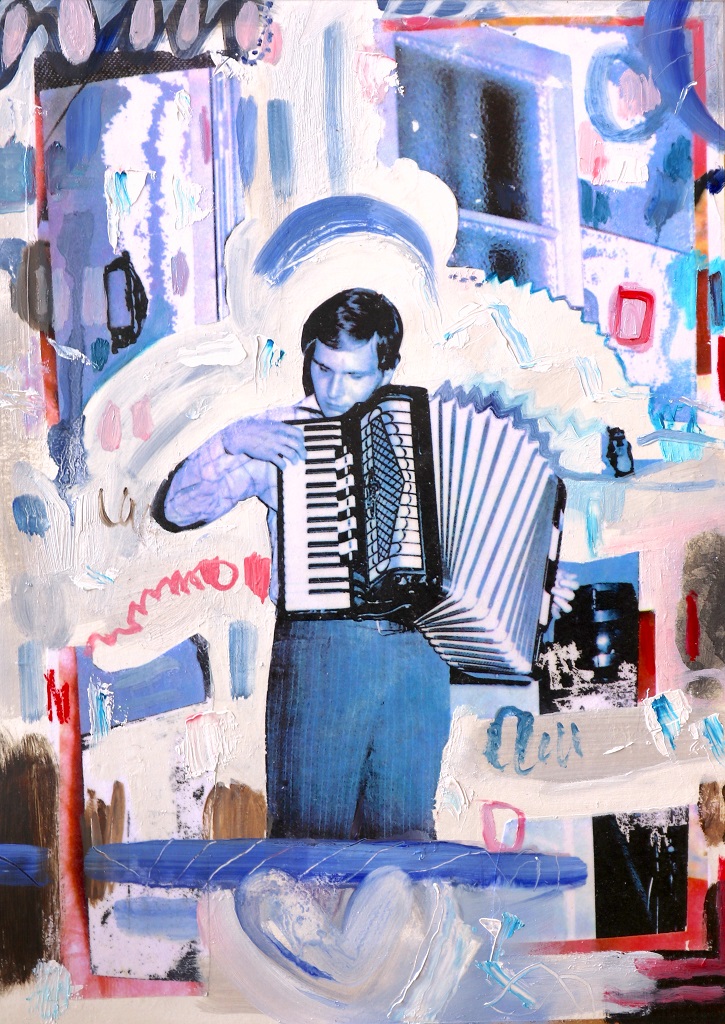 Remmidemmi is a German colloquialism for exuberance, frolicking, antics – a noisy, busy indulgent shindig. Something is happening; people are moving, creating joyous chaos. They are celebrating, making music and dancing, having the craic.
We experience a communal high in these events through a life-affirming breaking out of the ordinary, the everyday. It has become more apparent that it is not a permanent condition but something ephemeral in our current situation.
German artist Susanne Wawra puts Remmidemmi in the context of these challenging times of cabin fever and lockdown fatigue. The exhibition shows mixed media paintings and works on paper, print on carpet and low relief carving. The work is partly autobiographical, partly fictitious. Working from her family photo archive and found photographs, Wawra moves her protagonists around, and both creates and fills in the gaps.
The imagery draws on the black and white photographs from before the Fall of the Wall in Germany.
A young man is playing the squeezebox at her parent's wedding and won't stop playing, while everyone is hoping for the DJ to come on to do the shimmy. The themes of the works created between 2017 – 2022 are social gatherings, get-togethers, and occasions.
This sense of togetherness, the permission to let our hair down, let off steam and live it up, is contrasted by work made in reaction to the recent loss of connection and community. So personified, Remmi and Demmi are walking away from each other. Yet, contrast is also what it means to be alive.
Susanne Wawra (b.1980) is a German visual artist based between Dublin and Thuringian Forest, Germany. Working across different media, she explores the intersection between personal autobiography and broader histories. She employs photography, printed matter and documents from her family possessions and from abandoned private archives bought via the internet to expand on her background of growing up in East Germany before the fall of the Wall.
In 2019, The Irish Museum of Modern Art (IMMA) showed Wawra's work in a group exhibition titled
"A Vague Anxiety" curated by Seán Kissane. In 2018, Susanne exhibited "Portals", The LAB, Dublin (IE) and "Living in a Bubble", Luan Gallery, Athlone (IE). In 2020, she showed solo "Fernauslöser (Remote Release)" in her native country Germany, as well as "Sitzfleisch (Seat-Meat)" virtually and physically at Olivier Cornet Gallery, which represents Wawra in Ireland.
Trace Elements – Pascal Ungerer
17th March – 10th April 2022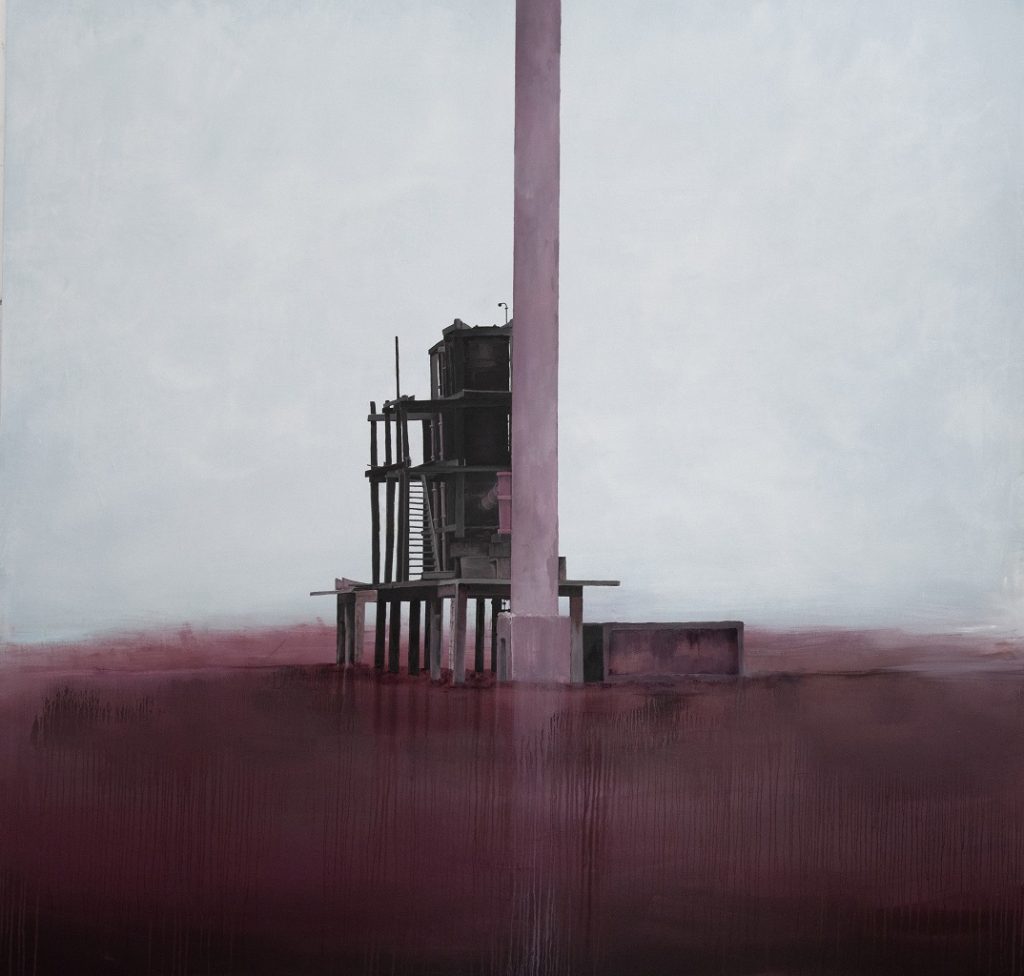 My thematic interests are primarily concerned with spatial cultures in the context of peripherality and place. My work often examines the in-between spaces that lie at the intersection of the urban and rural.
I have a particular interest in obsolete structures on the margins of urban development and in rural hinterlands, as well as areas of post-industrialisation, ecological degradation and rural de-population.
Much of my recent painting work looks at liminal landscapes on the margins of human habitation. I look at these landscapes as temporal with a cyclical flux between abandonment and habitation.
I am often drawn to unusual structures or topographies as well as places that have storied, hidden or layered histories. For me, many of these places represent a kind of 'otherness' in a sometimes bleak and foreboding environment.
Most of my paintings are fictional landscapes where I amalgamate different places and ideas into a metaphorical space to reflect upon wider socio-geographic issues, but these paintings are also intrinsically linked to the places and stories that have inspired them.
I am interested in people's connection to place and land and the wider perception of the natural or built environment and the interrelationship between these two contrasting spaces.
'Trace Elements' bring together many of these interests, in pensive, foreboding and empty landscapes as well as abandoned industrial infrastructure, which for me is emblematic of an 'architecture of the periphery' because of its obsolescence, marginality and alterity.
Pascal Ungerer is a visual artist originally from West Cork. In 2018 he completed a scholarship funded MFA in Fine Art at Goldsmiths University London. He has exhibited his work extensively throughout Europe as well as North America and Asia, including Blackburn Museum, CICA Museum, South Korea and Roman Road Gallery London. He has won and been shortlisted for many awards such as the Alliance Franciase de Cork Exhibition Award, the Bloomberg New Contemporaries, The Solo Award, The Sunny Art Prize, The ACS Studio Prize and the Ashurst Emerging Artist Prize. He has received funding awards and bursaries from the Arts Council of Ireland, Cork City Council, Cork County Council and from Goldsmiths University London. In 2020 he was awarded the Cork County Council and Uillinn West Cork Art Centre Residency Award and he recently completed a 12 month Project Residency at Backwater Studios in Cork. His work is held in numerous collections in Ireland, the UK, the US, France, Germany and Switzerland.

Boundless States – Olga Guse, Anthony D Kelly, Hina Khan
17th February – 13th March 2022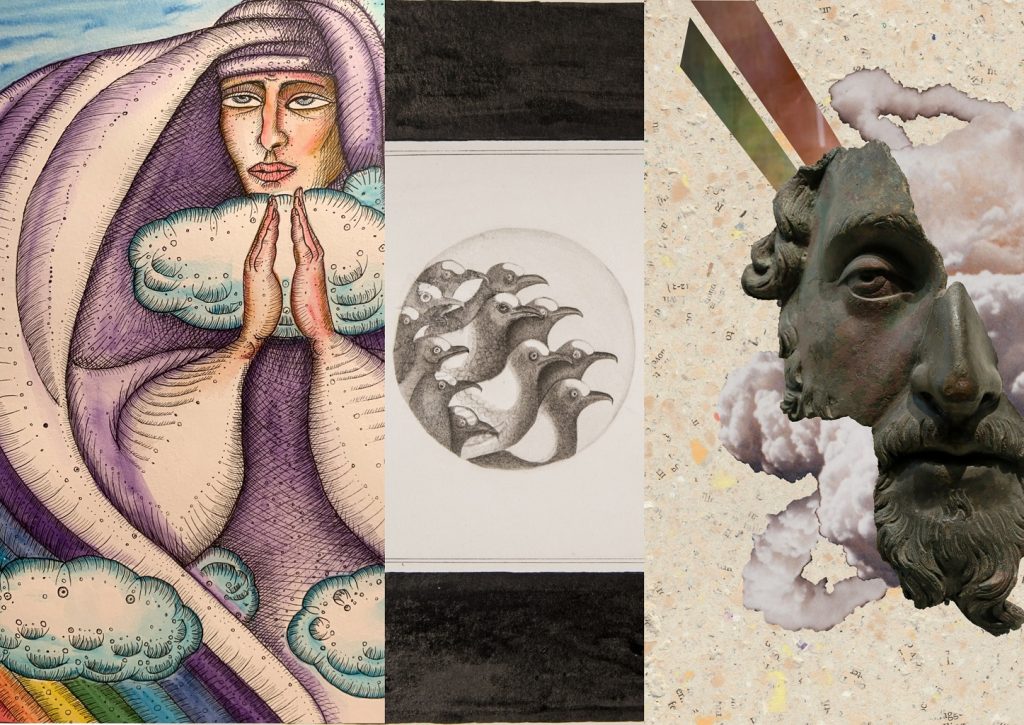 Olga Guse
Film "The Pray"
Environmental disasters, global warming, serious viral diseases, wars and strained relations between countries have recently complicated our lives. Some actively struggle with the fate that has overtaken him. But others can only pray …
Study
1996 – 2000 State Regional Art School in Saratov, Russia
2001 – 2003 studies at the University of Saratov, Russia
Field of study: Art History
From 2013 to 2016 created puppet animated films.
Since 2016 created video art: animated films based on original graphics and paintings.
Since 2017 at IAA International Association of Art as a holder of IAA international Identity Card for professional artists.
Since 2012 Participated in different international art and film-festivals.

The largest of Festivals:
XXVII Festival Les Instants Vidéo (2014, Frankreich), 17th International Art Exhibition NordArt (2015, D), 8th & 9th OSTRALE international panorama exhibitions of contemporary arts in Europe (2014, 2015, D), 4th Aurora Arts Festival in Dallas (2015, USA), 17th FILE – Electronic Language International Festival (2016, Brazil), 12th Athens Digital Arts Festival | Digital Pop (2016; Athen, Greece), Chrom-Art´s 'TRIBE' Alternative Art Festival (2016; London, England), NAHNU Exhibition, Städtische Galerie Dresden (2016; Dresden, Germany)

Awards:
8th The Digital Graffiti at Alys Beach Festival (2015; Panama City Beach, USA) Honorable mentions Award
the INCUBARTE International Art Festival (2015; Valencia, Spain): awarded from Centre d' Art Contemporani Addaya
Anthony D Kelly
"Until you make the unconscious conscious, it will direct your life and you will call it fate." – Carl Jung
Through his studies and work in the area of Humanistic and Integrative Psychotherapy Anthony D
Kelly draws upon a deep knowledge of the origins, functions and potentials of the cognitive, emotional, and somatic states which surface in the body and mind. Utilizing the medium of Digital Collage he clarifies and gives solid form to these abstract, elusive and transient states which continually emerge to temporarily occupy our inner spaces. These crystalized images of inner states offer the viewer a chance to recognise these unconscious movements within themselves and others.

Anthony D Kelly is an Illustrator, Writer, Visual Artist and Integrative Psychotherapist. He is currently based in Castlebar, County Mayo located on Irelands West Coast. He has extensive experience as a Gallery Administrator, Curator and Project Facilitator from his time at Basement Project Space an artist led initiative which was part of the cultural fabric of Cork City, Ireland. The aim of this initiative was to generate an exhibition/project space independent of established institutions, to provide development opportunities for emerging artists and to encourage cutting edge experimental practice across a broad range of disciplines.
He has studied Arts Administration, Arts Participation and Global Development and Humanistic Integrative Psychotherapy. Anthony is greatly interested in the Arts as an effective method for engagement with Social, Political and Global Development issues; and for seeking beyond the known to formulate the new. He works mainly with Illustration, Collage and Assemblage techniques to create hopeful, humorous, and sometimes unnerving and deeply satirical imagery.

Hina Khan
Miniaturist / Visual Artist
Human perception can present things very sensitively and for me Art is not just an activity, it is a passion. It is a medium that I used as an activist. I use it to describe my feelings, my pain.
I have chosen Miniature because of its intricacy and delicacy of brush work which tends their unique identity. Most of my work is a mixture of traditional and contemporary miniature. I always attracted by the graceful lines, rhythm and depth of colors in a miniature. My work is the constant search for the best way to interpret the ideas expresses my own ideologies through symbolism.
Born in Pakistan in 1980, I completed my MFA with majors in Miniature Painting from Pakistan. I am using a mixture of traditional and innovative techniques in Miniatures. I portray social issues, immigration, humanitarian crises like prostitution, gender discrimination, gender restrictions, trauma, child abuse & killing etc in my work. I have chosen Miniature because of its intricacy and delicacy of brush work which tends their unique identity. Most of my work is a mixture of traditional and contemporary miniature. My work is the constant search for the best way to interpret the ideas expresses my own ideologies through symbolism. Shifting my practice to installation, videos, 3D.
I am creating a dialogue through my art. My art is reflection of inner connection, immigrants, nomadic artists are part of this land, migration is deeply rooted in my blood. I have carried two cultures one where I was born and other is this culture where i am trying to re-root myself. Sometimes situation is not in our control, but life always takes us to different voyage. This journey built up constant transition in my art., personality, experimentation, allows me to evolve my art practice.
I have participated in number of groups shows in Pakistan from 2002 to 2011.
I came to Ireland in 2015 and participated in number of exhibitions in Dublin, Co. Laois, Co. Mayo, and Co. Cork. I have been rewarded several residencies with Fire Station Arts Center, Create Ireland, West Cork Art
Center and Cow House Studio. I have displayed my solo exhibition at Ballina Art Center, Mayo, and Strad bally Art house. My next solo exhibition is in pipeline in the coming months.
My art pieces are also in the permanent collection of Arts Council Ireland.
I am the recipient of several Awards from Arts Council Ireland, Create Ireland, and different counties.
Currently I am preparing solo show will be displayed in LHQ Gallery in 2022.
An Island Disappears – David Smith
20th January – 13th February 2022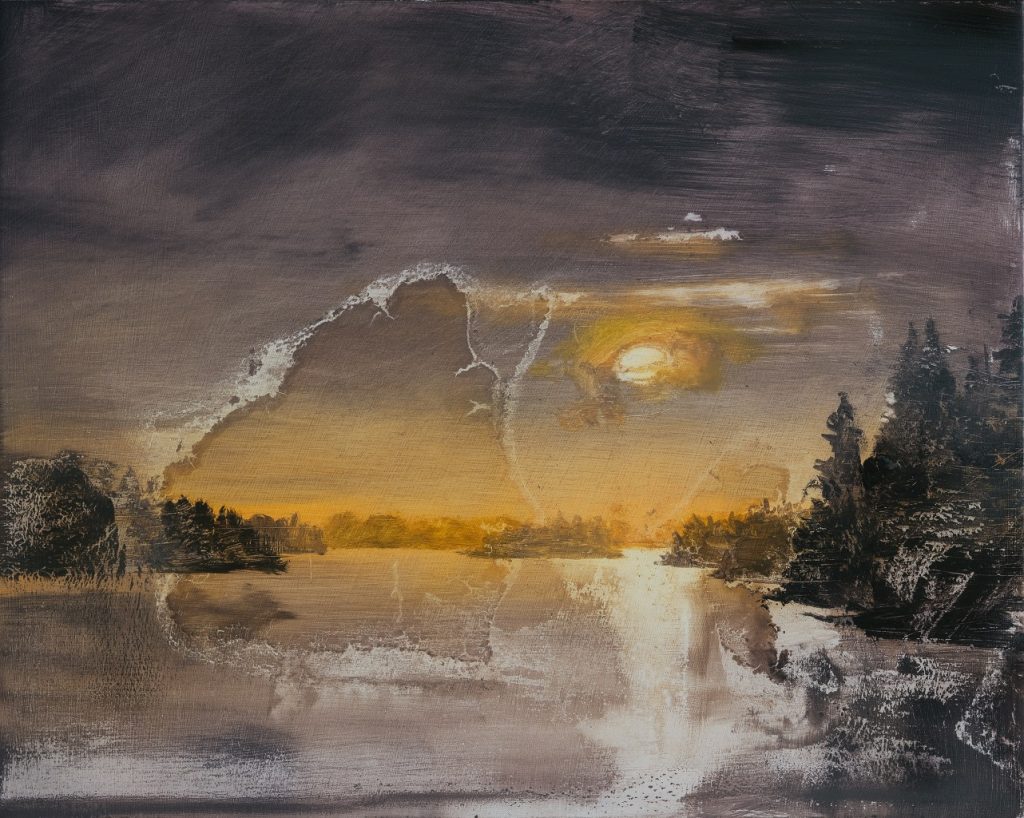 An Island Disappears
These paintings depict natural forms and spaces on solid, wood panels. They use the chemical qualities of oil washes to disrupt, dissolve or decay the image surface. The light, space and forms are shifting, living and dying, displaying a fragile and temporary nature. The dynamic of the work has emerged from travelling back and forth between Ireland and Hong Kong, where I lived for over 11 years.

As nature is further and further hemmed in, dominated and compromised by population, material culture and environmental degradation, this work seeks to create an internal sanctuary,
That reflects this pressure as well as a hope for a new sublime. Influenced by zen, ink painting, abstraction and photography, they play with the mysterious and the elemental.
Previous work in music/score and film has recently come to the fore and has found a form in recent short film, Eó Mughna's Lament, which was commissioned by The Dock in Leitrim.
David Smith is an Irish artist who works with painting and also film/music works. He has recently held solo shows in Hong Kong and The US He has participated in the Hong Kong art prize and also in the Hong Kong-Shenzhen Biennale of Urbanism and Architecture. His works have been featured in 8 out of 9 International Painting Annuals (INPA) published my Manifest press. He taught painting and foundation studies at the Savannah College of Art & Design in Hong Kong before returning to Ireland in 2016. Recent exhibitions include The RHA Open, The RUA Annual, RUA RED Winter Open and Second Summer at The Dock. His film Eó Mughna's Lament is currently screening at Cannes Short Film Festival. Originally from Mayo, he is now based in Co. Sligo and is currently artist in residence at The Dock in Co. Leitrim.