Winter Exhibition 2023
Custom House Studios at Westport Quay is celebrating its 21styear in operation on
Sunday, 26th November 2023 at 3pm – with an extensive exhibition of works by more than 60 artists, to be opened by Maureen Kennelly Director, The Arts Council of Ireland.
Exhibition continues until Sunday, 7th January 2024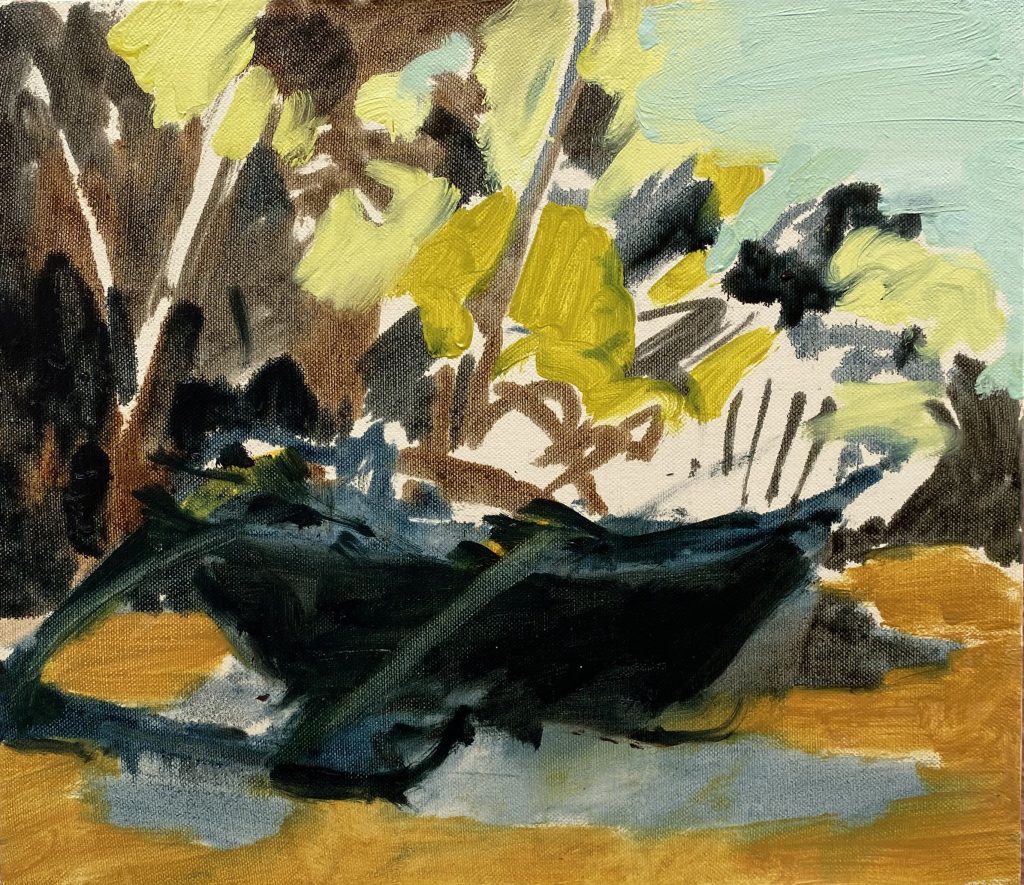 Winter Group Exhibition opening Sunday, 26November 2023 at 3pm. Works by: Margaret Adams; Elizabeth Archbold; Kian Benson Bailes; Mike Bernard (RIP); John Brady; Sheelyn Browne; Tom Brawn;
Breda Burns; Peter Burns; Ellen Cafferkey; Kate Cuddy; Bryan Gerard Duffy; Mags Duffy; Eileen Fitzgerald; Áine Gallagher; Margot Galvin; Betty Gannon; Pauline Garavan; Prof. V.R. Gibbons; Helena Gorey;
Claire Griffin; Marliese Hertfelder; Mary Hession; Ines Hochgerner; Helen Hughes; Una Kearns; Sarah Kelly; Trish Kelly; Iwona Rossochacka Kenny; Bernadette Kiely; Genevieve King; Róisín Lewis; Eoin Mac Lochlainn; Anna Rose Lowry; Máire Maguire; Caroline Masterson; Shiro Masuyama; Bruce Mathieson;
Niall McCormack; Hazel Mc Crann; Ciara McMahon; Maggie Morrisson; Sinéad Ní Mhaonaigh;
Rosemarie Norton; Tadhg Ó Cuirrín; Maureen O'Leary; Dr Ann O'Mahony; Gerry O'Malley; Grainne O'Reilly; Mary Patterson; Owen Piffaretti; Christine Prescott; Susie Quinn; Dermot Seymour; Benita Stoney;
Trudi van der Elsen; Sinead Wall; Angela Walsh; Michelle Webb; Ian Wieczorek; Sarah Wren Wilson.
Stoney Road Press
24th October -19th November 2023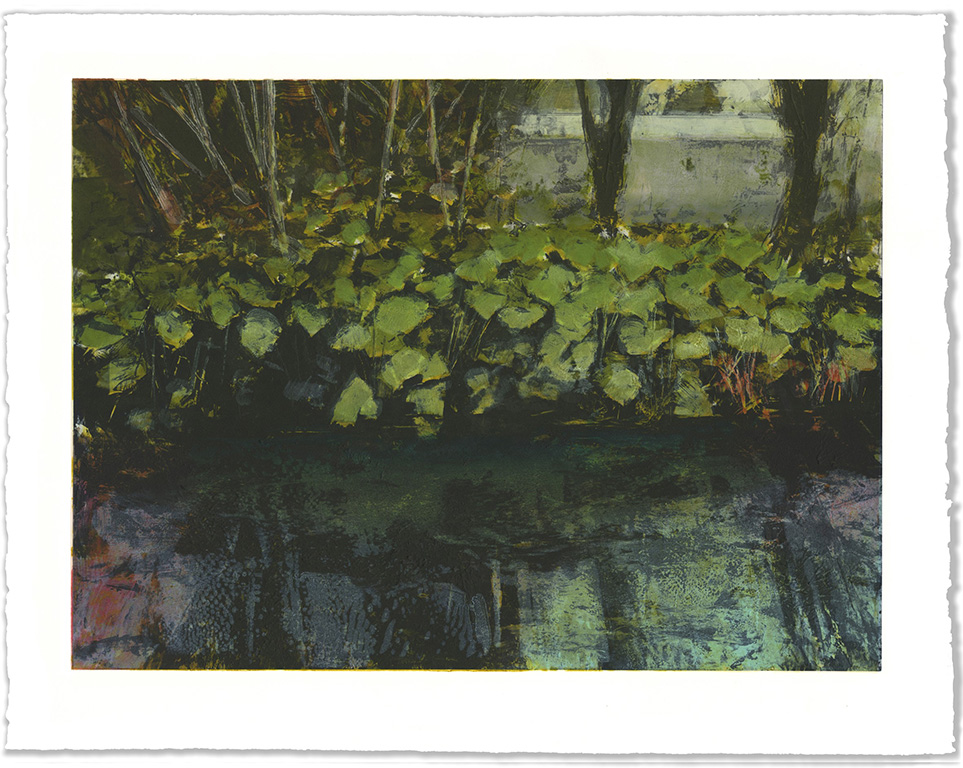 Stoney Road Press are delighted to participate in Westival 2023.
This exhibition represents a snap-shot of the Stoney Road Press portfolio which will be exhibited at forthcoming international art fairs in New York, Miami and London. Collaborating with Irish and international artists we publish limited edition fine art prints, books and poetry in a variety of media. We will also be showcasing two new works by artist Donald Teskey Riverbank I + II at Westival 2023.
Works by:
Yoko Amino; Felicity Clear; Diana Copperwhite; Dorothy Cross; Blaise Drummond; John Fitzsimons; Richard Gorman; Brian Harte; Leah Hewson;
Elizabeth Magill; Kelvin Mann; Eilis O'Connell;Barbara Rae; Patrick Scott; Emma Scully; Donald Teskey.
AlanJames Burns: Augmented Body, Altered Mind
24th October – 28th October 2023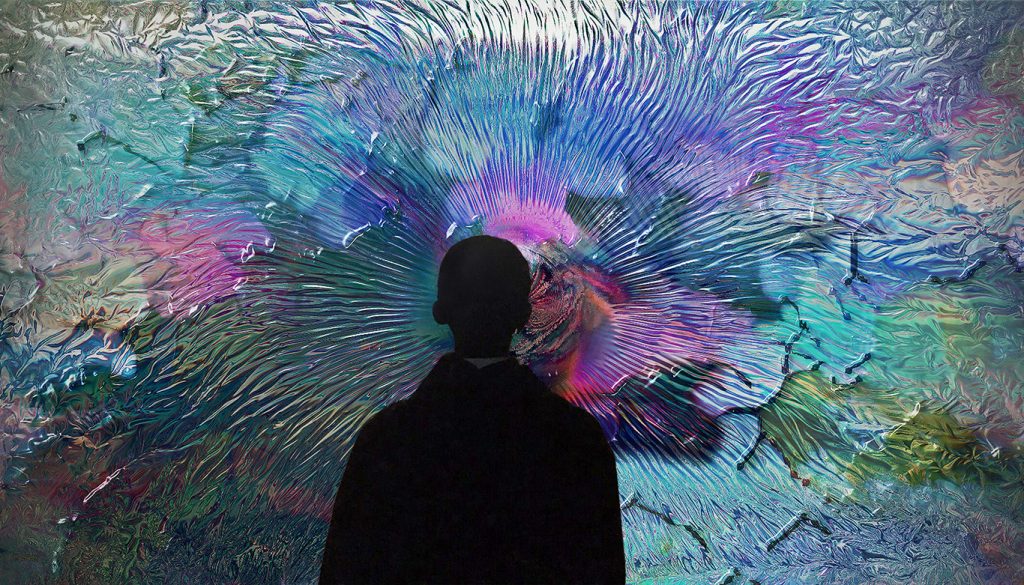 Augmented Body, Altered Mind is a collaborative, interactive artwork that weaves a brain-computer interface with a projected audiovisual environment discussing the effect of climate change on people with lived experience of disability, with a particular focus on neurodivergence and the unique perspectives that these communities have on climate change. Augmented Body, Altered Mind examines correlations between the natural world, neurology, philosophy, and neurodivergence. By wearing a Brain-Computer Interface headset, the audience becomes immersed in evocative imagery and soundscapes as their brainwaves guide undulating, amorphous visuals and scripted audio-dialogue to shift and merge.
Augmented Body, Altered Mind at Westival is funded by Arts Council of Ireland Touring Award 2022. Augmented Body, Altered Mind was first commissioned by Carlow Arts Festival 2022 following a prototype Open Mind, Closed System for Carlow Arts Festival 2021. The work was developed further for The Earth Vision London 2022. The project has been funded and supported by Arts Council of Ireland, Arts and Disability Ireland, Arts Council England and Insight Centre for Data Analytics DCU.
The artwork has been co-created by AlanJames Burns (lead artist), Dylan Coburn Gray and Chandrika Narayanan-Mohan (writing), Michael Riordan (composition), and collective Ibragim (digital visuals).

By the same sea, homes of the Irish diaspora – Maureen O'Leary
28th September – 22nd October 2023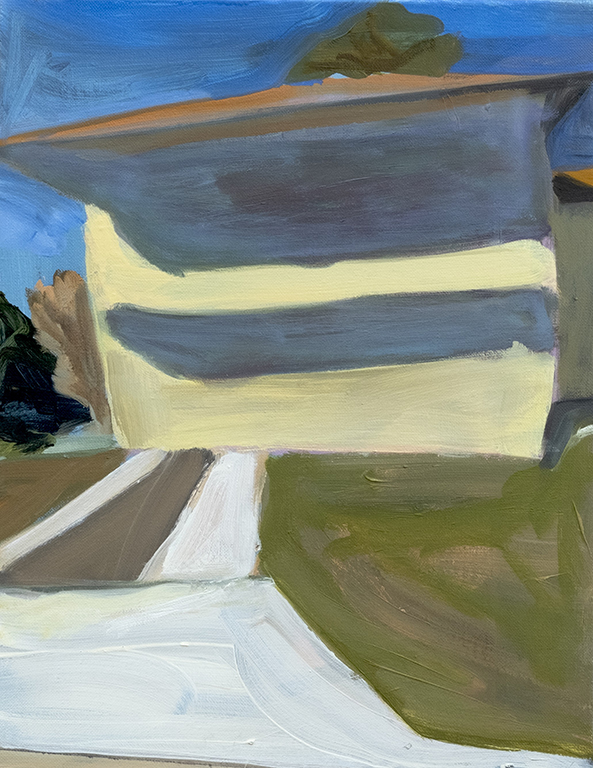 In By the same sea O'Leary takes a single theme – light and shadow on the small homes of suburban Long Island, New York where she lives and works – as the basis for formal experimentation with paint. With an eye towards fauvism, O'Leary's paintings retain the spatial organization provided by light while introducing experiments with garish color and loose brushstrokes that depart from naturalism. In Yellow Shadows the vibrant colors allow the painting to hover between abstraction and figuration as if the artist asks us to consider the very definition of a shadow as darkness. In Orange Windows dusk turns the sky and house into deep blues, graphically linking buildings to their environment and unifying object and place.
O'Leary remarks that she has come to reflect on this body of work as related to her own Irish American roots. "These houses of Long Island are those of the Irish diaspora. All through my neighborhood are Americans with names revealing Irish ancestry. I think often of the metaphor embodied in New York City's Irish Hunger Memorial: it upholds the symbol of a house, transported stone by stone from Mayo, as the icon of the most tragic period of Irish emigration."
Observing O'Leary's paintings through this lens of history invites more deeply layered interpretations of escape and rebirth. Long Island homes and western Ireland homes remain, geographically, each other's first and last points of contact, separated only by the Atlantic Ocean. These homes form an Irish-American continuum and metaphorical neighborhood. Rambling over hills in neighborhoods for a hundred miles outside of New York City, these modest homes are the effigies of new life. The small scale of O'Leary's paintings also references windows on common commuter trains and the contemplation they afford people leaving New York City, departing the place where immigration begins and extending to places of aspiration.
In conjunction with this exhibition, the artist has collaborated with Red Fox Press, Achill Island, County Mayo on an artist book of the same title. The exhibition is also accompanied by a digital catalog (available from the artist in December 2023) with reflections on the paintings by Irish American poet Michael Whelan.

Maureen O'Leary makes paintings that hover between figuration and abstraction. Her mundane scenes become substrates for experimentation with the application of paint and the evolving notion of what is real. Her work has been exhibited at the Fondation des États-Unis, Paris, Art Lab, Tokyo, and in the US at the Ely Center of Contemporary Art, Midwest Center for Photography, Artspace, Power Plant Gallery at Duke University, Staten Island Museum, Meadows Gallery-University of Texas at Tyler, and more. She is the recipient of the Brooklyn Arts Council – Brooklyn Arts Fund Grant and the Harriet Hale Woolley Fellowship from the Fondation des États-Unis, Paris. O'Leary has published two artist books: Record (2021, Midwest Center for Photography) and Belle Mort (2013, Paper Chase Press) and her work has been reviewed in The Brooklyn Rail, The Washington Post, and Whitehot Magazine of Contemporary Art among other publications. Her paintings are held by the JPMorgan Chase Art Collection, Fidelity Investments Corporate Art Collection, and her books by the Beinecke Rare Book and Manuscript Library at Yale University. She is a dual citizen of the United States and Ireland and is represented by the gallery Cristin Tierney, New York, New York.
Cogadh na gCarad / the War between Friends – Eoin Mac Lochlainn
31st August – 24th September 2023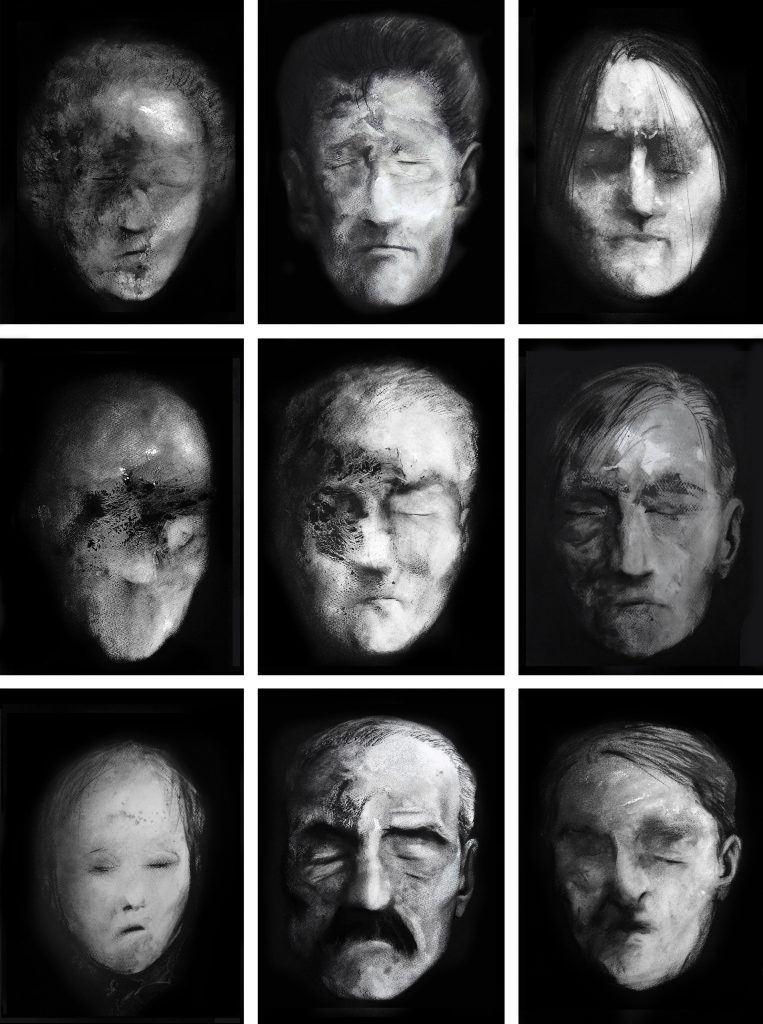 Cogadh na gCarad / the War between Friends – Eoin Mac Lochlainn
"Cogadh na gCarad / the War between Friends" is a project that explores the trauma of the Irish Civil War. I have spent the last two years creating 1400 charcoal drawings to try to understand this tragic episode in our history.
Background: When reading about the Civil War I was struck by historian Diarmaid Ferriter's assessment of it as "a small-scale affair" with only about 1400 people killed. Small perhaps (when compared to 36,000 deaths in the Finnish Civil War around the same time) but for me, 1,400 dead meant that 1,400 families were bereaved and many, many more were traumatised. I decided that I would make 1,400 drawings to commemorate the dead and, in some way, to acknowledge the trauma.
The drawings are not portraits – and not based on actual people who were killed during the conflict. Each piece is an attempt to represent a soul, someone with dreams and ambitions, someone whose life was cut short. The series does not pass judgement or take sides. Who knows today what stance we would have taken – or how we would have acted in the same situation – but I think that it is important to remember the Irish Civil War and to mark it – to remind ourselves that peace should never be taken for granted.
The work continues to put other global conflicts in perspective for me. War is a failure of empathy, a failure of Humanity. Whatever the cause, when it comes down to it, it's always some mother's son, it is somebody's sister or brother, somebody's neighbour who is killed.
I'm grateful to the Arts Council for supporting this project.
Eoin Mac Lochlainn graduated from NCAD in Dublin in 2000. In 2008, he won the Golden Fleece Award, was shortlisted for the Davy Portrait Award and won the ESB Keating McLaughlin Medal at the RHA Annual Exhibition in 2010. He won an Arts Council Agility Award in 2022.
He has had more than ten solo exhibitions in Ireland and has participated in selected and invited exhibitions (RHA, RUA, Iontas, Éigse) and various group shows in Ireland, USA, England, France, Belgium, Georgia and China.
His work is in the collections of: Air Lease Corporation, OPW (the State Art Collection), AIB, Bank of Ireland, AXA Insurance, University of Limerick, Donegal County Council, Wesley College and the Boyle Civic Collection.
He writes a weekly artblog entitled: Scéalta Ealaíne at https://emacl.wordpress.com

Matters of Matter – Hazel Mc Crann
31st August – 24th September 2023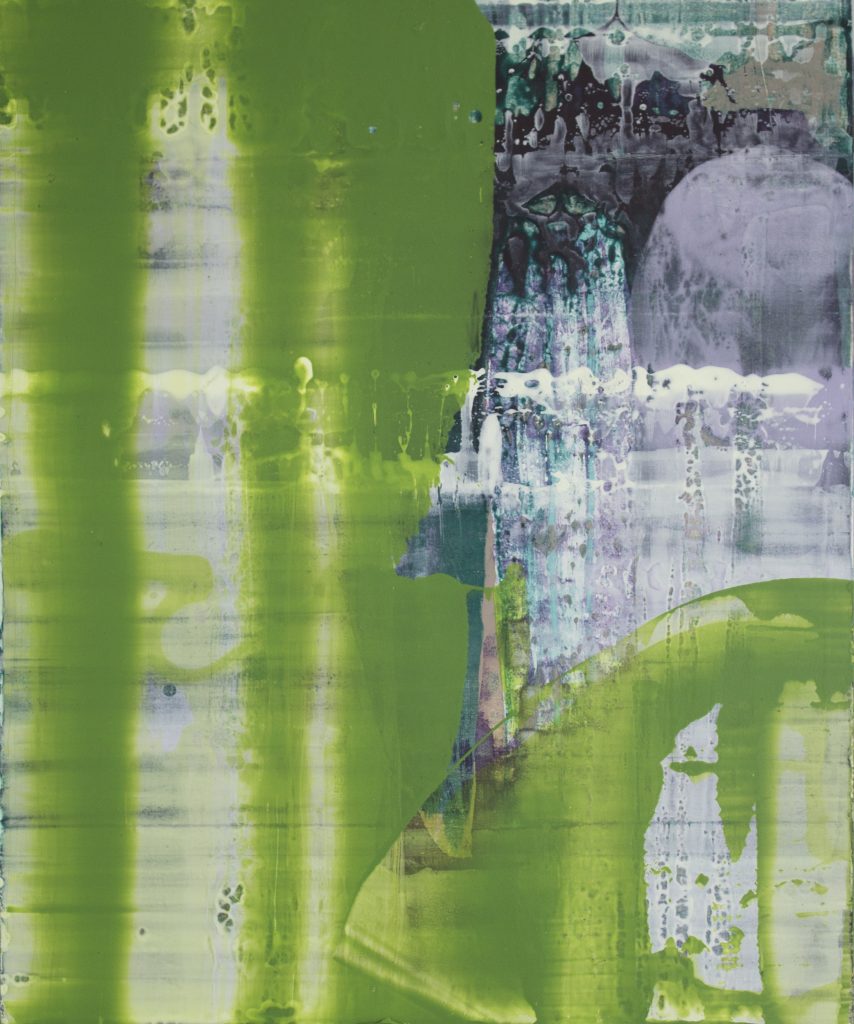 Matters of Matter – Hazel Mc Crann
Inspiration for this current body of work stems from the materials and processes used to make the work. The work derives from the act of painting itself and all the uncertainties and revelations that painting can reveal. Avoidance of preconceived ideas or narratives is a tactic within this current method of working, a tactic through which the work can be discovered. Any illusionistic elements within the paintings can be viewed as bi-products of interactions between materials used while making the work.
The paintings were made during and after the pandemic. The paintings and the process of their making echo the repetitive, precarious messiness of everyday living which seemed to amplify when the world grew quiet; the mixing, the pouring, the scraping, the scrubbing, the scrolling, the swiping, the pulling, the pushing, the waiting.
Working on several paintings at once means that the paintings become part of an interactive series of work, each piece influencing the other. Mostly painted on board they vary from small intimate paintings to larger more immersive pieces. The boards are laid out flat on the ground or on tables. The paint is mixed with various materials and the resulting matter is laid on in layers. Using the tools of painting and sometimes bare hands, the matter is manipulated in ways that chime with the everyday. It is at this point, as the echoes of everyday life reveal themselves, that the art becomes the work, and the work becomes the art.
Working this way creates a space for unpredictable events to occur, attending to and reacting upon these events creates a dialogue with the painting. As the layers build up over time, colours and forms appear and disappear, a surface changes and is formed. This surface is shaped by what lies beneath, what happens on the surface begins deep within. This process of making has no predetermined goal and so the work strives for a sense of the unresolved as it embraces the unruly nature of the materials used. There is a crossover point where, as the build-up of matter increases, the paintings begin to claim their own space and reveal themselves.
Hazel Mc Crann is a visual artist living and working in the West of Ireland. Her primary focus centres around the act of painting as a process of investigation and discovery. Her current body of work is informed by the inherent performativity and materiality of her painting process. Her work strives for a sense of the unresolved as it embraces the unruly nature of the methods and materials used. For her the process of making has no predetermined goal and is more important than the result.

She graduated from the Atlantic Technological University in 2021 with an MA in Creative Practice through Fine Art. She was awarded the Governing Body Award for First in Order of Merit for Master of Arts in Creative Practice by the Atlantic Technological University, Ireland. In 2018 she was awarded the Graduate Solo Exhibition Award by Sligo Institute of Technology, Ireland which took place in The Hyde Bridge Gallery in Sligo in 2019, titled Peripheral Visions. Her work has been included in exhibitions at The Model, Sligo, The Hamilton Gallery, Sligo, The Linenhall Arts Centre, Mayo, The Leitrim Sculpture Centre and the Royal Hibernian Academy, Dublin. Her paintings were selected for the 2019 and the 2022 RHA Annual Exhibition held in Dublin.
Website: www.hazelmccrann.com
Instagram: https://www.instagram.com/hazelmccrann/

Studio Group Exhibition
3rd August – 27th August 2023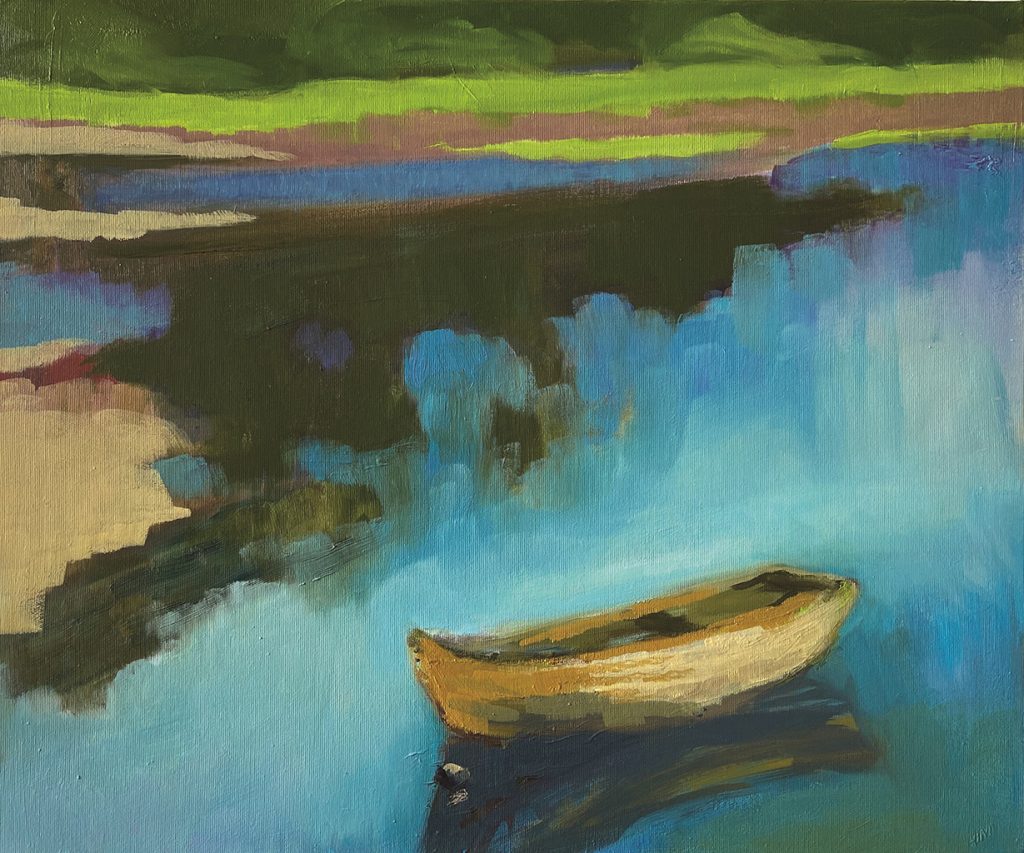 Custom House Studios + Gallery is located at The Quay in Westport, Co. Mayo and has been operating for 21 years. A former Custom House, the building was carefully restored to conserve its historical architectural features, housing seven artist's studios, two exhibition galleries and a fine art printmaking studio. It is an artist led organisation funded on a not-for-profit basis by Pobal, Mayo County Council and The Arts Council of Ireland. Hosting a full programme of exhibitions, print workshops and studio occupancy including a residency aimed at artists from overseas.

The artists participating in this group exhibition were/are working in the studios during the period January 2022 to July 2023.
Participating Artists: Tom Brawn, Breda Burns, Kate Cuddy, Bryan Gerard Duffy, Pauline Garavan,
Iwona Rossochacka Kenny, Genevieve King, Niall McCormack, Maggie Morrisson, Rosemarie Norton,Christine Prescott, Astrid Rothaug, Betsy Stirratt, Ian Wieczorek, Sarah Wren Wilson.
Stack – Sinéad Ní Mhaonaigh
6th July – 30th July 2023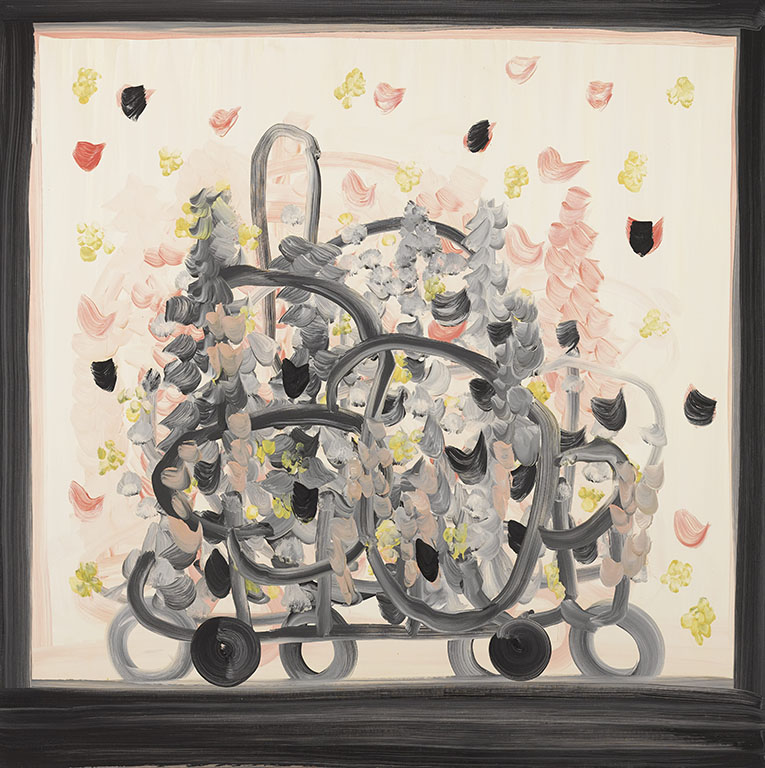 Sinéad Ní Mhaonaigh is innately concerned with the material qualities of paint, and the physical act of painting itself. Resisting the confinements of allegory, she earnestly engages with painting as its own autonomous language. Much like a poet, Ní Mhaonaigh is interested in ambiguity and in anachronisms. It has been said that she is a painter who suggests rather than represents. Over the past two decades, Ní Mhaonaigh has presented solo exhibitions whose titles comprise singular words, derived from the Irish language, that describe the lived environment. These include Struchtúr, Cnuasach, Imlíne, Eatramh, Imeall, and Ardán – which translate into English as Structure, Cluster, Contour, Interval, Margin, and Platform. This litany of nouns serves to emphasise prevailing concerns in her work, relating to the exploration and elaboration of bounded space. One is free to interpret this in formal terms, as the construction of pictorial architecture, or as a gesture towards more symbolic or enigmatic spaces. Indeed, rather than addressing the particular or the parochial, Ní Mhaonaigh's paintings achieve an 'opening up' of landscape to consider universal themes of language, ancestry, and timeless depictions of place.
Sinéad Ní Mhaonaigh (b 1977) graduated with a BA in Fine Art Painting from Dublin Institute of Technology in 2001. In 2010 Ní Mhaonaigh was recipient of the Hennessy Craig Scholarship and was awarded The HOTRON Award 2019 by VISUAL Carlow for outstanding work. She was shortlisted for the Marmite Prize for Painting 2016, and the John Moores Painting Prize 2018. Ní Mhaonaigh is represented by the Kevin Kavanagh Gallery, Dublin, and 532 Gallery Thomas Jaeckel, New York. Ní Mhaonaigh was recently elected a member of the RHA.
Recent solo exhibitions include Structure (2022) at 532 Gallery Thomas Jaeckel; Struchtúr (2022), Dúil Series (2021) and Teorainn (2020) at Kevin Kavanagh Gallery; Cnuasach (2021) at Uillinn: West Cork Arts Centre; and Macalla (2020) atMermaid Arts Centre. Ní Mhaonaigh exhibited as part of VOLTA New York in a solo presentation in 2016, and her work has been presented at major international art fairs, including Art Market Budapest, Hamptons Fine Art Fair, Art Rotterdam and VOLTA Basel. Ní Mhaonaigh's paintings are held in many important public collections, including the Centre Culturel Irlandais (Paris), Crawford Art Collection (Cork), Butler Gallery Collection (Kilkenny), Ernesto Ventós (Barcelona), Luciano Benetton Collection (Treviso), O'Brien Art Collection (Chicago) and The Arts Council of Ireland (Dublin), as well as private collections in Ireland, across Europe and in the United States.
A substantial publishing archive has developed around Ní Mhaonaigh's painting practice over the years, with her exhibitions attracting significant media coverage, as well as critical and scholarly engagement through the inclusion of her work in a vast range of catalogues, books, journals and periodicals.
Ní Mhaonaigh is regularly invited to deliver public lectures and participate in conferences, while she also widely contributes to Irish language broadcasting across radio and television.
Holding Spaces
BA in Contemporary Art Practices, Year 3
Atlantic Technological University, Mayo Campus
6th July – 30th July 2023
Students Exhibiting: Marta Baptista, Miriam Byrne, Rachel Corcoran, Angela Duffy, Claire Finegan,
Michelle Gannon, Janine McGinn, Paul Meenaghan, Martina O'Connor.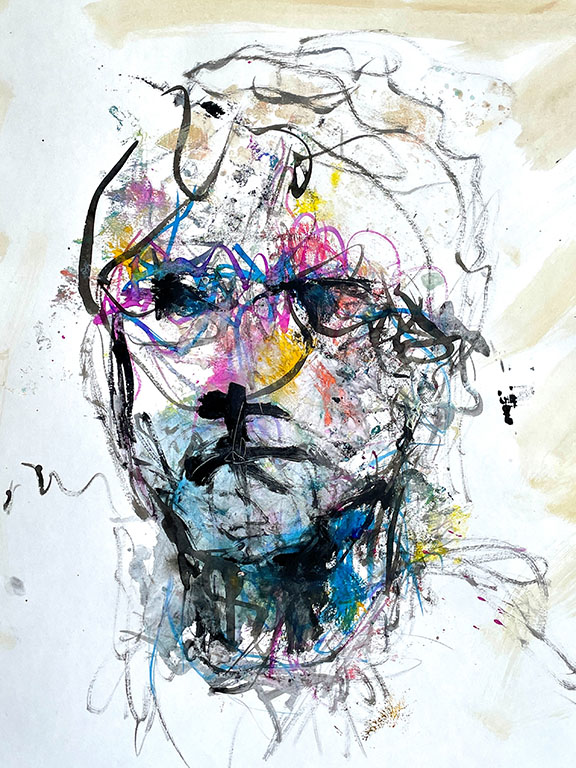 Estuary – Trudi van der Elsen
8th June – 2nd July 2023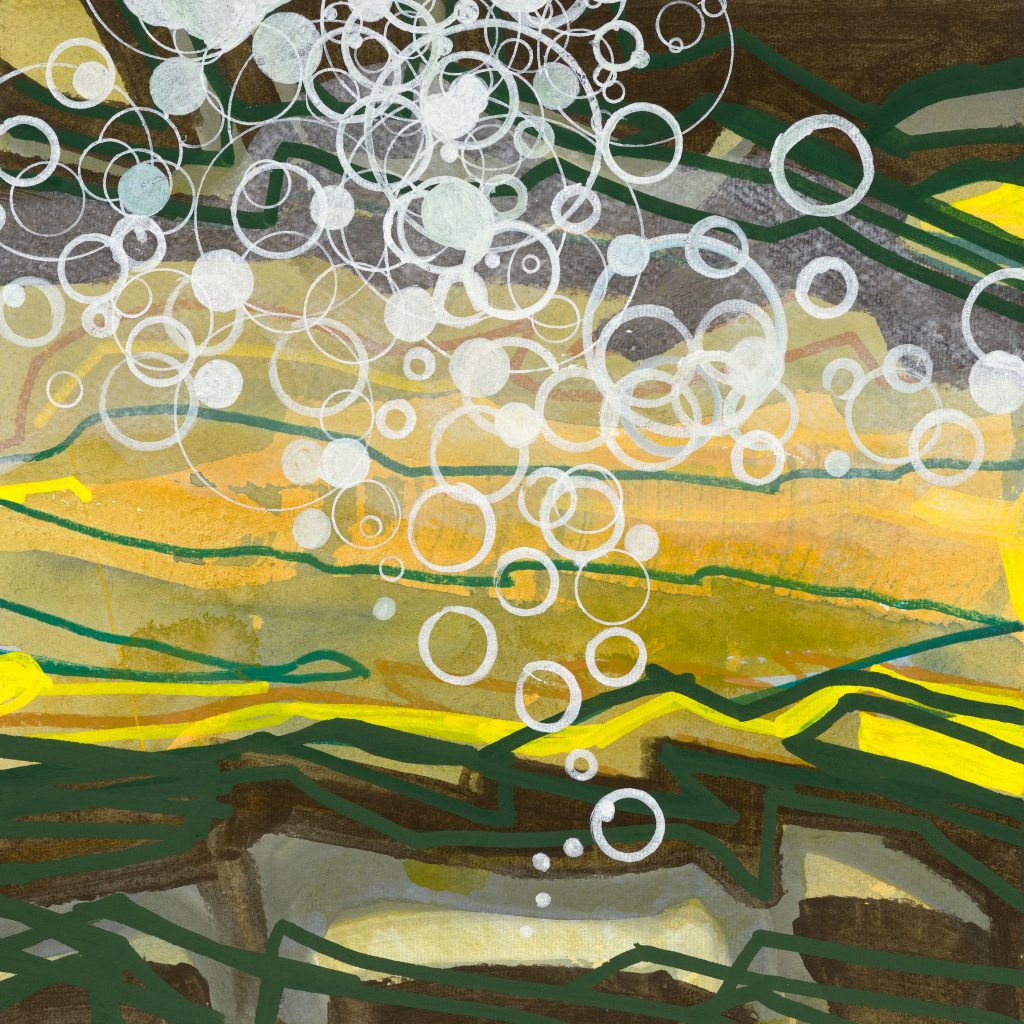 Sionainn, 2022, acrylic on cotton rag paper, 30 x 30 cm
"The landscape mirrors itself in me and I mirror its consciousness "Cezanne
"The expression is something that in the medium itself lives, not imposed from outside, but in and through the medium itself is generated
"Merleau Ponty.
"Intuition is nothing other than that which we understand as thought, but it is a superior form of thinking, an enlarged consciousness in which one realizes that man is free" – Joseph Beuys.
The virtual network between computers has transformed our perception and experience of the world from the single historical 'vanishing point' to a multi-dimensional view. My work explores the potential of painting to express the unique quality of stillness and treatment of time in an ever-accelerating experience of hyper-linked reality.
My paintings investigate this multi-dimensional view of perception, not as a representation but rather as a distillation of an essence, a re-creation and transformation; a new way to make visible the inner and the outer layers of perception, simultaneously.
My practice is influenced and excited by the natural environment, the land and landscape surrounding my studio on the Shannon Estuary in South West Clare. In particular the River Shannon, the mythology of the river goddess Sionainn and Connla's Well. These mythologies resonate with me and inspire me to extend myself, to be open in the process of creative expression.
I work intuitively, connecting on a deeper level with the divine feminine. A slow process of pulling and pushing, creating and deleting, resulting in a multi-layered image, where brushed organic forms and pen marks compliment or vie for position within spaces, within layers. I often work on a large scale to augment an immersive, embodied experience.
The river transports me to another world, back to the ancient source and back to my own source, before time, an undefined place, the place of not-knowing, the place of nothingness, a pause, followed by a continuation, filling up endlessly – energising.
"Sionainn, the mythological Goddess of the river, broke free from the strangle hold of society and travelled deep beneath the ocean to Connla's Well, a supernatural spring that could assist her on the journey to knowledge or enlightenment. She managed to imbibe some of the frothy bubbles of wisdom and her gift of enlightenment and creativity was granted. When she reached the point of possible freedom the well rose up and drowned her.
Sionainn is connected to the Otherworld, where time is not linear but cyclical and she is deeply entwined with the fertility of the land, the circularity of the seasons and cycles of the moon and the tides.
Connla's Well, the well that never dries up, represents imagination, vision and creativity"
– Manchán Magan in Listen to the Land Speak.
Trudi van der Elsen, visual artist, based in Ireland since 2004.
Her practice includes painting, drawing, installation work, performance and lens-based media. She exhibits regularly both nationally and internationally.
Recent exhibitions have included:
Sionainn, solo exhibition at Limerick Museum, (2023), OPERE, group exhibition Weber & Weber Gallery, Turin, Italy, (2023), Breaking Borders, Curated by Valeria Ceregini, LUAN Gallery Athlone & GOMA, Waterford, IRL (2022), Artform Annual 44, invited artist, The Quay, Waterford, IRL (2021), Artists from Ireland, online exhibition, Sasse Art Museum, Los Angeles, USA (2021), Fragmented Perception, solo exhibition at Weber & Weber Gallery, Turin, Italy (2021), RHA Annual, Dublin, Ireland (2020), Notes From A Digital Sea, at the BCA Gallery, Ireland (2020). XR-Extended Reality, Toledo, Spain (2019), inclusion in the National Self Portrait Collection at The Bourne Vincent, Ireland (2018), Songlines at Punt WG, Amsterdam in (2012), selection for the RUA Belfast Annual (2015 &2017). Her work has been supported by the Arts Councils of Holland and Ireland, as well as Culture Ireland and Clare County Council. Her work is in private and public collections internationally, and in Ireland collected by the OPW and Clare County Council.
Art Level 6, 2022-2023, End of Year Exhibition
Mayo College of Further Education and Training
Westport Campus
8th June – 2nd July 2023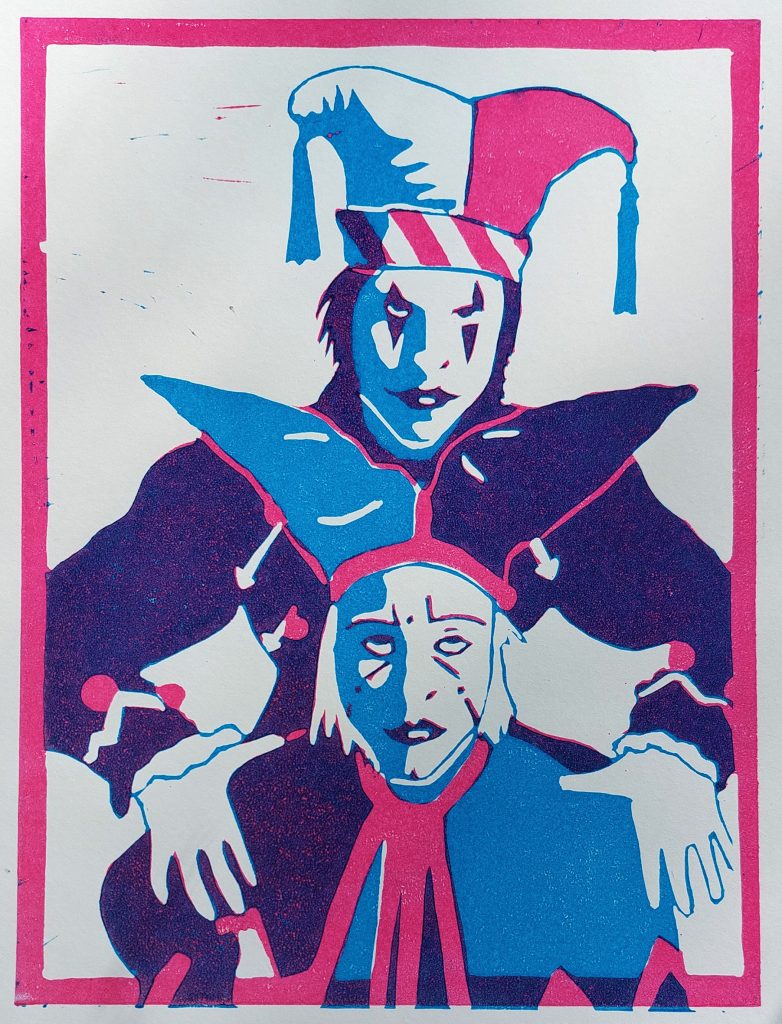 'Jesters', linocut, 15 x 20 cm (Mariia Duluohlo)
Exhibition features works by:

Maria Cadden / Jane Dooley / Mariia Duluohlo / Maura Hagerty / Lucy Halloran / Leah Kearns /
Triona Kelly / Molly McCracken / Megan Mulroe / Emer O'Neill / Olga Omelianets / Ann-Marie Reeve / Jonathan Taylor / Robin Wynne.
Impressed – West Ink Society of Artist Printmakers
11th May – 5th June 2023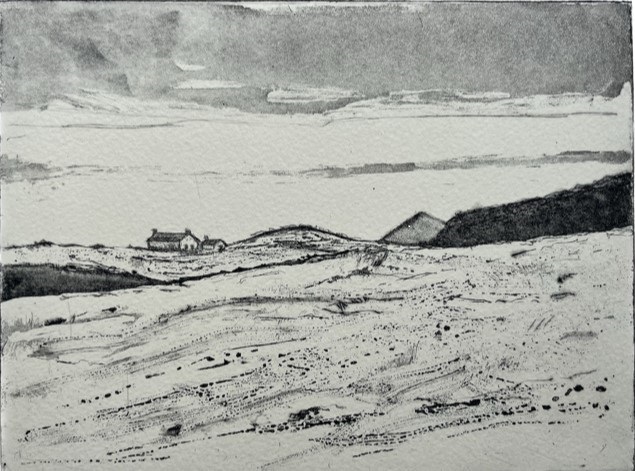 West Ink Society of Artist Printmakers was formed under the auspices of Professor V. R. Gibbons to promote and support printmaking in Mayo. We meet regularly to discuss and exchange ideas, methods and processes.

There are twelve of us: Breda Burns, Áine Gallagher, Prof. V. R. Gibbons, Claire Griffin,
Caroline Masterson, Bruce Mathieson, Dr Ann O'Mahony, Owen Piffaretti, Susie Quinn, Benita Stoney,
Sinead Wall and Michelle Webb.

We work in a diversity of styles, and employ a variety of techniques, including lino- and woodcut, etching, drypoint, mezzotint, collagraph, collage and monoprint.

We are based in the print room in the Custom House Studios + Gallery, who have supported our group from the beginning.
Time Traveller – Peter Burns
13th April – 7th May 2023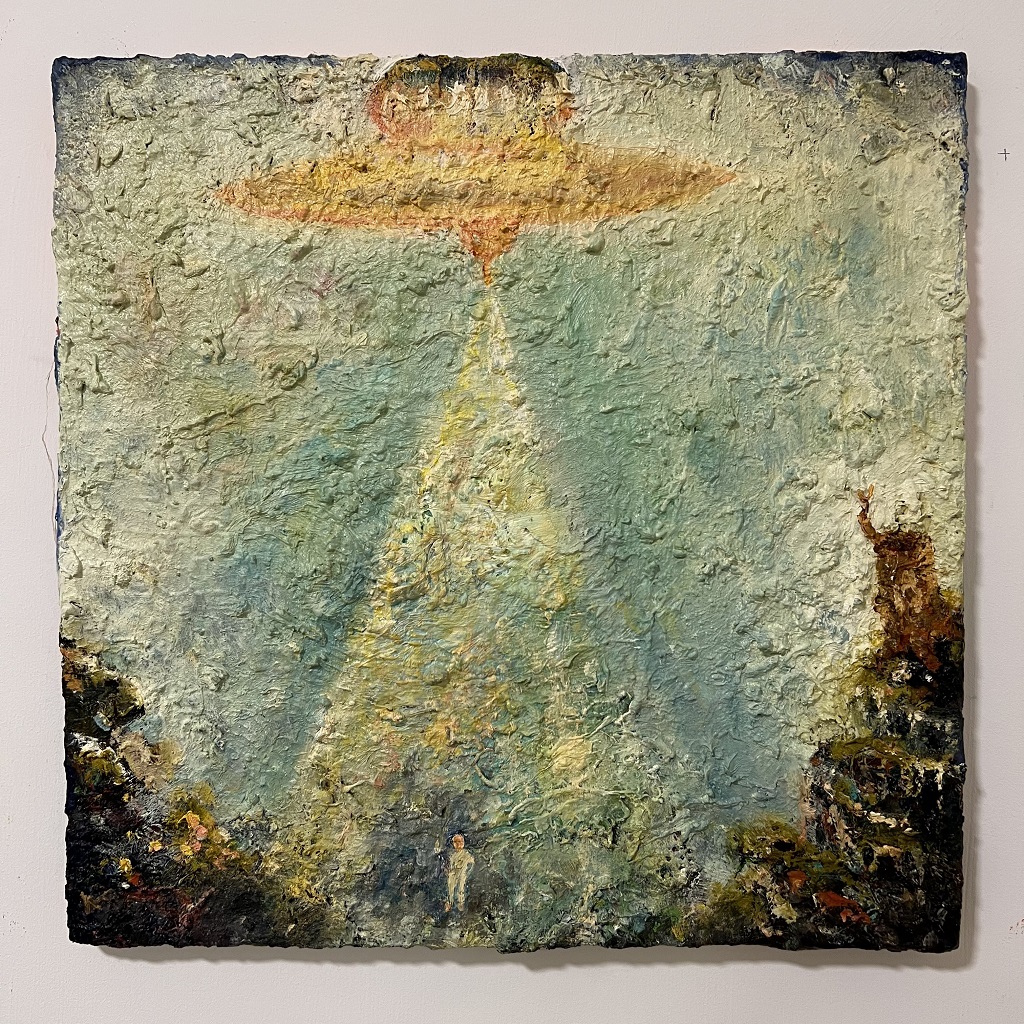 Time Traveller, oil on canvas, 40 x 40 cm, 2019.
Time Traveller
"I spent two periods working in studios at the Custom House at different stages of development in my artistic practice.
Some of the paintings in this exhibition date from around the second period I rented a studio there (c. 2010). More recent works also have their genesis in the surrounding landscape of Clew Bay. The flooded terrain of drumlins, islands, coves and sandbars over time made its way into my work as a setting for reworked Biblical & Mythological themes from art history.
The exhibition will constitute a mini retrospective rooted in time spent working in the Custom House and the influence of the surrounding landscape on the development of my paintings."
Peter Burns
Recent solo exhibitions include; "Dunamis", A Series of Biblical Paintings, RHA Gallery, Dublin, 2023, "Ad Astra", Claremorris Gallery, Co. Mayo, 2022 & "The Astronomer", Fenderesky Gallery, Belfast, 2022. Group shows include "Emotional Rescue", Galleria Annarumma, Napoli, 2022 & "Cruel Intentions", Arusha Gallery, London, 2021.
Peter has shown extensively at international Art Fairs including a solo presentation, "Before the Flood" with Gibbons & Nicholas at London Art Fair in 2018. Forthcoming exhibitions; Arusha Gallery, London, 2023, Simchowitz L.A. 2024
His work has featured in the Sunday Times, Artforum and Irish Arts Review. He is a recipient of the Pollock Krasner Foundation grant. He was awarded a BA in Sculpture & an MFA in Painting from NCAD (National College of Art & Design, Dublin). He lives and works in Co. Mayo.
'Retrace' – Margot Galvin
13th April – 7th May 2023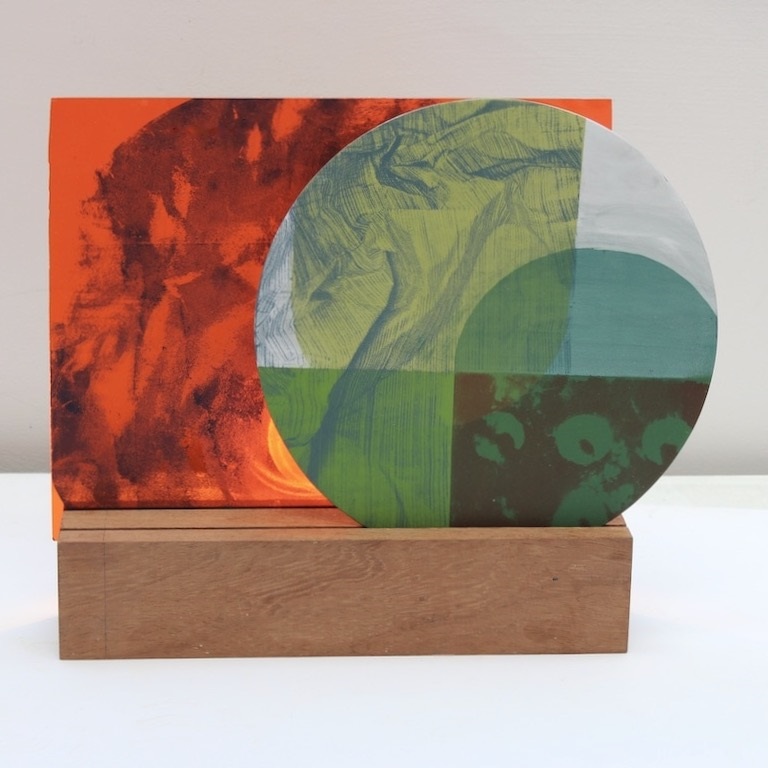 'Territory', Screenprints on aluminium and glass with wooden block, 20x23x4cm.
'Retrace'
Finding our place within the world is an important aspect of human existence and attachment to place is a powerful component in informing and shaping our identity. A need to belong, to be 'at home' somewhere is a fundamental human desire. It is this relationship between self and place and the implications for our identity that I explore in my work.
The philosopher Edward Casey refers to our place of origin 'as an exemplar against which all subsequent places are implicitly to be measured'. This imprint of childhood environment has been labeled a 'primal landscape' and as people move about in life new places are considered in relation to this baseline landscape.
The writer Rebecca Solnit in ' A book of Migrations' (1997) also explores the formative impact of childhood environment in constructing people's identity.
'Children see with a peculiar intensity of vision; it is rare that a new
sight or object can convey to an adult the hallucinatory power in
which recollected experience are bathed. What the very young see
is literally incomparable -nothing like it has come before -and these
encounters are the raw material, the imagery of their psyches. It
often seems to me that all one's creation is done in that first
decade and a half, with an internal landscape comes into being with
the force and activity of primordial volcanoes and plate tectonics: the
rest of ones time on earth is spent retracing, mapping, deciphering,
excavating. Everything else one will see is seen in comparison with
this formative landscape'.

The work on display is an exploration of my own formative landscape, a lakeside playground that provided the raw materials and imagery of my own 'primal landscape'. The resulting works are a composite of visual fact, feelings, memory and imagination.
Margot Galvin is an artist living and working in Dublin. Her work explores ideas about place, home and belonging. She uses psycho-geographical explorations of various locations to question how a 'sense of place' or belonging is developed by how closely our current environment echoes our place of origin. Drawing, painting and primarily printmaking are all used to explore these ideas. She has an interest in extending the norms of printmaking to incorporate materials such as metal, wood and glass. These materials are used to print on and bring print, traditionally presented on paper, into 3D 'print sculptures', objects or assemblages.

Margot graduated from NCAD in 2012 with a 1st Class honours degree in Fine Art print. She completed her Masters in Fine Art at the National College of Art and Design, Dublin in 2014 and is currently a member of 'AtHome' artist group and The Black Church print studio, Dublin.
She has exhibited in the RHA and RUA annual exhibitions, Cairde, RUA RED, Galway arts festival, and more recently Draiocht 'MakingArt Print' as an invited artist. Her work is held in AXA, OPW, Law Society of Ireland, NCAD collections as well as many private collections.

It is happening again – Tadhg Ó Cuirrín
16th March – 10th April 2023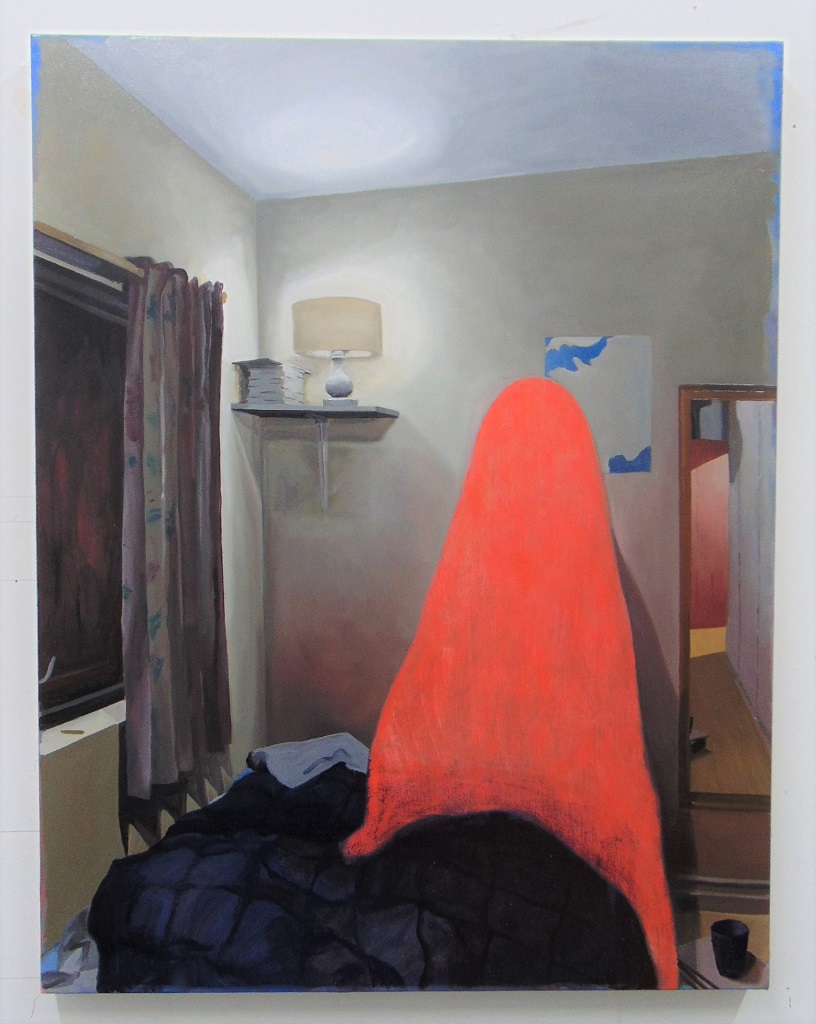 It is happening again
Of late I have been thinking about how to depict the complexity of the world and the systems within it. How the small events of our lives echo with the wider world of current and historical events. I have been making paintings of every bedroom I have ever lived in. I am creating these spaces from memory, a spectre passing through space and time. I have chosen the bedroom as site of some of our most personal memories. It is a recollection and rendering of furniture, fittings, and magnolia paint that will be familiar to many. I hope to evoke personal, architectural, and cultural memories, and how unfixed these memories are.

Tadhg Ó Cuirrín is an artist based in Co Galway. He holds a BA in Fine Art, Painting from the Limerick School of Art and Design. He works in a variety of media, and his work was recently shortlisted for the Hennessey Craig Award at the RHA 192nd Annual Exhibition, and recently included in TULCA Festival of Visual Art in Galway. Recent solo and two person exhibitions include "The Unexamined Life" in July
2021, and "Magic, Metallic Saliva" with Karen Conway at 126 Artist Run Gallery in March 2022.

His work is supported by Ealaín na Gaeltachta, the Arts Council of Ireland, and Galway County Council.

www.tadhgocuirrín.com
Shuttle in Change and Beat – Róisín Lewis
16th March – 10th April 2023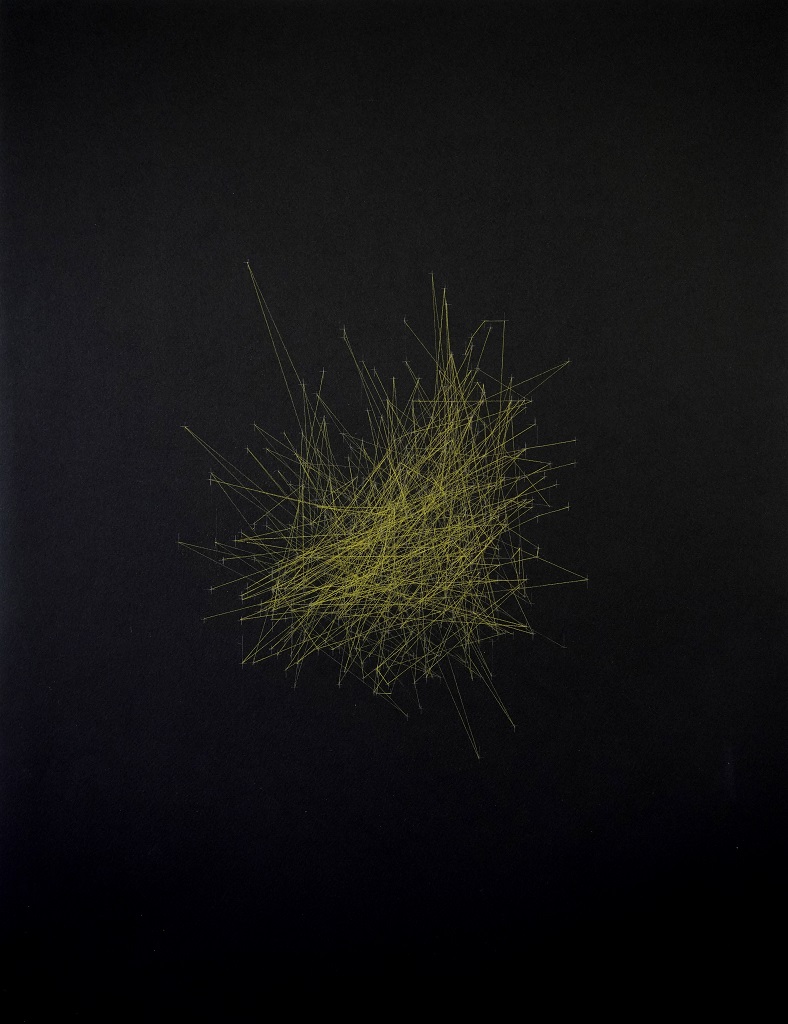 Róisín Lewis's work is a response to slow journeys through the landscape. Rhythm reduces effort, as the saying goes. Not stopping to sketch or take photographs, Lewis gathers memories and occasionally objects, as she travels while also using body-worn technology to record biometric and geographical data.
Back in the studio, data is downloaded and paths travelled are retraced on paper. Objects gathered in the landscape are studied, drawn and manipulated. These activities encourage memories, observations and other sensory and rhythmical experiences to resurface, which in turn inform the use of materials, processes and colour. The work also draws on indigenous building techniques and approaches to textile construction – slow repetitive processes that are analogous to the rhythm of the journeying body, as well as on mapping and surveying techniques.

The work grows through the repetition of simple gestures. An underlying structure or rule determines the initial composition and forms develop in accordance with data collected. But the artist is not a machine. Irregularities, accidents and traces of the body that result from making by hand, also play a part. In this way, the work evolves through a combination of order, memory, chance and intuition.
Róisín Lewis is currently based in Dublin. Since graduating from NCAD in 1996 her work has been exhibited in Ireland and abroad, most recently at SO Fine Art Editions, Dublin, Assab One, Milan, Atelier des Empreintes, Pays de la Loire, and Yanagisawa Gallery, Tokyo. She has been awarded residencies at IMMA, Fire Station Artists' Studios, Dublin, the Josef & Anni Albers Foundation, Connecticut (2017), Thread, Senegal (2019), West Cork Arts Centre (2021, 2023) and also the RHA Clare Island Residency (2022). Her practice is currently supported by the Arts Council of Ireland.
Brexit Sausages – Shiro Masuyama
16th February – Sunday 12th March 2023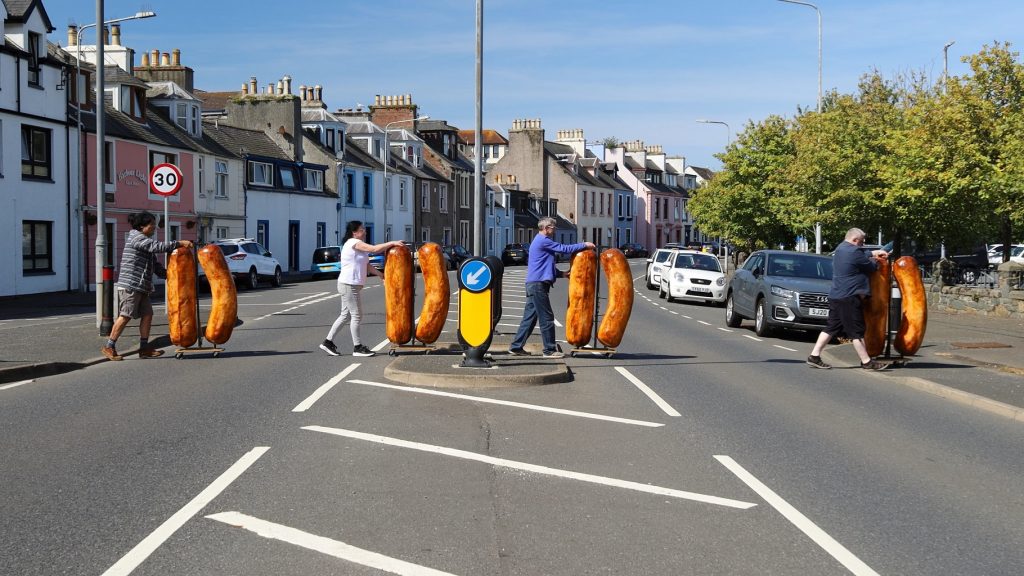 Brexit Sausages
After Brexit, the Northern Ireland Protocol dictated that Northern Ireland would continue to follow EU rules on product standards to prevent checks along its border with Ireland.
Instead, inspections on goods entering Northern Ireland from Great Britain would take place at Northern Irish ports.
This has prompted criticism that a new border has been created in the Irish Sea. Under EU food safety rules, sausages were prevented from entering Northern Ireland from Great Britain (though there have been temporary truces to keep trade flowing).
Belfast-based Japanese artist Shiro Masuyama has created a new social intervention using sausages to highlight this Irish Sea border which was created after Brexit.
With a new project of 'Brexit Sausages' which Shiro made for the Irish Sea border, through his solo show, he will represent two more interventions including 'Feeding Carrots from the South to Wild Donkeys in the North', Cyprus, July 2022 and 'Crossing the border', Amsterdam Schiphol Airport, The Netherlands, April 2010, which he has also made for the border in the different context.
Shiro Masuyama
Born in Tokyo in 1971, he studied architecture to masters level. Following international residencies in the Irish Museum of Modern Art, Dublin (2006) and Flax Art Studios, Belfast (2009), he moved to Belfast, Northern Ireland, where he's been based ever since.
Using his architectural background and his Japanese identity, he makes projects which fundamentally connect people and society: so-called socially engaged art.
As an artist from Japan who has made their home in Northern Ireland, he's in a unique position to question how identity can be influenced by the dominant political forces surrounding us.
He has had numerous solo exhibitions worldwide including 'Brexit Sausages', Cultúrlann McAdam Ó Fiaich, Belfast, Northern Ireland (2022) ; 'Coexistence', Siamsa Tíre – National Folk Theatre of Ireland, Tralee, Ireland (2019) ; 'Self-Sufficient Life', Millennium Court Arts Centre, Portadown, Northern Ireland (2015) ; 'The Heart Rocker', Linenhall Arts Centre, Castlebar, Ireland (2014) and "Farming Life", Leitrim Sculpture Centre, Manorhamilton, Ireland (2012).
His works have been represented in internationally renowned Biennial and Triennial including 'BIENALSUR 2021', MACRO Museum of Contemporary Art Rosario, Argentina : 'Sapporo International Art Festival 2020', Sapporo, Japan (Cancelled due to COVID-19) ; 'Aichi Triennale 2013', Japan.
Artist Acknowledgements:
University of Atypical; Unlimited; Paul Hamlyn Foundation; A City Imagining Belfast; Belfast City Council

Brittle to Look back – Aideen Farrell
19th January – 12th February 2023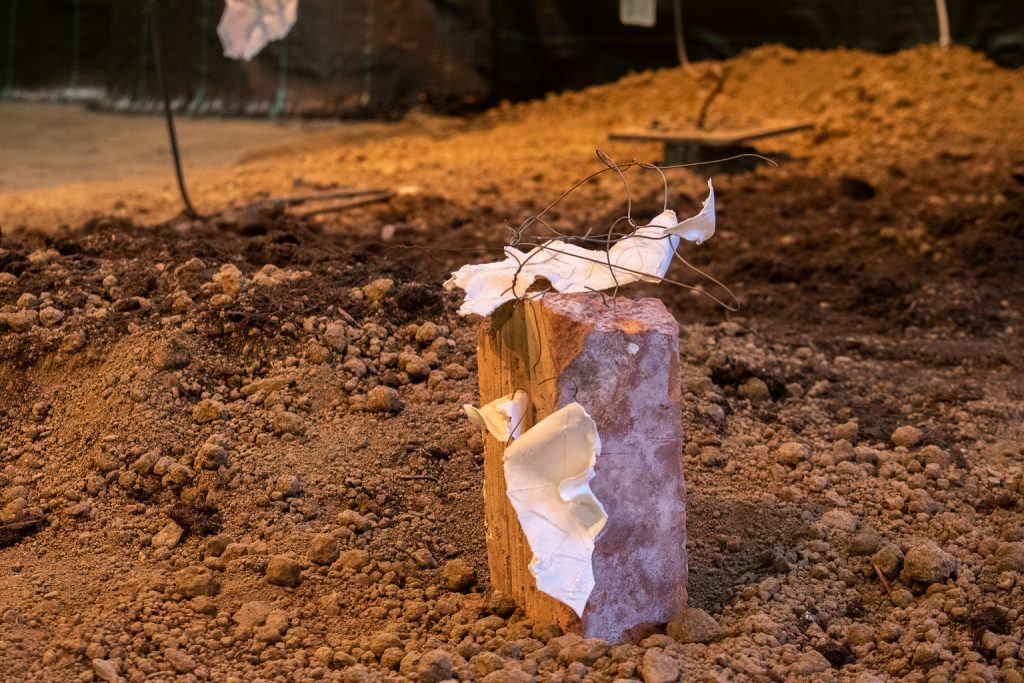 Brittle to Look Back
This exhibition began with an examination of the spaces of the stilled construction site, the proposed architectural plan, and the infrastructural ruin. The work imagines future plans and architectural models as excavated ruins.
It draws on histories of infrastructural projects and transport networks like railways and canals in Ireland. The work explores processes of ruin, decay, corrosion, and regrowth. It critically examines narratives of linear progress, planning ideologies, and dichotomised understandings of the built environment and landscape.
These ideas are explored through installation, clay, steel, & printmaking. Wire, found materials, and fragments added to clay bodies play with constructed form and landscape. The work was produced through cyclical processes of visiting places, gathering, making, and drawing. The resulting objects and structures act as models, parts of construction, and fragments or ruins of spaces. The installation of the work explores makeshift assembly and precarious construction.
This work was made with the support of the Arts Council of Ireland, Fingal County Council, Fire Station Artist Studios, The National Sculpture Factory, and the Cork Printmakers.
Aideen Farrell is a Dublin-based sculptor and installation artist. She graduated from NCAD in 2017 with a BA in Fine Art Painting and Visual Culture. She is currently undertaking a MA in Fine art at TU Dublin and is also a member of A4 sounds in Dublin. Her work combines research and material practices, particularly drawing and making. She weighs fixed designs of architecture and urban planning against conditions of precarity and collapse.

Recent exhibitions include solo shows; A Weight of Windows at Pallas Projects/Studios in 2019 and Showroom Linenhall Arts Centre in 2018, and group shows; Halfway to Falling at the Lord Mayor's Pavilion in 2021 and In Cahoots with the Earth, and The Stars are in the Earth at A4 Sounds in 2021 and 2022 respectively. She was awarded the Fingal County Council Artist Support Scheme 2018-22, the Arts Council's Professional Development Award 2020, Agility Award 2021, and Visual Arts Bursary 2021. In 2022 she undertook a joint residency between the National Sculpture Factory and Cork Printmakers funded by the Arts Council Agility Award. She was awarded a Dublin City Council Residency at St Patrick's Lodge 2018-2019 and Fire Station Artists' Studios 2021 Sculpture Award.