Impressed – West Ink Society of Artist Printmakers
Custom House Studios + Gallery are pleased to host Impressed
by West Ink Society of Artist Printmakers

Exhibition runs from Thursday 11th May until Monday 5th June 2023
Opening Reception: Thursday 11th May 6pm – 8pm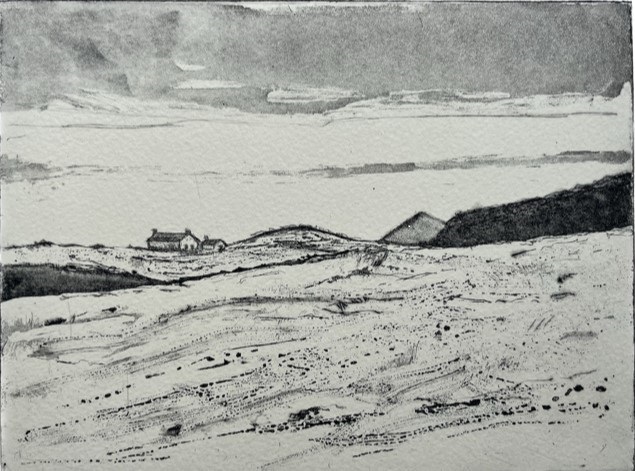 West Ink Society of Artist Printmakers was formed under the auspices of Professor V. R. Gibbons to promote and support printmaking in Mayo. We meet regularly to discuss and exchange ideas, methods and processes.

There are twelve of us: Breda Burns, Áine Gallagher, Prof. V. R. Gibbons, Claire Griffin,
Caroline Masterson, Bruce Mathieson, Dr Ann O'Mahony, Owen Piffaretti, Susie Quinn, Benita Stoney,
Sinead Wall and Michelle Webb.

We work in a diversity of styles, and employ a variety of techniques, including lino- and woodcut, etching, drypoint, mezzotint, collagraph, collage and monoprint.

We are based in the print room in the Custom House Studios + Gallery, who have supported our group from the beginning.
Time Traveller – Peter Burns
13th April – 7th May 2023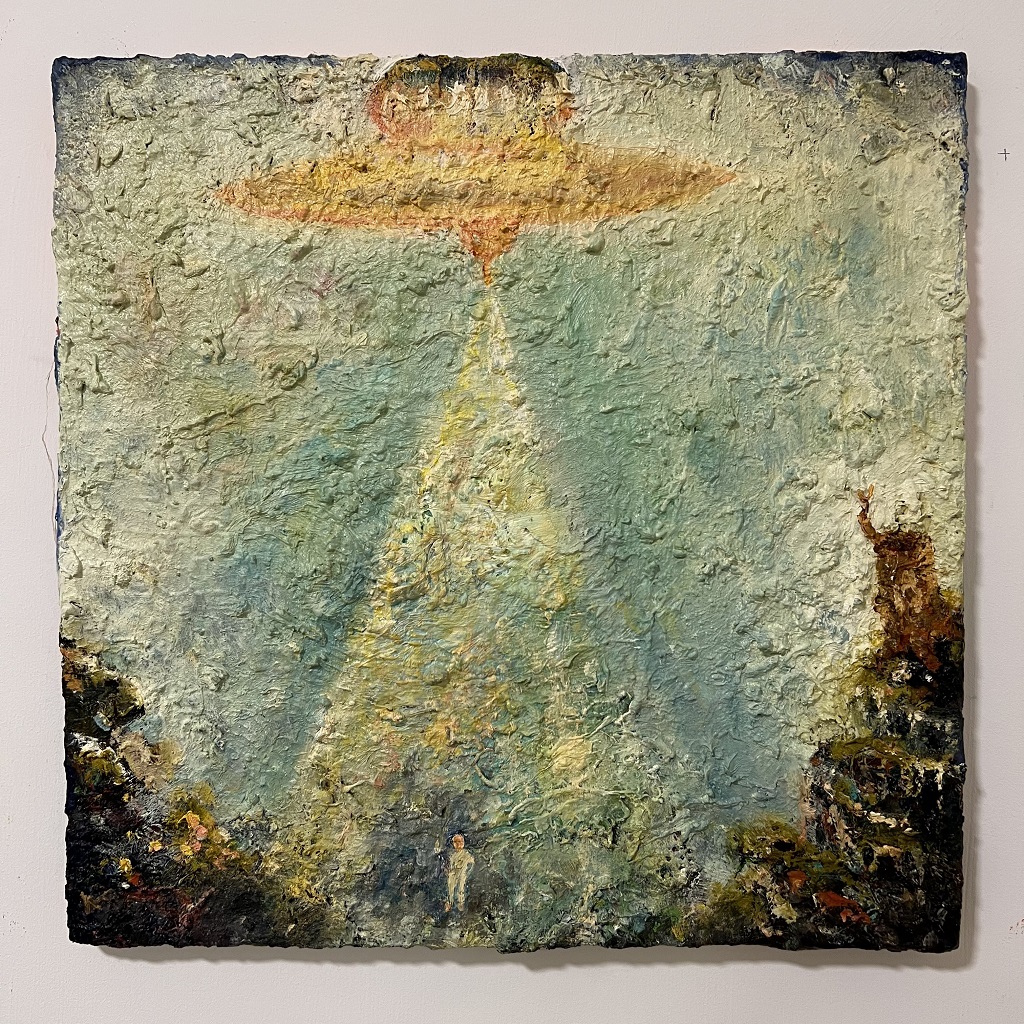 Time Traveller, oil on canvas, 40 x 40 cm, 2019.
Time Traveller
"I spent two periods working in studios at the Custom House at different stages of development in my artistic practice.
Some of the paintings in this exhibition date from around the second period I rented a studio there (c. 2010). More recent works also have their genesis in the surrounding landscape of Clew Bay. The flooded terrain of drumlins, islands, coves and sandbars over time made its way into my work as a setting for reworked Biblical & Mythological themes from art history.
The exhibition will constitute a mini retrospective rooted in time spent working in the Custom House and the influence of the surrounding landscape on the development of my paintings."
Peter Burns
Recent solo exhibitions include; "Dunamis", A Series of Biblical Paintings, RHA Gallery, Dublin, 2023, "Ad Astra", Claremorris Gallery, Co. Mayo, 2022 & "The Astronomer", Fenderesky Gallery, Belfast, 2022. Group shows include "Emotional Rescue", Galleria Annarumma, Napoli, 2022 & "Cruel Intentions", Arusha Gallery, London, 2021.
Peter has shown extensively at international Art Fairs including a solo presentation, "Before the Flood" with Gibbons & Nicholas at London Art Fair in 2018. Forthcoming exhibitions; Arusha Gallery, London, 2023, Simchowitz L.A. 2024
His work has featured in the Sunday Times, Artforum and Irish Arts Review. He is a recipient of the Pollock Krasner Foundation grant. He was awarded a BA in Sculpture & an MFA in Painting from NCAD (National College of Art & Design, Dublin). He lives and works in Co. Mayo.
'Retrace' – Margot Galvin
13th April – 7th May 2023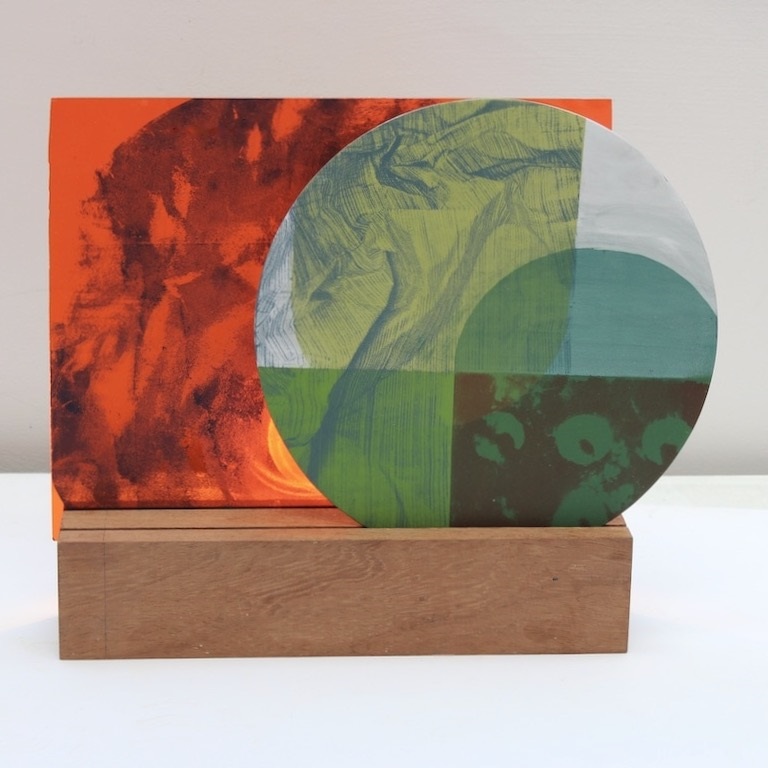 'Territory', Screenprints on aluminium and glass with wooden block, 20x23x4cm.
'Retrace'
Finding our place within the world is an important aspect of human existence and attachment to place is a powerful component in informing and shaping our identity. A need to belong, to be 'at home' somewhere is a fundamental human desire. It is this relationship between self and place and the implications for our identity that I explore in my work.
The philosopher Edward Casey refers to our place of origin 'as an exemplar against which all subsequent places are implicitly to be measured'. This imprint of childhood environment has been labeled a 'primal landscape' and as people move about in life new places are considered in relation to this baseline landscape.
The writer Rebecca Solnit in ' A book of Migrations' (1997) also explores the formative impact of childhood environment in constructing people's identity.
'Children see with a peculiar intensity of vision; it is rare that a new
sight or object can convey to an adult the hallucinatory power in
which recollected experience are bathed. What the very young see
is literally incomparable -nothing like it has come before -and these
encounters are the raw material, the imagery of their psyches. It
often seems to me that all one's creation is done in that first
decade and a half, with an internal landscape comes into being with
the force and activity of primordial volcanoes and plate tectonics: the
rest of ones time on earth is spent retracing, mapping, deciphering,
excavating. Everything else one will see is seen in comparison with
this formative landscape'.

The work on display is an exploration of my own formative landscape, a lakeside playground that provided the raw materials and imagery of my own 'primal landscape'. The resulting works are a composite of visual fact, feelings, memory and imagination.
Margot Galvin is an artist living and working in Dublin. Her work explores ideas about place, home and belonging. She uses psycho-geographical explorations of various locations to question how a 'sense of place' or belonging is developed by how closely our current environment echoes our place of origin. Drawing, painting and primarily printmaking are all used to explore these ideas. She has an interest in extending the norms of printmaking to incorporate materials such as metal, wood and glass. These materials are used to print on and bring print, traditionally presented on paper, into 3D 'print sculptures', objects or assemblages.

Margot graduated from NCAD in 2012 with a 1st Class honours degree in Fine Art print. She completed her Masters in Fine Art at the National College of Art and Design, Dublin in 2014 and is currently a member of 'AtHome' artist group and The Black Church print studio, Dublin.
She has exhibited in the RHA and RUA annual exhibitions, Cairde, RUA RED, Galway arts festival, and more recently Draiocht 'MakingArt Print' as an invited artist. Her work is held in AXA, OPW, Law Society of Ireland, NCAD collections as well as many private collections.

It is happening again – Tadhg Ó Cuirrín
16th March – 10th April 2023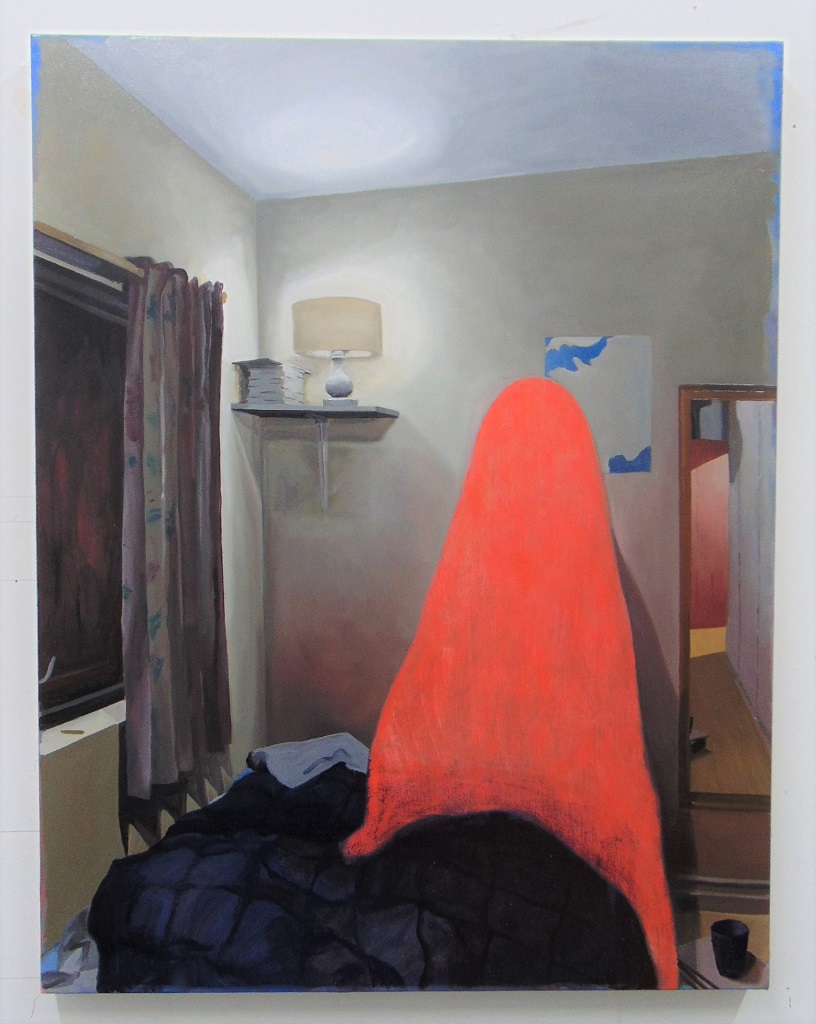 It is happening again
Of late I have been thinking about how to depict the complexity of the world and the systems within it. How the small events of our lives echo with the wider world of current and historical events. I have been making paintings of every bedroom I have ever lived in. I am creating these spaces from memory, a spectre passing through space and time. I have chosen the bedroom as site of some of our most personal memories. It is a recollection and rendering of furniture, fittings, and magnolia paint that will be familiar to many. I hope to evoke personal, architectural, and cultural memories, and how unfixed these memories are.

Tadhg Ó Cuirrín is an artist based in Co Galway. He holds a BA in Fine Art, Painting from the Limerick School of Art and Design. He works in a variety of media, and his work was recently shortlisted for the Hennessey Craig Award at the RHA 192nd Annual Exhibition, and recently included in TULCA Festival of Visual Art in Galway. Recent solo and two person exhibitions include "The Unexamined Life" in July
2021, and "Magic, Metallic Saliva" with Karen Conway at 126 Artist Run Gallery in March 2022.

His work is supported by Ealaín na Gaeltachta, the Arts Council of Ireland, and Galway County Council.

www.tadhgocuirrín.com
Shuttle in Change and Beat – Róisín Lewis
16th March – 10th April 2023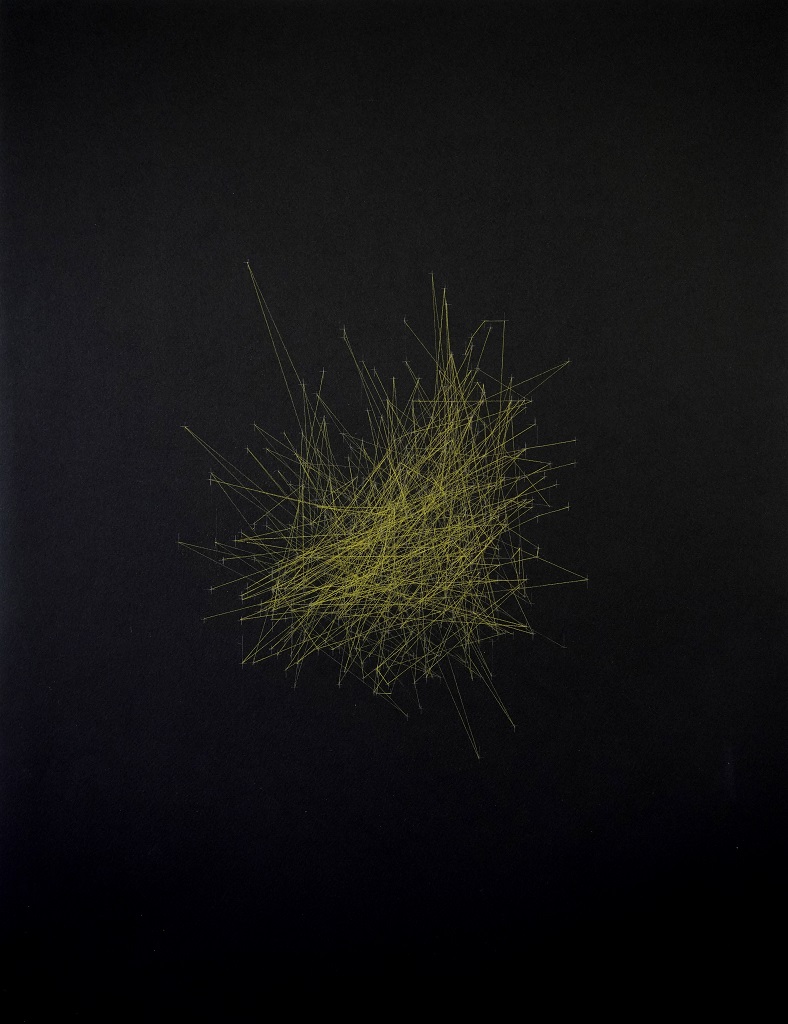 Róisín Lewis's work is a response to slow journeys through the landscape. Rhythm reduces effort, as the saying goes. Not stopping to sketch or take photographs, Lewis gathers memories and occasionally objects, as she travels while also using body-worn technology to record biometric and geographical data.
Back in the studio, data is downloaded and paths travelled are retraced on paper. Objects gathered in the landscape are studied, drawn and manipulated. These activities encourage memories, observations and other sensory and rhythmical experiences to resurface, which in turn inform the use of materials, processes and colour. The work also draws on indigenous building techniques and approaches to textile construction – slow repetitive processes that are analogous to the rhythm of the journeying body, as well as on mapping and surveying techniques.

The work grows through the repetition of simple gestures. An underlying structure or rule determines the initial composition and forms develop in accordance with data collected. But the artist is not a machine. Irregularities, accidents and traces of the body that result from making by hand, also play a part. In this way, the work evolves through a combination of order, memory, chance and intuition.
Róisín Lewis is currently based in Dublin. Since graduating from NCAD in 1996 her work has been exhibited in Ireland and abroad, most recently at SO Fine Art Editions, Dublin, Assab One, Milan, Atelier des Empreintes, Pays de la Loire, and Yanagisawa Gallery, Tokyo. She has been awarded residencies at IMMA, Fire Station Artists' Studios, Dublin, the Josef & Anni Albers Foundation, Connecticut (2017), Thread, Senegal (2019), West Cork Arts Centre (2021, 2023) and also the RHA Clare Island Residency (2022). Her practice is currently supported by the Arts Council of Ireland.
Brexit Sausages – Shiro Masuyama
16th February – Sunday 12th March 2023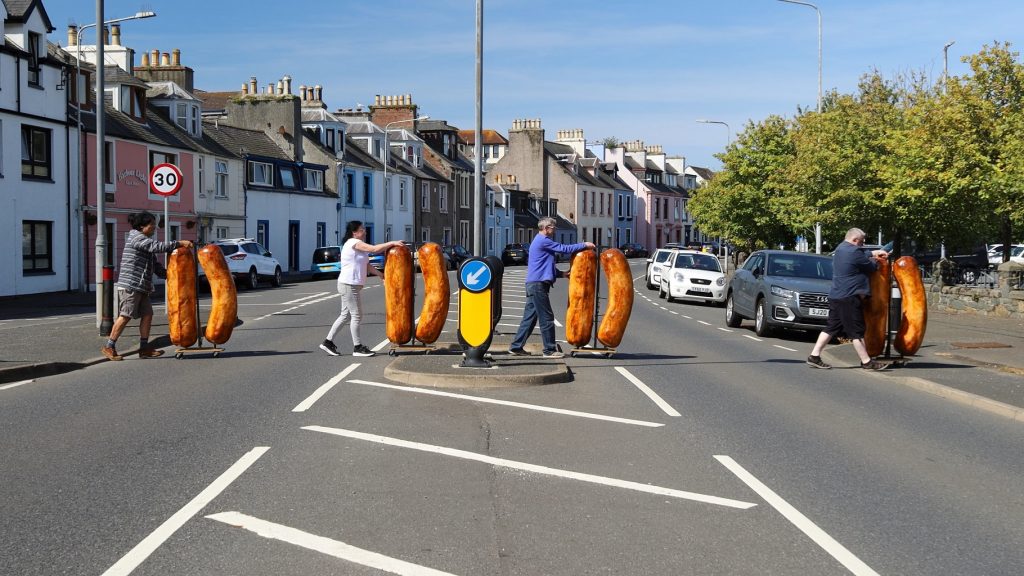 Brexit Sausages
After Brexit, the Northern Ireland Protocol dictated that Northern Ireland would continue to follow EU rules on product standards to prevent checks along its border with Ireland.
Instead, inspections on goods entering Northern Ireland from Great Britain would take place at Northern Irish ports.
This has prompted criticism that a new border has been created in the Irish Sea. Under EU food safety rules, sausages were prevented from entering Northern Ireland from Great Britain (though there have been temporary truces to keep trade flowing).
Belfast-based Japanese artist Shiro Masuyama has created a new social intervention using sausages to highlight this Irish Sea border which was created after Brexit.
With a new project of 'Brexit Sausages' which Shiro made for the Irish Sea border, through his solo show, he will represent two more interventions including 'Feeding Carrots from the South to Wild Donkeys in the North', Cyprus, July 2022 and 'Crossing the border', Amsterdam Schiphol Airport, The Netherlands, April 2010, which he has also made for the border in the different context.
Shiro Masuyama
Born in Tokyo in 1971, he studied architecture to masters level. Following international residencies in the Irish Museum of Modern Art, Dublin (2006) and Flax Art Studios, Belfast (2009), he moved to Belfast, Northern Ireland, where he's been based ever since.
Using his architectural background and his Japanese identity, he makes projects which fundamentally connect people and society: so-called socially engaged art.
As an artist from Japan who has made their home in Northern Ireland, he's in a unique position to question how identity can be influenced by the dominant political forces surrounding us.
He has had numerous solo exhibitions worldwide including 'Brexit Sausages', Cultúrlann McAdam Ó Fiaich, Belfast, Northern Ireland (2022) ; 'Coexistence', Siamsa Tíre – National Folk Theatre of Ireland, Tralee, Ireland (2019) ; 'Self-Sufficient Life', Millennium Court Arts Centre, Portadown, Northern Ireland (2015) ; 'The Heart Rocker', Linenhall Arts Centre, Castlebar, Ireland (2014) and "Farming Life", Leitrim Sculpture Centre, Manorhamilton, Ireland (2012).
His works have been represented in internationally renowned Biennial and Triennial including 'BIENALSUR 2021', MACRO Museum of Contemporary Art Rosario, Argentina : 'Sapporo International Art Festival 2020', Sapporo, Japan (Cancelled due to COVID-19) ; 'Aichi Triennale 2013', Japan.
Artist Acknowledgements:
University of Atypical; Unlimited; Paul Hamlyn Foundation; A City Imagining Belfast; Belfast City Council

Brittle to Look back – Aideen Farrell
19th January – 12th February 2023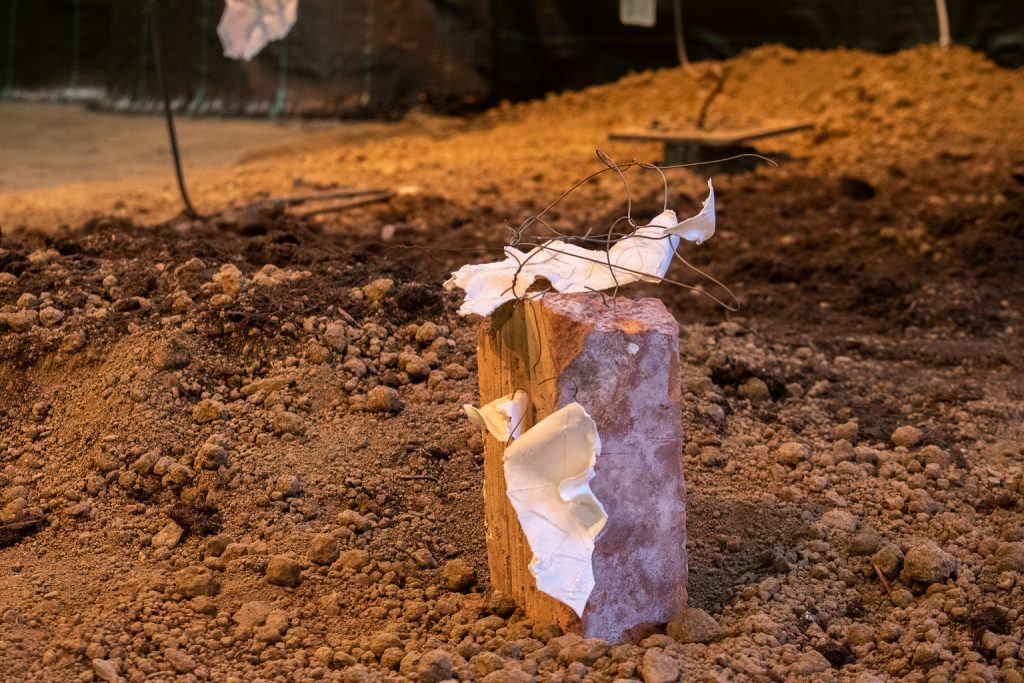 Brittle to Look Back
This exhibition began with an examination of the spaces of the stilled construction site, the proposed architectural plan, and the infrastructural ruin. The work imagines future plans and architectural models as excavated ruins.
It draws on histories of infrastructural projects and transport networks like railways and canals in Ireland. The work explores processes of ruin, decay, corrosion, and regrowth. It critically examines narratives of linear progress, planning ideologies, and dichotomised understandings of the built environment and landscape.
These ideas are explored through installation, clay, steel, & printmaking. Wire, found materials, and fragments added to clay bodies play with constructed form and landscape. The work was produced through cyclical processes of visiting places, gathering, making, and drawing. The resulting objects and structures act as models, parts of construction, and fragments or ruins of spaces. The installation of the work explores makeshift assembly and precarious construction.
This work was made with the support of the Arts Council of Ireland, Fingal County Council, Fire Station Artist Studios, The National Sculpture Factory, and the Cork Printmakers.
Aideen Farrell is a Dublin-based sculptor and installation artist. She graduated from NCAD in 2017 with a BA in Fine Art Painting and Visual Culture. She is currently undertaking a MA in Fine art at TU Dublin and is also a member of A4 sounds in Dublin. Her work combines research and material practices, particularly drawing and making. She weighs fixed designs of architecture and urban planning against conditions of precarity and collapse.

Recent exhibitions include solo shows; A Weight of Windows at Pallas Projects/Studios in 2019 and Showroom Linenhall Arts Centre in 2018, and group shows; Halfway to Falling at the Lord Mayor's Pavilion in 2021 and In Cahoots with the Earth, and The Stars are in the Earth at A4 Sounds in 2021 and 2022 respectively. She was awarded the Fingal County Council Artist Support Scheme 2018-22, the Arts Council's Professional Development Award 2020, Agility Award 2021, and Visual Arts Bursary 2021. In 2022 she undertook a joint residency between the National Sculpture Factory and Cork Printmakers funded by the Arts Council Agility Award. She was awarded a Dublin City Council Residency at St Patrick's Lodge 2018-2019 and Fire Station Artists' Studios 2021 Sculpture Award.